March 27, 2012 -
National Football Post
NFL Draft: Ranking the 4-3 DE Class by Tiers
Breaking down the tiers of DE prospects…
Tier 1
Quinton Coples: North Carolina (6-6, 285)
Can be as good as he wants to be in the NFL. The game comes very easy to him and he can be dominant if he learns to use his arms even better to slip blocks in the pass game, but with more time I expect that to improve. The sky is the limit as long as he's willing to work at his trade and keep his motor running.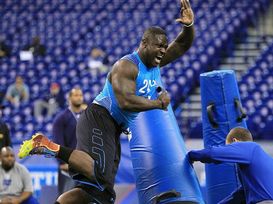 ICONIngram knows how to reach the QB.
Melvin Ingram: South Carolina (6-2, 276)
He is an impressive pass rusher who can get after the QB in a number of ways. Ingram is raw with his technique and can get better, but his suddenness, length and natural feel for the game makes me think he's one of the draft best senior pass rushers.
Tier 2
Cam Johnson: Virginia (6-4, 270)
A solid college defensive end who has never been much of a sack artist but there are some tools there. Showcases some fluidity in his drop and in coverage and has the ability to mature into a more sudden pass rusher. Will get looks in both a 34 and 43 front.
Tier 3
Whitney Mercilus: Illinois (6-4, 265)
Physically he looks the part and has the skill to simply man handle college lineman at times. However, he's a raw kid who is stiff in the hips and doesn't have a great feel for the game when asked to find the football. He's got some upside, but his tightness and overall lack of natural feel for the game are two very big concerns that will keep him from being the type of pass rusher his freaky skill set says he could.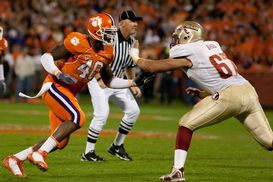 ICONBranch is a potential three down player.
Andre Branch: Clemson (6-5, 260)
Has a lot of untapped talent and is the kind of athlete you would expect to mature into a solid three down player in the NFL as a 43 DE.
Tyrone Crawford: Boise State (6-4, 276)
I like his skill set. I think he's going to develop quickly at the next level and he has the ability to be a solid three down lineman with some time. He isn't there yet, but as a prospect Crawford has some real upside and displays the kind of blue-collar pass rushing mentality that I like with a powerful element to his game on contact.
Vinny Curry: Marshall (6-4, 263)
A strong kid with good movement skills and the production to go along with the skill set. Isn't a dynamic athlete but has the ability to keep tackles off balance and be a solid pass rushing force.
For Tiers 4 & 5 click to page two...