March 29, 2012 -
National Football Post
NFL Draft: Ranking the 4-3 LB Class by Tiers
Breaking down the tiers of linebacker prospects…

Tier 1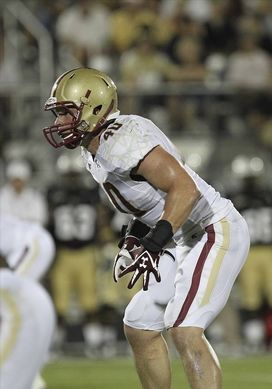 ICONKuechly can make an impact from day one.
ILB Luke Kuechly: Boston College (6-3, 237)
He's not the biggest, strongest or fastest of athletes. But he's instinctive, plays faster than he times, finds the football in all areas of the game and can really tackle. He's going to be a bit limited in coverage, but he's instinctive enough to play on third down in zone and should end up being one of the NFL's top tackling linebackers for years to come.

Tier 2

OLB Lavonte David: Nebraska (6-1, 225)
He's undersized, but is instinctive. Might be limited to more of a cover two type scheme only, but looks like a starting caliber weak side guy to me early in his NFL career.

ILB/OLB Shea McClellin: Boise State (6-3, 258)
McClellin is a productive pass rusher with a big motor, good skill set and can get after the QB in a number of ways. Looks like a potential starter at the next level. However, has also shown the ability to play from a two-point stance and find the football in the run game with consistency.

Tier 3

OLB Zach Brown: North Carolina (6-2, 230)
A run and hit guy with impressive athleticism and range. Possesses solid instincts and is a better read-and-react linebacker than given credit for, but still not elite in that area. Nevertheless, looks like a starting caliber 43 weak side guy who would be ideal in a cover two scheme.

ILB Bobby Wagner: Utah State (6-1, 232)
A good athlete with some balance and coordination in all areas of his game. He's a 'plus" tackler who can shed on contact and make plays as a blitzer.

OLB Travis Lewis: Oklahoma (6-2, 227)
He's a bit undersized and doesn't tackle as well as you would like inside the box. However, he's a good run and hit backer who plays the run well and will be able to make plays vs. the pass game in the NFL. Looks like a day one starter to me as a 43 backer, either on the weak side or possibly in the middle.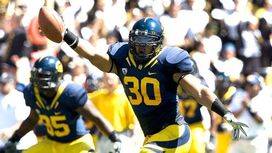 Kendricks is a naturally violent backer.
OLB/ILB Demario Davis: Arkansas State (6-3, 230)
One of the biggest surprises on tape this draft season. Was explosive, instinctive and always making plays on the football. Looks like a starting caliber linebacker either inside or out in a 43 scheme.

ILB James-Michael Johnson: Nevada (6-2, 240)
Is a good athlete who can run, close on the football and play with power in the run game. Needs to play a bit lower in coverage, but overall does everything at a pretty solid NFL level. Is a guy who can win a starting job at the next level.

ILB/OLB Mychal Kendricks: California (6-0, 240)
Is a thick, shorter compact backer who explodes through contact and is a real violent striker. Finds the ball quickly vs. the run and has the range to make plays in pursuit. Lacks ideal size however to stack and shed and lacks a great feel in zone. However, as a thumper inside with the potential to get into the backfield as a blitzer who should get plenty of looks from 34 teams in need of a versatile, high motor backer.
For tiers 4 & 5 click to page two...