March 24, 2012 -
National Football Post
NFL Draft: Ranking the Center Class by Tiers
Breaking down the tiers of center prospects…

Tier 1</p>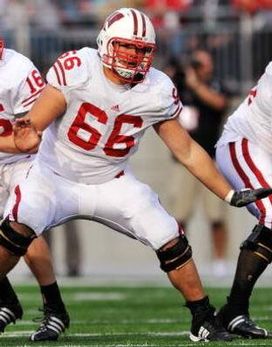 ICONKonz is a better athlete than given credit for.
Peter Konz: Wisconsin (6-5, 315)
For a taller center showcases impressive flexibility, as he typically gains leverage on contact and uses his length to gain proper hand placement. Has some limitations because of his height and will allow defenders to get under him at times. Showcases an good snap through the hips in the run game, is routinely able to create a push inside and drive opposing nose tackles away from the play and/or seal. Looks like a "plus" run blocker in the NFL in more of an angle scheme.

Tier 2

Ben Jones: Georgia (6-3, 316)
Improved his ability to snap and step this year and quickly get into contact as a run guy, which allowed him to play with more power on contact. Is a coordinated athlete on the move, can mirror through contact and looks like an NFL starter with a little time. But isn't an "elite" center prospect by any stretch.

Tier 3

David Molk: Michigan (6-2, 286)
A perfect fit for the Michigan's run first spread offense where he consistently plays to his strengths. However, he's an overachiever who looks like a potential starter in only a zone scheme in my view.

Michael Brewster: Ohio State (6-5, 305)
A seasoned lineman who displays good size, hand placement and can bend for the position. Looks like an eventual starter to me in the NFL.

Tier 4

David Snow: Texas (6-4, 295)
Isn't an overly powerful in-line guy or elite athlete. But he can bend, is coordinated in both the run and pass game and does a great job shooting his hands inside and sticking to blocks. Looks like a guy who can make a roster and with some improved strength fight for playing time down the line.

Philip Blake: Baylor (6-3, 320)
Possesses natural power and if he can play with his base under him a bit better in the NFL the guy will routinely create off the snap in the run game. Needs to play in a power based offense, but with some time has a chance to fight for playing time.

Quenton Saulsberry: Mississippi State (6-2, 300)
A solid athlete who does some things well on the move and in pass protection. More of a zone lineman only, but needs to do a better job getting off the snap count on time in order to have a chance of getting drafted.