April 02, 2012 -
National Football Post
NFL Draft: Ranking the cornerback class by tiers
Breaking down the tiers of cornerback prospects…
Tier 1

Morris Claiborne: Louisiana State (6-0,185)
The top corner in this year's draft. He's tall and long which allows him to play big off the line. However, he showcases the footwork, balance and quick-twitch ability of a much smaller corner out of his breaks. With improved technique he should mature into one of the leagues best.

Tier 2

Dre Kirkpatrick: Alabama (6-3, 192)
Will be an ideal zone corner at the next level because of his size, instincts and physicality. However, he can also press off the line and consistently re-route receivers. Isn't a dynamic quick-twitch athlete, but showcases good balance, can keep his feet under him and looks like a "plus" caliber starting cornerback in the NFL. Reminds me some of Chargers cornerback Quinton Jammer physically.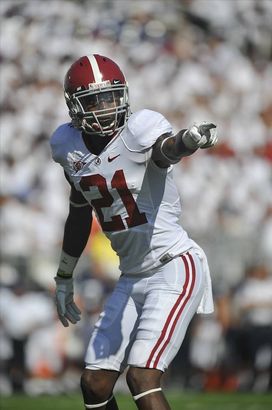 ICONKirkpatrick looks the part.
Janoris Jenkins: North Alabama (5-10, 182)
If he can put it all together off the field, he's got the ability to develop into a very good cover man in the NFL and despite his size he's going to be a really tough guy to separate from in just about any scheme he plays in.

Tier 3

Stephon Gilmore: South Carolina (6-1, 193)
Is a "plus" sized corner with good quickness and fluidity. Needs to clean up his footwork in off/zone concepts, but has skill set to play near the line, check receivers and turn and run. Should be able to fight for a starting role during his rookie year in more of a zone scheme.

Brandon Boykin: Georgia (5-10, 183)
Plays much bigger/strong than his frame would indicate. Has the ability to press on the edge, but might be better suited to play as a slot guy in the NFL. Either way can play a role on a defense in either a man or zone scheme.

Jamell Fleming: Oklahoma (5-11, 191)
He's a balanced, coordinated kid who keeps his feet under him when changing directions and can turn and run. Doesn't give up much separation, knows how to make plays on the football and if he can improve as a tackler looks like a guy who warrants a starting job in the NFL down the line.

Josh Robinson: Central Florida (5-10, 192)
Robinson is a talented corner. He's fluid, can really run and has the vertical speed to make up for a false step at the college level. He's also a guy who will tackle and isn't afraid to mix it up inside. However, I have a tough time giving any undersized corner a first-round grade who isn't technically sound in his drop and/or isn't real physical off the line.

Casey Hayward: Vanderbilt (5-11, 188)
A smart, productive corner who can consistently make plays on the football. He's not a guy who will consistently hold up in man on the outside in the NFL. However, he's shown the ability to routinely get early jumps on the football and come down with the catch. Looks like one of the safer prospects in the draft as a cover two type guy.

Josh Norman: Coastal Carolina (6-0, 190)
Talent says he's a top-60 pick, but there are some character concerns that could cause him to fall. Either way he has the talent to quickly match-up with NFL receiver at the next level.
Check out tiers 4 & 5 on page two...