March 28, 2012 -
National Football Post
NFL Draft: Ranking the DT Class by Tiers
Breaking down the tiers of defensive tackle prospects…

Tier 1

Michael Brockers: Louisiana State (6-6, 306)
He might be a little raw and could have used some more work at the college level. However, he's an NFL talent with "plus" upside but can also come in and play vs. the run at a high level right away. Should get looks at both the three and five-technique spots and in my mind has the ability to become one of the better defensive lineman in the NFL down the line.

Tier 2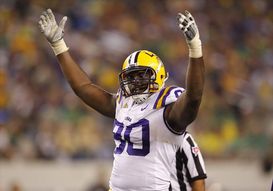 ICONBrockers bends extremely well for a guy his size.
Devon Still: Penn State (6-5, 310)
Put it all together as a senior. If you can keep him motivated, Still has the talent to mature into a very good starting caliber lineman at a number of positions in the NFL.

Alameda Ta'amu: Washington (6-3, 337)
This is the kind of guy who has the ability to anchor the middle of an NFL defense in either a 3-4 or 4-3 front. Needs to do a better job finding the football, but overall he looks like a starter who you eventually will be able to win with in the NFL.

Brandon Thompson: Clemson (6-2, 310)
A guy who should be able to come in and be a lineman who can win inside vs. the run game. Looks a bit limited as a pass rusher, but will be able to push the pocket and threaten gaps off the ball. A starting caliber 43 nose inside.

Tier 3

Fletcher Cox: Mississippi State (6-4, 295)
I think his best spot might be as a 34 five technique who is able to penetrate and make plays off the ball. He's raw and needs to learn to play with his pad level lower. However, as a potential five technique he's a guy who has the skill set to earn a starting role.<br />
Dontari Poe: Memphis (6-5, 350)
Has a rare physical skill set due to his combination of flexibility, power and get off burst. However, he's still learning the nuances of the position. If he's willing to put in the time, Poe can mature into one of the leagues better interior presences. Nevertheless, because he's raw his floor isn't overly high either.
For tiers 4 & 5 click to page two...