March 20, 2012 -
National Football Post
NFL Draft: Ranking the RB class by Tiers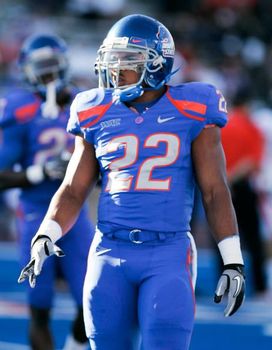 ICONMartin is a "hot" name in NFL draft circles.
Breaking down the tiers of running back prospects…

Tier 1

Trent Richardson: Alabama (5-11, 224)
The best running back prospect I've seen since Adrian Peterson. His running style might limit his shell life a bit in the NFL. However, he's the kind of back you can ride like a rented mule from day one and should become one of the NFL's top runners early on.

Tier 2
David Wilson: Virginia Tech (5-10, 205)
He's a compact kid who runs stronger/harder than you would expect from a guy his size. Has a dynamic quality to his game both inside and in the open field, and looks capable of maturing into a very good NFL running back early on in the NFL.

Lamar Miller: Miami (5-11, 212)
Possesses a good first step, a natural feel between the tackles and exhibits the cut back ability to slice his way up the field. However, looks more like an ideal fit for a zone-blocking scheme because he isn't a guy who is going to make a ton of NFL defenders miss or break many tackles inside.

Doug Martin: Boise State (5-9, 215)
Martin isn't a dynamic size/speed back, but there aren't many negatives to his game as a back. He plays fast, runs low, is natural through the line of scrimmage and has a skill set somewhat similar to former Alabama RB Mark Ingram last year. He might fall a bit because he doesn't run overly well, but he has the skill set to start in the league.

Tier 3

Robert Turbin: Utah State (5-10, 216)
Physically, he reminds me some of New York Jets RB Shonn Greene. But as a runner, he looks more natural as a zone guy who he can use his cut back ability to pick his way through traffic, square his shoulders and then attack daylight. Has the skill set to mature into a starter at the next level, but because of his lack of a great burst, he doesn't strike me as a guy who is ever going to have a real gaudy yards per carry average. Nevertheless, he should be able to keep you ahead of the chains.

Chris Polk: Washington (5-11, 222)
Is a big kid with a good feel inside, runs hard and will break some tackles. However, pad level, initial burst and lack of great change of direction skills make me think he's potential NFL starter only.
Click to page two for tiers 4 & 5...