April 03, 2012 -
National Football Post
NFL Draft: Ranking the safety class by tiers
Breaking down the top safety prospect by tiers…
Tier 1

Mark Barron: Alabama (6-2, 218)
Has the makings of a heck of a special teams player who can also attack downhill vs. the run game, play inside the box and drive on the football in front of him in the pass game. Isn't going to be a major threat turning and tracking the football, but his improved instincts makes me think he can start in the league early on.

Tier 2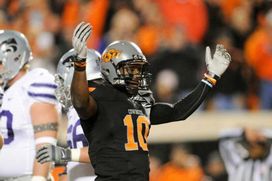 Martin displays good balance when asked to change directions.
Markelle Martin: Oklahoma State (6-1, 198)
A gifted athlete with a good burst and range in the deep half. However, wastes motion out of his breaks and isn't a very good open field tackler. Possesses slightly above-average instincts, but will make more plays on the football when he tightens up his footwork. A potential starter only at this stage because of his intriguing athleticism.

Tier 3

Harrison Smith: Notre Dame (6-2, 214)
Isn't a guy you want to trust to run with receivers down the field. However, because of his solid natural range and instincts, I can see him getting over the top and making plays in a center field type role as an NFL strong safety.

George Iloka: Boise State (6-3, 216)
Iloka is a tall kid with solid balance for his size and has some natural athleticism and pop. Has experience playing corner and being a physical press coverage man. However, he isn't a guy who can quickly re-direct and close on the football in the deep half. He needs to play with his hands on defenders, but is a more coordinated bigger safety than say Seahawks starter Kam Chancellor and he could start at the next level.

Christian Thompson: South Carolina State (6-0, 213)
He's a good athlete who has some talent. Needs to do a better job finding the football, but can change directions and has some speed to his game as well when tracking the football.

Brandon Taylor: Louisiana State (6-0, 195)
He can tackle in the box and in space, despite being a bit inconsistent at times. Displays some natural coverage ability and looks capable of maturing into tweener starter/nickel safety at the next level.

Kelcie McCray: Arkansas State (6-2, 195)
He does have some natural coverage ability for his size and should run well for the position. There are some questions about desire as a tackler and instincts in the deep half. However, a guy at his size with his athleticism at worst deserves a shot late.
Check out tiers 4 & 5 on page two...