March 31, 2012 -
National Football Post
NFL Draft: Ranking the tight end class by tiers
Breaking down the tiers of tight end prospects…
Tier 1

Coby Fleener: Stanford (6-6, 244)
An impressive pass catcher who can win both down the field and underneath vs. man coverage. Has the frame and flexibility to develop into a solid blocker as well and looks like a future starting caliber NFL TE.

Tier 2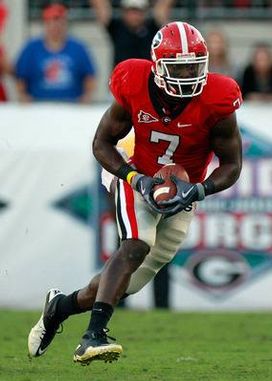 ICONCharles looks like a receiver with the ball in his hands.
Orson Charles: Georgia (6-3, 241)
A gifted athlete who can create a lot of mismatches in the pass game. Should be able to improve as a route runner as well. Not quite as polished as Aaron Hernandez as an H-back coming out, but could end up playing a similar type role.

Tier 3

Dwayne Allen: Clemson (6-4, 255)
Is a solid, strong athlete with good hands and body control when asked to go get the football. Lacks ideal balance/leverage into contact as a blocker and would like to see him be more sudden in tighter areas with defenders who want to be physical. However, he's an NFL talent who can be used in a number of ways on an NFL offense.

Tier 4

Deangelo Peterson: Louisiana State (6-4, 243)
An athletic kid who can run and get down the seam. However, is raw in all areas of the game and doesn't seem to have put much work into his trade, I don't know if he wants to or ever will. Nevertheless, physically the guy is worth a look.

Ladarius Green: UL Lafayette (6-6, 236)
He's a big slot guy who can make plays down the seam and can release off the line. However, he's not an in-line blocker and doesn't play well in tight areas vs. man. He has tools to be productive in the pass game, but there are limitations and you need to be creative to get the most out of him.

Tier 5

Chase Ford: Miami (6-6, 245)
Had a good showing at this year's East-West Shine game and for a guy at his size with his body control looks like a option you can draft late and try to mature into an every down type option. Has the frame to add weight and get much bigger.

Michael Egnew: Missouri (6-6, 245)
Has a long frame and the skill set to learn to play with his hand on the ground, but is going to need time. Isn't the type of dynamic athlete either to simply out run NFL defenders and looks limited in the type of routes he's going to be able to separate in. More of a vertical threat guy who needs to adjust to the ball in order to make plays.