April 13, 2012 -
National Football Post
NFL DRAFT: Ranking the Top 10 Defensive Backs
A look at the NFP's top 10 defensive backs…

1. CB Morris Claiborne: Louisiana State (6-0, 185)
The top corner in this year's draft. He's tall and long which allows him to play big off the line. However, he showcases the footwork, balance and quick-twitch ability of a much smaller corner out of his breaks. With improved technique he should mature into one of the leagues best.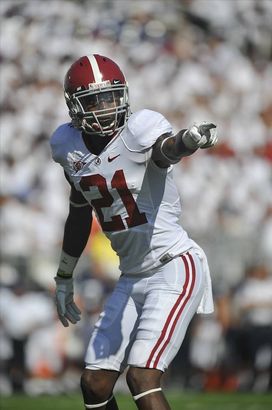 ICONKirkpatrick can be a physical press corner.
2. CB Dre Kirkpatrick: Alabama (6-3, 192)
Will be an ideal zone corner at the next level because of his size, instincts and physicality. However, he can also press off the line and consistently re-route receivers. Isn't a dynamic quick-twitch athlete, but showcases good balance, can keep his feet under him and looks like a "plus" caliber starting cornerback in the NFL. Reminds me some of Chargers cornerback Quinton Jammer physically.

3. SS Mark Barron: Alabama (6-2, 218)
Has the makings of a heck of a special teams player who can also attack downhill vs. the run game, play inside the box and drive on the football in front of him in the pass game. Isn't going to be a major threat turning and tracking the football, but his improved instincts makes me think he can start in the league early on.

4. CB Janoris Jenkins: North Alabama (5-10, 182)
If he can put it all together off the field, he's got the ability to develop into a very good cover man in the NFL and despite his size he's going to be a really tough guy to separate from in just about any scheme he plays in.

5. CB Stephon Gilmore: South Carolina (6-1, 193)
Is a "plus" sized corner with good quickness and fluidity. Needs to clean up his footwork in off/zone concepts, but has skill set to play near the line, check receivers and turn and run. Should be able to fight for a starting role during his rookie year in more of a zone scheme.
Check out 6-10 on page two...