March 19, 2012 -
National Football Post
NFL Draft: Ranking the WR class by Tiers
Breaking down the tiers of wide out prospects…

Tier 1

Justin Blackmon: Oklahoma State (6-1, 215)
The lack of play speed will limit him at bit. Nevertheless, he's got the skill set to line-up all over an NFL offense and make plays on all levels of the field.

Tier 2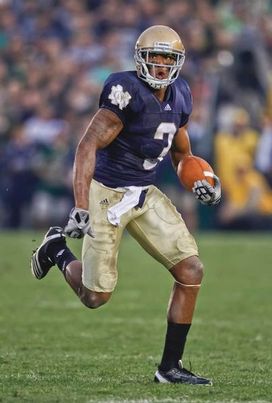 ICONFloyd will likely come off the board in round one.
Michael Floyd: Notre Dame (6-3, 224)
Looked more sudden, explosive and showcased the ability to separate quickly as a senior. Is one of the draft's top receiving prospects.

Kendall Wright: Baylor (5-10, 190)
In the same mold as a number of Pittsburgh Steelers receivers (Mike Wallace, Emmanuel Sanders) and can be effective both inside and out making plays down the field at the next level.

Tier 3

Stephen Hill: Georgia Tech (6-5, 206)
Has a unique skill set, can pluck off his frame, track the football and is the next big time talent from the Georgia Tech program. Is going to need some time to develop, but can come in and track football vertically early on. Has a lot of upside to his game and skill set says he's an NFL starter.

Mohamed Sanu: Rutgers (6-2, 215)
Physically reminds me some of Hakeem Nicks. Isn't as NFL ready, but can go get the football, breakdown and separate on all levels of the field. Looks like a future NFL starter who might need some time, but the talent is most definitely there.
For Tiers 4 & 5 click to page two...