March 12, 2011 -
National Football Post
NFL Draft rumors
• Don't be surprised to see the Lions look long and hard at an offensive tackle if there is no cornerback on the board worthy of the spot. The two names that I keep hearing for Detroit are Nate Solder from Colorado and Anthony Castonzo from Boston College.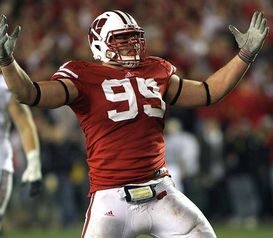 ICONIs Watt worth a top 10-pick?
• Of the number of scouts I talked to all of them really like Wisconsin DE J.J. Watt but don't think he's worth a top-10 pick, citing that he's a good player on tape, but his impressive workouts could cause him to go higher than he really should. The name Adam Carriker was referenced because of his impressive rise after his workouts as well.
• South Alabama WR Courtney Smith wasn't happy with his 4.6 40-time at the Alabama pro day, citing a bad start. NFL teams wanted to see him catch the football afterward, but apparently Alabama head coach Nick Saban did not allow him to do so.
• The stock of Maryland RB Da'Rel Scott is through the roof right now after timing in with a sub-4.4 forty time at the NFL combine. I've heard from several sources of him potentially getting a look late in round one. I don't buy it personally, but you never know just how high a guy can rise after a good workout.
• Talked with a scout the other day who said he thinks Arkansas QB Ryan Mallett is a lock for round one. However, at the same time he said he would take Nevada QB Colin Kaepernick any day in the second round over using a first on Mallett.
• With the Dolphins in need of adding more playmakers to their tight end position, we are hearing that there is a significant interest from the Fins in Arkansas tight end D.J. Williams.
• One prospect who seems to have some scouts puzzled is Eastern Washington RB Taiwan Jones. He's a speedy, thinly built runner who was said to play this past year around 175 pounds. He was 194 at the Combine and is trying to get up to 200 for his pro day, but many are worried it will directly effect his speed/athleticism at the next level.
• "Mark Ingram is just too talented to fall out of the first round" was a comment I got from one talent evaluator when his name was brought up. "Someone will either trade back in the first or take him over a need, but the guy is just too good to fall into round two."
• Pittsburgh DE Jabaal Sheard is the one guy who scouts seem to try to be keeping under the radar, as he's quietly moving up draft boards. He had an impressive workout, showcases natural explosion off the snap and from what I'm hearing NFL teams aren't real concerned with his character.
• Two late-round quarterbacks who are really starting to generate some interest for themselves are Minnesota's Adam Weber and Louisville's Adam Froman. Both are above-average athletes who could now be in position to warrant a late-round pick following their strong pro day workouts.