March 26, 2011 -
National Football Post
NFL draft rumors
• Talked to an NFL scout this week who said his team currently has a free agent grade on Florida safety Ahmad Black. The scout notes that "it's tough to draft a small, slow guy at any position."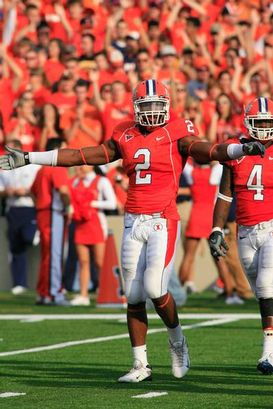 ICONWilson has some risks attached to his name.
• I keep hearing from team sources that medical concerns are still very real with Illinois LB Martez Wilson, which could cause him to slide on draft day.
• NFL scouts have told me they have been turned off by Kansas State RB Daniel Thomas and his inability to show up to meetings, as he consistently reschedules. Questionable accountability is the phrase that keeps popping up.
• One name who seems to be building a lot of traction is Illinois DT Corey Liuget. He's said to be making his way up into the first half of round one and is a guy who the Rams are said to have a lot of interest in.
• Talked to two scouts this week after the Georgia pro day concerning DE Justin Houston. One said he thinks the guy is a lock to go in the top half of the first round because of his size/speed numbers. The other compared his rise to Robert Ayers a couple years ago and said he doesn't think he's anything more than a 2nd/3rd round prospect.
• Southern Cal OT Tyron Smith is said to be at the top of the wish list for the Dallas Cowboys at pick nine. Everyone I have talked with is expecting a massive pro day from him and thinks he could seal his top-10 fate with a strong performance.
• A lot of the 3-4 teams at the end of round one are said to have a lot of interest in Temple DL Muhammad Wilkerson. Hearing there is especially a lot of interest coming from Baltimore.
• Talked to a scout who said the draft stock of Oregon State RB Jacquizz Rodgers took a bit of a hit after running in the 4.6 range at the NFL Combine, all while standing at 5-6. The scout still said he likes him, but again referenced that it's tough to take a guy high who is small and doesn't run real well.
• Another undersized prospect whose stock seems to be down is West Virginia's Jock Sanders, citing that there are off the field concerns and that he doesn't run real well either.
• From everyone I've talked with this week, there seems to be a growing belief that there are actually some legs to the Patriots-Chargers potential first-round trade involving the Pats 28th overall pick.