April 09, 2011 -
National Football Post
NFL draft rumors
• The one prospect at the quarterback position who really seems to be heating up is TCU's Andy Dalton. From a scout we spoke with he said his team has Dalton rated higher than Jake Locker and that he could get late first round interest.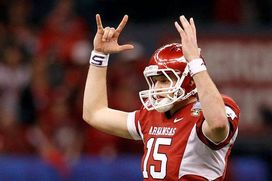 ICONNFL teams are doing their homework on Mallett.
• The Seahawks are also one of the teams, as well as the Dolphins and Bills, that are putting in a lot of time researching/investigating the background of Arkansas QB Ryan Mallett.
• Southern Cal OT Tyron Smith is getting a lot of interest from the Cowboys at nine, but I am also hearing they like Missouri DE Aldon Smith a lot and would love to pair him opposite DeMarcus Ware off the edge.
• UCLA safety Rahim Moore is getting a lot of attention from a number of NFC teams. I'm hearing both the Cowboys and Bears have a lot of interest in the center field standout and he could be an option for both in round two.
• Talked with a scout Friday who believes that the idea of Clemson DE Da'Quan Bowers falling into the mid 1st is crazy. He said that it's all about misinformation at this time and he believes the teams that really want him outside the top-10 are the ones at the head of putting all this information out there.
• However, one scout I did talk with does think that a number of teams believe that Bowers could in fact need microfracture surgery,
• Hearing from sources the Raiders have a legit interest in Nevada QB Colin Kaepernick if they decide to go signal caller early. He's a tall, strong-armed kid who runs well for his size and fits the kind of prospect mold the Raiders like.
• A scout this week said he would take LSU CB Patrick Peterson over New York Jets star Darrelle Revis if he had to pick one of the two right now. Same scout also said he believes Peterson and Alabama DL Marcell Dareus are the two best defensive players in the 2011 NFL Draft.
• On the injury front, hearing there is one highly rated prospect who is really liked by just about every NFL team and was at the NFL Combine that failed a number of medical evaluations because of a back issue, which was deemed potentially career threatening.
• Finally, hearing the Panthers' ideal plan would be to not select anyone at all with the first pick and simply trade out in order to add a second rounder — something they don't have in this year's draft.