April 16, 2011 -
National Football Post
NFL draft rumors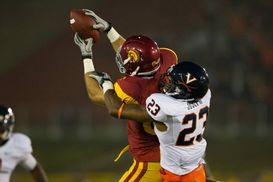 ICONCameron's athletic ability has made him an intriguing option.
• USC TE Jordan Cameron has been a busy man as of late and I'm hearing he's getting a lot of interest from the Raiders, Buccaneers, Dolphins and Saints, and could go as early as the 3rd round.
• From a number of sources I have spoke with the Vikings seem to have a significant interest in a defensive end in the first round. The three names that keep coming up are Ryan Kerrigan, Da'Quan Bowers and Robert Quinn.
• UCLA OLB Akeem Ayers is said to be taking quite a few visits for a guy who is considered an established prospect without any injury concerns. One scout told me it's likely because more NFL executives want to get a better feel for his overall personality and figure out if he's a guy they want in their locker room.
• Hearing the Dallas Cowboys are in the market for a potential slot receiver and one wideout who has really interested them is small-school standout Cecil Shorts III.
• TCU OL Marcus Cannon has in fact been taking a number of visits throughout the postseason and I'm hearing he's drawing a lot of interest from a number of teams in the NFC North.
• A lot of teams have been turned off by the overall passive nature and mental make-up of Villanova OT Benjamin Ijalana. One scout told me "he's an interesting character" and wouldn't be shocked if he fell because of it.
• Florida OL Mike Pouncey might not be as clean as prospect as some think. Talking with a couple scouts, they said there are some concerns about his knees after his Combine medical report came back.
• Starting to hear from more and more scouts that Colorado CB Jimmy Smith isn't going to fall as much as many are making him out to and that he's still a legit mid/late first-round pick. However, one scout did compare him to former USC 1st round pick R. Jay Soward so the opinions are aplenty.
• Auburn running back Mario Fannin is generating a lot of interest as a potential later round, third-down type back. Teams love his ability to help out in blitz pick-up and catch the football out of the backfield. Hearing he's getting long looks from the Patriots, Redskins, Steelers, Dolphins and Bengals.