March 19, 2011 -
National Football Post
NFL draft rumors
• From all accounts the reports we are getting back on Alabama DL Marcell Dareus have been good. There haven't been any real concerns about his weight and as of now he seems like one of the cleaner "top-tier" prospects in the draft.
• The same can't be said about Auburn DT Nick Fairley. Immaturity issues are the one real negative that keep popping up on his front, potentially keeping him out of the top five.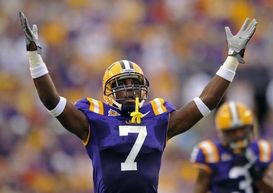 Could Peterson be the number one overall pick?
• Talked to a scout earlier in the week who said don't be shocked at all if Texas A&M OLB Von Miller or LSU CB Patrick Peterson ends up being the first overall pick. Said both players are gifted athletes and don't have any baggage attached to their names.
• The more scouts dig, the more I am finding they are turned off on Auburn QB Cam Newton. Citing that he's a me first guy and has some real character flaws behind the scenes. One scout said he handles himself flawlessly in front of the camera, but when they are off he's not the same guy.
• Miami LB Colin McCarthy has been removed from a number of team's draft boards due to medical concerns with his shoulders.
• The more we dig into the character concerns on Colorado CB Jimmy Smith the more negatives that keep coming up. According to an NFL scout Smith is said to have some major character concerns. The majority of the scouts I have talked with think he's a smart enough kid, but all said he's a huge risk once he gets into the league.
• A number of coaches throughout the NFL have been turned off by the overall way Missouri QB Blaine Gabbert has handled himself this post-season. They did not like the fact he didn't workout at the NFL Combine and cited his overall demeanor and body language as turnoffs. The more info I gather on Gabbert the less I feel like he's being endorsed as a high first round pick. He could end up being the one quarterback to slide a lot further than many think come April.
• Talked to a scout who was in attendance at the Purdue pro day who was really down on Purdue DE Ryan Kerrigan, saying that he isn't a real gifted athlete and is simply too stiff to be viewed as a first round pick. However, another scout I talked with said you simply can't overlook the guy's motor and production, and he will be a very good player in the NFL. Overall, I'm finding that there are a ton of different options on Kerrigan at this time.
• After discussing the QB class with a scout this week, he said the one big tiebreakers for all of the top five QB's could end up being their Wonderlic scores. He said NFL decision makers love to use it as a tool to differentiate QB's who have close grades. And in a year where the top five are all very similar, it could be more important in separating the class than ever.
• QB Wonderlic scores…
Blaine Gabbert, Missouri: 42
Christian Ponder, Florida State: 35
Ryan Mallett, Arkansas: 26
Cam Newton, Auburn: 21
Jake Locker, Washington: 20