April 02, 2011 -
National Football Post
NFL Draft rumors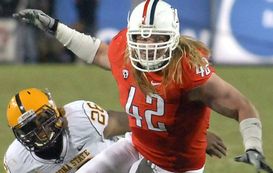 ICONReed could be the guy for the Bills at the top of round two.
• The Bills know they need a pass rusher in the worst way and one name I keep hearing is Arizona OLB Brooks Reed as a potential second-round option if they decide to go in another direction at No. 3 overall.
• Hearing the Colts are really considering bringing in a successor to 35-year-old Peyton Manning either this year or next to begin the long grooming process. To date the Colts have brought in four quarterbacks for private workouts.
• The feeling in San Francisco is that now more than ever the team will be looking for prospects who really do have a passion for the game and are the quintessential "gym rats." Therefore, the idea of them taking any potential prima donnas is simply not going to happen at any point in the draft.
• The feedback I've received from NFL scouts on Oregon State DT Stephen Paea's health has been very positive and he looks to have a real shot of being selected in the back end of round one.
• The Oakland Raiders seem to have a lot of interest in possibly adding an offensive tackle with their first pick in round two. One name that has been consistently mentioned with the Raiders is Villanova OL Benjamin Ijalana.
• Two receivers who have seen a late surge up draft boards in recent weeks, due in large part to their strong pro day performances, are Georgia's Kris Durham and Illinois' Jarred Fayson. Both now have a shot of going during the later rounds of the draft.
• The Bears are said to have taken an interest in South Florida defensive tackle Terrell McClain and he could be an option for Chicago on day two of the draft.
• I got a lot of positive feedback on the workout of Virginia Tech QB Tyrod Taylor with the Miami Dolphins. Hearing he could be a mid/late-round option there.
• Talked to an NFL scout this week who said that he believed UT Chattanooga CB Buster Skrine was at one point the real sleeper at the cornerback position in the draft. Now, he said the DB will be as overdrafted as anyone due to his 40 time at the Combine.
• Middle Tennessee State QB Dwight Dasher is starting to generate some buzz for himself as a potential "slash" type player in the NFL. Teams like his potential kick return capabilities and it's no surprise the team I keep hearing has a lot of interest in him is the Pittsburgh Steelers, home of the original "slash."
• There is still a lot of debate over Miami CB Brandon Harris as a first-round pick. Some scouts I've talked with think he's more of a third round/nickel guy only. Others think he's a starter on the outside and deserves a first-round grade.
• Finally, one interesting point that was brought to my attention this week was that a couple of NFL scouts think that if Washington QB Jake Locker were to fail as a QB, he could possibly make the move to safety in the NFL. Much like Tim Tebow from last year, the guy is a good enough athlete to find a niche on the field somewhere.