March 05, 2011 -
National Football Post
NFL Draft rumors: Post-Combine
What I have been hearing ever since leaving the NFL Combine.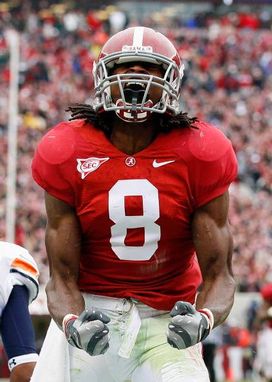 Jones proved he's quite the athlete.
• Following the Combine, the word I received from a number of scouts is that because of his workout, Alabama's Julio Jones now likely will be the number one overall wideout off the board over Georgia's A.J. Green.
• Also following the wide receiver workout a lot of scouts I spoke with were really down on San Diego State's Vincent Brown, stating that his 4.70 40-time could push him down into the later round range.
• One guy who a lot of scouts are down on is South Carolina tight end Weslye Saunders. After showing up a little soft at 270 pounds, a broken bone discovered in his foot during the medical caused him to be unable to workout. After speaking with a couple scouts about him afterward, I was getting the impression he's not going to be on many teams' draft boards after this.
• Hearing that if one of the top offensive tackle prospects in the draft were to fall to the Ravens at the end of round one, there would definitely be a lot of interest.
• The more sources I talk with the more I get the feeling that the Patriots will not only be in the market for a rush linebacker in round one, but might be willing to buck the trend and look at a smaller/quicker rush guy, staying away from their more patented bigger build.
• Even with the rise of Alabama DT Marcell Dareus, all the scouts I have talked with still think Auburn DT Nick Fairley is the better NFL prospect.
• Talked to a couple of sources who said they have UCLA FS Rahim Moore graded out as nothing higher than a 3rd-round pick.
• The more scouts I discuss Auburn QB Cam Newton with the more they are afraid of not only his off the field character, but the overall posse he could ultimately end up coming into the league with. They raised the concern of just how committed to football he will be and who in his camp could ultimately keep him distracted from developing.
• There is no denying the talents of Colorado CB Jimmy Smith. However, there is a growing concern from scouts I've talked with about his character, which they said could cause him to fall a little further on draft day than most presume.
• Finally, I came out of the Combine hearing differing opinions on Pittsburgh WR Jon Baldwin. Some thought he made himself some money with his workout, others thought he was a bit of a disappointment. I really haven't gathered a legit consensus on the guy, but in my mind he's an extremely gifted athlete who can make plays down the field. The key is keeping him hungry and motivated.