April 14, 2012 -
National Football Post
NFL Draft: Steals in the RB class
A look a late round/free agent backs who could make big impacts down the line…

Bryce Brown: Kansas State (6-0, 220)
Watching him run in Lane Kiffin's zone scheme as a freshman, the guy was an impressive back with a lot of natural talent. He was the number one ranked recruit out of high school, ahead of Trent Richardson in 2009 and no doubt has the skill set to play in the league. The biggest question mark for him going forward is his overall character.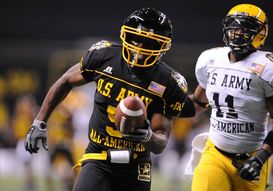 ICONBrown has the talent to play and be successful in the NFL.
Daryl Richardson: Abilene Christian (5-11, 195)
Richardson is the bother for former Abilene Christian RB Bernard Scott and has a lot of the same athletic qualities. He showcases a "plus" first step, gets up to speed quickly and has the kind of explosive element to his game that is hard to overlook. He isn't a real big guy, but can create in the open field. Lacks ideal power between the tackles and isn't going to run through a ton of defenders inside. However, can be a dynamic option that is going to time very well and has the speed to create in space.

Michael Smith: Utah State (5-9, 205)
He's a powerfully built kid who runs low to the ground, displays good short areas quickness and has a burst when asked to get up the field. He looks explosive pressing space and accelerating toward daylight, could be a nice late round value.

Bobby Rainey: Western Kentucky (5-8, 205)
I think he could get some looks as a situational type back who can be used in space effectively at times. However, despite his production, I think at best he's a later round pick who is going to have a find a niche early on where he can make plays and be dynamic if he hopes to stick on an NFL roster. My guess would be either as a return guy, a situational guy in the pass game or even on kick coverage.

Adonis Thomas: Toledo (5-10, 185)
Presses the hole with good forward lean and does a nice job not subjecting himself to many big hits. Isn't a real physical back and despite his "plus" balance isn't a guy to break a ton of tackles through contact and create yards after contact. However, is willing to stick his head in blitz pick-up, but lacks the anchor to hold his own at the next level. Is natural catching the football out of the backfield and runs away from defenders well when asked to get outside the pocket and run the wheel route. Has some dynamic qualities to his game that makes him worth a look as a later round pick/priority free agent.

Marc Tyler: Southern California (5-11, 230)
A big back who possesses a good feel inside, can pick his way through tight quarters and finish runs. Isn't dynamic but is worth a later round pick and should be able to make a roster as a number three and could really develop from there.