April 05, 2012 -
National Football Post
NFL Draft: Stock Watch
Who is making their move up boards with under a month to go till draft night?

QB Ryan Tannehill: Texas A&M (6-4, 222)
With such limited experience at the quarterback position it's not a case of where this guy is right now, but where he can be in 2/3 years. I love the talent and the overall production from a guy who doesn't have much experience playing from under center as he plays way beyond his years. A potential franchise quarterback in my mind.

Potential Stock: Top-10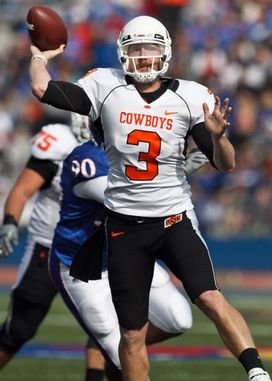 ICONWill Weeden sneak into round one?
QB Brandon Weeden: Oklahoma State (6-4, 218)
His age will likely keep him from going as early in the draft as his talents deserve. But there isn't a throw this guy can't make and he has the skill set and mental make-up to mature into a potential starter with some time.

Potential Stock: Late First Round

RB Michael Smith: Utah State (5-9, 205)
An overlooked senior because of a talented runner in front of him, but has an NFL skill set and should make a roster.

Potential Draft Stock: Fifth Round

WR Stephen Hill: Georgia Tech (6-5, 206)
Has a unique skill set, can pluck off his frame, track the football and is the next big time talent from the Georgia Tech program. Is going to need some time to develop, but can come in and track football vertically early on. Has a lot of upside to his game and skill set says he's an NFL starter.

Potential Stock: Mid/Late First Round

WR Rueben Randle: Louisiana State (6-4, 208)
Possesses that sneaky strider speed down the field and has some savvy to his game. However, lacks great burst out of his breaks and isn't going to be effective running sharply breaking routes. Looks like a potential NFL starter only.

Potential Stock: Late First Round

TE Coby Fleener: Stanford (6-6, 244)
An impressive pass catcher who can win both down the field and underneath vs. man coverage. Has the frame and flexibility to develop into a solid blocker as well and looks like a future starting caliber NFL TE.

Potential Stock: Late First Round

TE Chase Ford: Miami (6-6, 245)
Had a good showing at this year's East-West Shine game and for a guy at his size with his body control looks like a option you can draft late and try to mature into an every down type option. Has the frame to add weight and get much bigger.

Potential Stock: Fifth Round
For the rest of the list click to page two...