April 07, 2012 -
National Football Post
NFL Draft: Top Upside Prospects
A look at which prospects have the most upside going forward…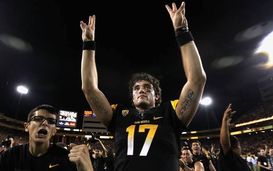 ICONOsweiler possesses a good skill set.
QB Robert Griffin III: Baylor (6-2, 220)
A "plus" athlete who can really throw the football, is a student of the game and is only starting to scratch the surface of his potential. Has as much upside as any prospect in the draft and looks like a future franchise signal caller.

QB Brock Osweiler: Arizona State (6-7, 240)
Osweiler would have been much better served to stay for his senior year and develop his overall feel for the game. Because of as now he struggles to decipher defenses and honestly didn't display a great feel for his own offense either. However, the guy has some talent and can really sling the football.

WR Stephen Hill: Georgia Tech (6-5, 206)
Has a unique skill set, can pluck off his frame, track the football and is the next big time talent from the Georgia Tech program. Is going to need some time to develop, but can come in and track football vertically early on. Has a lot of upside to his game and skill set says he's an NFL starter.

TE Orson Charles: Georgia (6-3, 241)
A gifted athlete who can create a lot of mismatches in the pass game. Should be able to improve as a route runner as well. Not quite as polished as Aaron Hernandez as an H-back coming out, but could end up playing a similar type role.

OT James Carmon: Mississippi State (6-7, 320)
He's a gifted athlete for his size who at worst is worth a developmental/free agent grade. He's the type of lineman I would love to have/develop on my practice squad for a year and see how much he can develop.

DE Quinton Coples: North Carolina (6-6, 285)
Can be as good as he wants to be in the NFL. The game comes very easy to him and he can be dominant if he learns to use his arms even better to slip blocks in the pass game, but with more time I expect that to improve. The sky is the limit as long as he's willing to work at his trade and keep his motor running.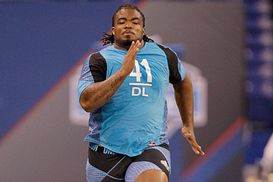 Poe is an elite physical specimen.
DT Dontari Poe: Memphis (6-5, 350)
Has a rare physical skill set due to his combination of flexibility, power and get off burst. However, he's still learning the nuances of the position. If he's willing to put in the time, Poe can mature into one of the leagues better interior presences. Nevertheless, because he's raw his floor isn't overly high either.

LB Zach Brown: North Carolina (6-2, 230)
A run and hit guy with impressive athleticism and range. Possesses solid instincts and is a better read-and-react linebacker than given credit for, but still not elite in that area. Nevertheless, looks like a starting caliber 43 weak side guy who would be ideal in a cover two scheme.

CB Trumaine Johnson: Montana (6-2, 204)
A talented kid who physically/athletic reminds me a lot of Jimmy Smith (Baltimore Ravens). Now, he's not as experienced as a pressman as Smith was, but has the same type of upside and can be a similar player if he commits himself fully to the game at the next.