November 19, 2012 -
National Football Post
NFL Prospects Rising and Falling
As most NFL scouts enter their final week making school visits (Most scouts finish their fall road scouting by Thanksgiving) they are getting ready to polish up and submit their final fall reports before their team's December Draft Meetings. While I have been grinding away the film all fall, I have been able to track down a number of scouts to get their thoughts on different players around the country. Below is a look at four players whose stock has been moving over the past few weeks based on my film evaluation and what I am hearing from NFL scouts.
Rising Players
Joseph Fauria Tight End UCLA Senior
6060 (Estimated) 255 (Estimated) 4.80 (Estimated) Potential 4th / 5th Round Pick
Entering his senior season, Joe was not viewed in the same light as his uncle, Christian, who was a second round pick of the Seahawks when he came out of Colorado years ago, but rather was consider a likely seventh round pick or priority free agent signing. However, Joe has excelled in his first season as the "Y" in UCLA's spread option attack. No one will ever accuse Joe of being a blazer who runs by defenders and gets separation deep, but he is an under-rated athlete and player. For a tall tight end, Joe is smooth and fluid running routes, is quick getting his head and hands around out of cuts and consistently plucks the ball well on high passes. I do not expect Joe to be a high draft pick, but in the middle rounds he has excellent value as a backup tight end that excels catching the ball and making positional run blocks.
Khaseem Greene Linebacker Rutgers Senior
6004 238 4.70 (Estimated) Potential 2nd Round Pick
A former safety, Greene's game has improved dramatically in 2012 as he has become more comfortable playing closer to the line of scrimmage. Still possessing the foot quickness and speed of a safety, despite increased weight, he can cover tight ends and running backs easily and is excellent moving and adjusting in zone coverage. His experiences playing safety shows in his quick read of quarterback/pass and ability to plant, drive and close on the ball fast. Unlike many converted safeties, Greene does not back away from contact and will step up and use his hands to stay free from them. No doubt his lack of height leads to him being engulfed at times by big offensive linemen, but that is the exception rather than the rule as blockers often cannot get ahold of him. While I anticipate Greene being a second round pick now, with his athleticism, character and team first attitude he could move up into the first round if he knocks the ball out of the park at the Senior Bowl and Combine.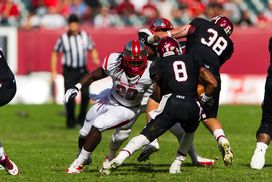 US PRESSWIRERutgers LB K. Greene (#20) prepares to tackle Temple RB M. Harris (#8).
Montel Harris Running Back Temple Senior
5086 199 4.55 (Estimated) Potential 5th Round Pick
When Harris transferred to Temple there was not a lot of media attention paid to the move, but it has turned out to be a great move for Harris and Temple. A small back who had been highly productive at Boston College, the knee injuries suffered during the 2010 and 2011 seasons had NFL scouts concerned about his ability to be a durable back at the next level. However, finally back playing at 100% in 2012 Harris has rushed for nearly 1,000 yards in nine games and had a monster game this Saturday against Army finishing with 351 rushing yards and six touchdowns. After his injury and transfer, many scouts told us they expected Harris would likely not be drafted and he would need to win a roster spot as an undrafted free agent. However, at Temple he has shown the vision to find the hole, the quickness to get through it before it closes and the wiggle to make tackers miss. Combining those skills with his soft hands catching the ball and his toughness running in traffic despite lacking the ideal size to do so, Harris is viewed as a good fifth / sixth round pick with the chance to contribute as a third-down/change-of-pace back.
Falling Player
Matt Barkley Quarterback USC Senior
6020 229 4.95 Potential Late 1st / 2nd Round Pick
Despite nearly everyone labeling Barkley as the sure fire number one overall pick in the 2013 NFL Draft when the season began, I could not jump on that "bandwagon" as I felt his play in 2011 warranted a second round grade. This season, despite two elite receivers to throw to, Barkley has struggled to play up to those lofty expectations. Never a big quarterback, his lack of premier arm has shown up this season as some of his longer passes have hung in the air a bit too long, which has allowed defenders to break and close to make plays on them. On a team whose defense has struggled, Barkley has been in shootouts in many games and has forced some throws that were intercepted because it looks like he felt he had to gamble to make plays when throwing the ball away would have been the wiser choice. While not a premier athlete, Barkley has enough foot quickness and athleticism to slide within the pocket to avoid pressure, keeps his eyes down field and can make good, accurate throws after re-setting or on the move outside of the pocket. Additionally, after suffering shoulder sprain, Barkley will miss USC's game against Notre Dame. Now he must prove to NFL teams he is healthy when he undergoes a physical at the Combine. Overall, there are many things to like about Barkley and that is why I gave him a high second round grade off his junior film, but he is not the premier prospect like Robert Griffin III or Andrew Luck coming out of college.
Email Russ at Russelllande@yahoo.com and Follow Russ on Twitter @RUSSLANDE