January 31, 2011 -
National Football Post
NFLPA Bowl Preview
A look at five of the more intriguing prospects playing in this week's NFLPA Bowl.
1. OT Willie Smith: East Carolina
Smith was one of my favorite offensive tackle prospects in the entire country based off my tape study during the 2010 season. The guy is a gifted athlete, possesses good range to the edge, redirects well in space and looks natural on the move. Now, he's raw from a technical standpoint coming from the Texas Tech-style spread offense where he was simply asked to back pedal off the line and create a deep cup in the pocket because of their quick passing attack. He might not be as NFL-ready as some of the other prospects we saw last week in Mobile, but the guy has some good movement skills, can bend with natural flexibility and if he has a big week, he could be the one guy to really catapult himself up draft boards from this group in San Antonio.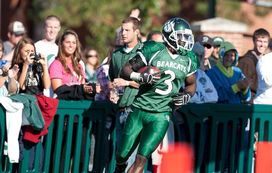 Northwest Missouri State CB Ryan Jones could vault up draft boards.
2. CB Ryan Jones: Northwest Missouri State
At the end of the season when I wrapped up my school tape study I dubbed Richmond CB Justin Rogers as the most NFL-ready small-school corner in the draft. However, I also thought Ryan Jones was the guy who had the most upside of the group and could end up going just as high with a good week at the NFLPA Bowl. Jones is a strong, well-put-together corner with natural ball skills, a good first step and the straight-line speed to consistently track the football. He's more of an athlete than cornerback at this stage and relies more so on his God-given abilities than technique. However, he's a fluid corner with some natural turn and run ability. And it will be interesting to see just where he's at this week in terms of his back-pedal/technique in determining just how much of a project he will be for the NFL team and how quickly he'll be able to get on the field.
3. WR Derrell Johnson-Koulianos: Iowa
Remember the name? After getting suspended by the Iowa football team for their 2011 bowl game following his arrest on drug possession, DJK is back and trying to repair his image in front of NFL scouts this week. Johnson-Koulianos is a talented wideout who possesses a solid first step, has some natural balance/fluidity to his game as a route runner and can be physical after the catch. However, he isn't a real dynamic athlete in any area of the game and when you add that in with his character concerns, it's going to be tough for him to convince an NFL team that he's worth a draft pick. However, I thought he was worth about a mid-round grade before the suspension and if he shows well for himself this week, the guy should be able to get himself into a camp as at worst a free agent.
4. OC Tim Barnes: Missouri
In what looks like a pretty poor center class, Barnes has the ability to be the one guy to make his move toward the top of that second-tier of centers this week. Penn State's Stefen Wisniewski and Florida's Mike Pouncey are far and away the best pivots in the 2011 draft. However, after that the class dries up pretty quickly. There are some intriguing small-school talents and decent later-round guys, but no one has really stepped up and secured that top spot after the aforementioned two. Therefore, with a guy like Barnes who has some natural bend, is a good athlete and can get out and pull in the second level, with a strong week I think he could end up being that guy, as he's someone who I have liked on tape for the past two seasons.
5. DT Jerrell Powe: Mississippi
A former five-star recruit, Powe has had a real rollercoaster of a ride during his time at Ole Miss. Struggled with weight and academic problems during the early part of his career, only to recommit himself in 2009 and develop into one of the more dominant defensive linemen in the SEC. However, he lost a lot of weight this past year getting himself down to around 315 pounds and tried to play like more of a finesse style three-technique, but he lacked the kind of initial burst, lateral quickness and hand usage to consistently disengage on contact. But he is a powerful nose tackle who has a good first step for the position. He's tough to move off the ball inside, can push the pocket on third down and as a junior I did see some B.J. Raji to his game. Now again there are some character, weight and age concerns with this guy, but he's a thick-bodied defender who can anchor inside and is certainly worth a draft pick. But this week could go a long way in determining how high you take a shot on this boom or bust prospect.
Follow me on Twitter: @WesBunting