January 03, 2014 -
Jason Cole
NFLPA financial advisor program fatally flawed
As draft-eligible college players go through the bowl season and prepare for a chance in the NFL, former players and numerous agents wonder about which ones may fall victim to a flawed system created years ago by the NFL Players Association.
The union's financial advisor registration program. The program is designed to create a list of financial advisors who have paid a fee to the NFLPA and gone through a basic background check.
"It's a joke," said one agent with more than 20 years in the business. "Put it this way, how good a program can it be if Jeff Rubin and Hodge Brahmbhatt were registered?"
Rubin and Brahmbhatt, who were both registered with the NFLPA at one time or another, have been in the middle of major financial scams that have broken in the past 18 months. According to a lawsuit filed in October and a federal investigation revealed in April, the two men were in the middle of scams that cost players at least $73 million.
In addition, rough estimates based on numerous documents and interviews indicate that Rubin likely cost players more than $100 million in what amounted to fraud and negligence. Brahmbhatt is at the center of an investigation into approximately $18 million in lost investments.
Despite that, the NFLPA continues to push the program and even requires that agents advise players to only use registered financial advisors. At least two memos sent to agents in the past year say that they are to only recommend registered financial advisors, if they recommend anyone.
"When I'm told by the (NFLPA) that here's a list of registered financial guys, I take that to mean that they're OK, that the (union) has done its due diligence," retired 15-year veteran Matt Birk said in April. Birk graduated from Harvard and has since taken a job with the NFL.
"That's not to say that everything is perfect with the guys on the list. There are no guarantees that you're actually going to make money. But you don't expect that guys on that list are going to lead you into a scheme. It should mean that past performance is a pretty good indicator of future."
Fellow retired NFL player Scott Fujita echoed Birk's remarks.
"The message the NFLPA is sending to the players with the program is that these financial advisors are relatively safe. If that's not the case, why do we have it?" said Fujita, a graduate of Cal and, like Birk, a former NFLPA player representative.
In a December 2012 memo sent to agents, the NFLPA wrote that agents are to tell players that, "Players are encouraged to use only those financial advisors who are NFLPA Registered Player Financial Advisors." Another memo with a similar instruction was sent in July, an agent said. Similarly, a November fraud alert sent by the NFLPA to all agents regarding Phoenix-based real estate investor Tanya Maria Marchiol trumpeted the fact that Marchiol was not in the NFLPA's program.
That memo on Marchiol drew sarcastic responses from numerous agents in light of the Rubin and Brahmbhatt issues. Ultimately, most agents surveyed say they simply don't recommend any financial advisors. Then the agents fume about the program.
"The program is ridiculous. Think about it, based on what the NFLPA is doing, I couldn't recommend Warren Buffett," said another, who was one of 15 agents contacted for this story. "Instead, we're supposed to tell a player only use someone from this list the union puts out. I'm not taking the potential liability."
Of the agents who discussed the program, none of them spoke on the record for fear of reprisal from the NFLPA. Only four agents said that they regularly recommend financial advisors. However, all four said they only recommend advisors they know personally. One agent said he thought so little of the program that he told his own financial advisor not to even register with the NFLPA.
"I told him it wasn't worth the money he would spend. It's not worth being lumped in with guys who have ripped off players," the agent said.
Early in 2013, a high-ranking NFLPA source even agreed, suggesting that the union would be better off dismantling the registration program. Birk and Fujita agreed.
"It seems to me that this whole system is bad. It's not good for the players. It's not good for the (union). So why the heck are we doing it? Either upgrade the program and have certification where you're keeping track of what the financial people are doing or do away with the program," Birk said.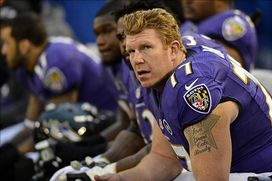 Former players such as 14-year NFL veteran Matt Birk have been critical of the NFLPA's financial advisor program.
When NFLPA spokesman George Atallah was contacted in December about the program, he replied with a question.
"Are you aware of the restrictions the (Securities and Exchange Commission) places on the NFLPA with respect to the program?" Atallah wrote via email. When asked a series of follow up questions – including why the union would run a financial advisor program when it was hamstrung by SEC regulations – Atallah didn't reply. He also didn't reply to a third request for comment.
In defense of NFLPA Executive Director De Smith, the financial advisor program was created before he took over in 2009. The program was initially conceived in the late 1990s under the watch of the late Gene Upshaw.
However, one of the main problems with the program after approximately 15 years is that few people, be they players or agents, even understand the basic difference between "certification" and "registration." Agents are certified by the NFLPA, meaning that they pay a fee, go through background checks, must meet certain standards in terms of education and experience and must pass an exam.
Financial advisors in the NFLPA program are only registered, meaning that they pay a fee and go through a background check.
As one league source said recently, "Registration is about the same thing as having your name in the phone book."
Of the 15 agents contacted, 12 of them used the word "certified" when referring to financial advisors. In short, there is confusion over exactly what the NFLPA program means.
Two agents were extremely critical of the program.
"It's perfunctory," one agent said. "The union does it for (public relations) sake, so that they can say they're at least doing something. They don't have the staff to really check out what's going on and they're not following up with who any of these people are.
"I'm all for players having financial advisors, really good quality people who can teach them how money works. But that's not what a lot of these guys are. You see guys like Rubin get big in this business and you wonder, 'Isn't anybody checking him out.'"
Rubin represented more than 100 clients at one point. The vast majority were in football. However, Rubin had no formal financial training. He majored in Exercise and Sports Science at the University of Florida, where he met his early clients, such as Fred Taylor and Jevon Kearse.
"You didn't have to do much checking to find out that Rubin wasn't qualified, but the NFLPA still registered the guy," one agent said.
Another agent said that the union's emphasi s should be on educating players about finance first and not providing a program that gives quick solutions.
"What I tell my players is that this is their money and they have to figure out who they can trust by doing the proper background checks and asking the right questions," the agent said. "The basic material is all there on the (Financial Industry Regulatory Authority) website. You can find out someone's employment history and if there are any complaints against them. You just have to do the work and the union isn't teaching that. I do, but I know a lot of agents don't because they don't want to deal with it."
The agent went on to say that he sees players getting taken in a variety of ways by unscrupulous financial advisors.
"It's not even just stealing, which eventually happens with some of them. It's the fees some of these guys charge. A player is 'investing' $50,000, but then he doesn't see all the handling fees and charges that the advisor charges off the top. Or a big one is bill pay. I see players getting charged $2,000 a month for services they don't even need. These guys have about four bills a month and they don't want to take the time to learn how to do it."
Ultimately, most agents come back to a simple bit of advice. First, if players work with financial advisors, the players should choose ones from larger firms like Merrill Lynch or Smith Barney. Second, they need to understand that risk is inherent.
"I think players, especially when they're getting started, should only work with the big firms because those firms are insured and they do a lot of vetting of the people who work for them because they don't want anything to go wrong," an agent said. "You can still get taken, but you will probably get your money back from one of them.
"But the other thing players really need to know is that nothing is completely safe. You have to watch your money and, even when you do, something can go wrong."
The agent likened the situation to getting into a car, putting on a seat belt, following all traffic laws and taking proper precautions, such as getting proper rest.
"Even then, you can get into an accident," the agent said.
However, what the agents come back to time and again is the notion that the union's program is an unnecessary and dangerous shortcut.
"Look, Bernie Madoff fooled a lot of smart, savvy people. Certainly people who are generally a lot more savvy and experienced than your typical NFL player," Birk said. "So if you're not going to be doing thorough work on these (financial advisors), the union shouldn't be in the business of endorsing any people in the financial advisor industry. Make sure that players understand how money works. Look, you can have players just go to the (team) and have them check on people, whether it's a house sitter, a baby sitter, a contractor or a financial advisor. There are a lot of ways for guys to get help and learn how to handle their money."
Follow Jason on Twitter: @JasonPhilCole