February 02, 2011 -
National Football Post
NFLPA Game practice notes: Day 2
A breakdown from day two at practice from the NFLPA game in San Antonio.
Got a good look at NW Missouri State cornerback Ryan Jones today, and like any small-school guy he's still a work in progress. What I like is that he's a big, strong-looking kid who has the ability to turn and run. Plus, he showcases good balance and footwork when asked to redirect out of his breaks on throws in front of him and was tough to separate from underneath. However, he allows his pad level to pop up when asked to click and close, as his head gets upright and despite trying to sit into his drop he appears so focused on his back-pedal that he seems to be reacting instead of trusting his eyes and anticipating routes. It's the typical journey of a small-school corner who is simply going through the growing pains while learning to become a more technically sound corner rather than just a dominant small-school athlete.
Another small-school standout who has also really flashed at times this week was Jones' teammate, DE Roberto Davis. Davis is an undersized pass rusher at 6-2 and 247 pounds, but he's got good length for his size — 32-inch arms — and has done a nice job the past two days getting after the passer. He displays an above-average first step, gets off the ball on time, has some bend when asked to flatten out around the edge and does a nice job maximizing his length when trying to keep himself clean. He loves to work a violent swat toward the corner and also plays the run game with integrity, keeping his pad level down when shooting through the C gap, keeping his pad level down and working his way toward the ball. He's been a tough block for just about every lineman on the Texas squad during the first two days of practice and looks like a potential intriguing late round/priority free agent.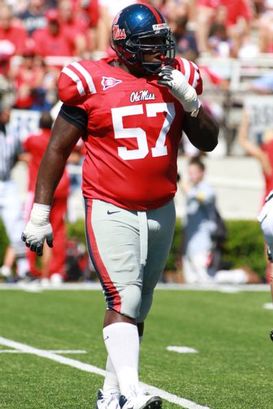 ICONPowe looks like a two down run defender at the next level.
I honestly have not been real impressed with Ole Miss DT Jerrell Powe this week as he's simply just a limited big body run defender inside. He isn't real sudden laterally as a pass rusher, does have a compact club when trying to shed initially, but allows his pad level to get upright when trying to make his way up the field and struggles to fight his way through contact. He's still tough guy to move off the football inside during team drills vs. the run and can eat up space inside. But if you're looking for anything more than a two-down run defender, Powe isn't your guy.
TCU DE Wayne Daniels really hasn't impressed either down here this week. He possesses only an average first step, a decent initial pop as a bull rusher, but again only average lateral quickness on his counter. He plays hard, but just doesn't have any real dynamic quality to his game from a physical standpoint and because of that seems like a guy who will have a tough time making an NFL roster, and if he does looks more like a reserve-only to me.
It's always a challenge for a kid to make a position change at an All-Star game, much like Kansas OL Brad Thorson is trying to do this week. He's making the move from RT to C, where the glaring deficiency to his game is his lack of natural bend. The guy struggles to sit into his stance and keep his base down. He's consistently doubled over at the waist and is a bit slow to snap and step initially off the ball. He does have some natural balance and coordination as a puncher through contact laterally. But isn't a draftable prospect in my view.
Typically, I don't like small corners. However, I like the toughness and heavy hands Florida International CB Anthony Gaitor displays when asked to play up near the line. He's still raw and has a tendency to get overextended, both with his upper and lower half. However, he's a fluid corner who can turn and run, tracks the football well and snaps his head around quickly when locating the throw. Physically, he's limited to playing only inside in the NFL, but he's a nice later-round draftable prospect who I could see making a roster and contributing from the slot.
I will say that Hillsdale wideout Andre Holmes does look the part. He's a long, tall kid who has a pretty good initial burst off the line and has some suddenness/fluidity to his game as a route runner. He did a pretty good job creating separation for himself at times both vertically down the field and underneath. However, the guy simply couldn't catch a cold this afternoon. He dropped numerous balls throughout the practice and despite having some upside as a small-school athlete, it's tough to call a wideout draftable if he doesn't consistently catch the ball.
Small-school tight end Stephen Skelton isn't the most gifted of athletes. However, you can tell the guy has a savvy about his game. He's done a nice job all week changing speeds in order to set up routes, is a pretty clean/sharp route runner when asked to get out of his breaks and looks natural adjusting to the throw. He doesn't generate much burst out of his breaks vs. man, but he's routinely able to gain at least a step, box out his man and make a play on the football. Has been one of the few reliable targets on the Nation's squad this week.
Finally, South Carolina DT Ladi Ajiboye had a tough time disengaging from blocks today. The guy is a good straight-line athlete who has some explosion off the ball and can threaten gaps inside. However, despite his length, he doesn't use his hands well to disengage from blocks through contact and can easily be engulfed/held up inside. And when you get an undersized lineman who is as linear as he is, despite his intruding length — 34 1/8 — he doesn't look much more than a priority free agent in more of a one-gap scheme.
Follow me on twitter: @WesBunting