February 03, 2011 -
National Football Post
NFLPA Game practice risers and fallers
A breakdown of which prospects made the biggest impacts this week and a look at those who struggled in San Antonio.
Risers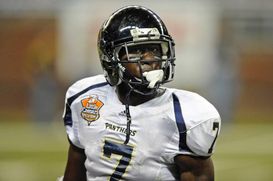 IconGaitor has been a tough guy to separate from this week.
CB Anthony Gaitor: Florida International
He isn't the biggest of defensive backs, but the guy is feisty off the line, possesses good awareness down the field and can make plays on the football. He's still a bit raw and will get overextended off the line with both his punch and footwork, but with some time/development I could definitely see this guy playing inside as a tough, savvy nickel defender.
OC Zane Taylor: Utah
He checked in at nearly 6-3 with 32-inch arms and has the type of anchor to hold the point of attack in the pass game and create some movement off the line as an in-line guy. He's a bit limited as an athlete and will lose his balance at times through contact, causing him to fall off blocks. But he's a tough, nasty interior blocker who has a passion for the game and looks like a draftable pivot.
DE Roberto Davis: NW Missouri State
In all honesty I never even saw a lick of Davis until this week, but he's one of two small-school guys who really jumped out to me in San Antonio. He displayed a good first step off the snap, has some bend when asked to flatten out around the corner and uses his length/hands well to keep himself clean. Plus, he played the run game well shooting gaps inside and looks like at worst an intriguing priority free agent who could get a real shot as a 3-4 OLB to make a camp.
CB Buster Skrine: UT Chattanooga
Skrine was the other small-school kid who really jumped out to me this week. He's a bit raw initially in his drop. However, he's a fluid kid with good feet and balance and was a tough guy to separate from all week long.
DT Kenrick Ellis: Hampton
The guy was downright dominant at times on Tuesday, using his explosive first step and natural leverage to knife his way into the backfield and close on the ball. Yesterday, he wasn't nearly as impressive and seemed a bit disinterested in practice — one of the big concerns I have with a character concern guy like Ellis. However, he's a talented kid with a great frame and if the light ever goes on, the guy could be a very good starting pro in either a 3-4 or 4-3 scheme.
OC Tim Barnes: Missouri
I was expecting a very good week from Barnes and I came away not disappointed at all. He showcased good snap and step ability, can sit into his stance and anchor vs. bigger defenders and works his hands well through contact. At times he gets a bit overextended initially into blocks trying to be physical off the snap. Nevertheless, he's one of the few centers in the class who I think has some starting potential at the next level and showed well for himself this week.
Fallers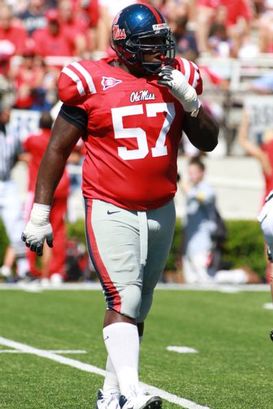 ICONPowe hasn't been overly impressive this week.
<strong>DB Jay Valai: Wisconsin
Coming in at only 5-8 and 203 pounds is never a good way to start the week for a safety. However, it got worse, as he really struggled holding up in coverage, consistently trying to jump routes in order to make plays, but routinely guessing wrong and stopping his feet. Add that in to the fact he misses far too many tackles and he looks like a camp body at best.
DB Kevin Rutland: Missouri
It's tough to give a good grade to a tall, long-legged corner who struggles to turn and run. But that is exactly the case with Rutland. He gives up far too much separation out his breaks, lacks balance and fluidity when asked to redirect and has had a tough time covering just about any wideout down here.
DT Jerrell Powe: Ole Miss
I'm not saying that Powe isn't one of the best prospects down here and that he won't be one of the first guys drafted from this game. But in all honesty I was pretty underwhelmed by his performance this week. Now, he is tough to move in the run game, I will give him that. However, he isn't a gifted pass rusher, gets upright if/when he gains a step inside and doesn't do a great job finding the football. Looks limited to more of a two-down run guy who can eat up space, but in my view isn't worth more than a mid-to-late round pick.
OLB Wayne Daniels: TCU
After watching Daniels this week the one thing that jumped out to me is that there's just nothing real dynamic about his game as a pass rusher. He's got an average first step, isn't overly sudden or shifty on his counter and in my mind his best pass rushes down here came on the bull rush. He's got enough talent to get a look as a 34-rush guy, but don't see him as anything more than a fringe roster guy.
Follow me on twitter: @WesBunting