February 05, 2011 -
National Football Post
NFLPA Game Preview
Five questions that need to be answered in today's NFLPA game that could go a long way in determining the stock of some of the games biggest prospects.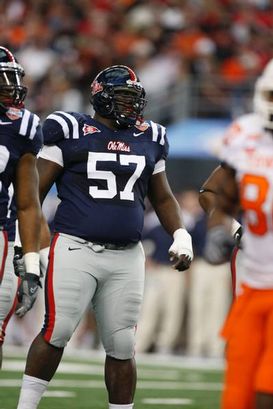 ICONPowe has the ability to control the line of scrimmage today.
1. Does the game of Ole Miss DT Jerrell Powe pick up when the lights finally go on? Powe had a really uninspiring week of practice, displaying little in the form of pass rush ability and wasn't nearly as impressive as you would expect from someone of his supposed caliber. Now, he is a big, wide body who is tough to move inside and the practice conditions weren't ideal for anyone on field level — trust me, I know. However, you'd like to see some kind of dominance in some area of his game today to justify using a top-90 pick on the guy, because at this stage I really don't see it.
2. What version of Kenrick Ellis shows up today? The Hampton product was downright dominant on Tuesday afternoon. He looked motivated and seemed content to prove he had the kind of talent to dominate the level of competition down here. He exhibited a good first step, kept his pad level down through contact and was tough to move off the ball in the run game. However, on Wednesday he just seemed like a shell of the guy we saw on Tuesday. He didn't have the same kind of motor running inside, was easily blocked at times and wasn't nearly as impressive. Now, there are some character concerns with him and finding out how important football is to him is key. But the talent is there. The question is how bad does he want it?
3. What quarterback puts his mark on the game? It has been a really unimpressive week for the signal-callers down here as no one has really stepped to the forefront and separated themselves from the pack. However, the two guys who have been just slightly better than everyone else throwing the football are Idaho's Nathan Enderle and Texas Tech QB Taylor Potts. Both have solid arms, can make all the throws and were able at times to spin the football with some consistency through the wind in San Antonio. They are both a major work in progress and I don't think either deserves a draftabale grade, but they least have the arm to warrant a spot in an NFL camp over the rest of the QB crop down here.
4. Can the tight ends continue to impress? In my view the top position group down here has been the tight end spot. Fordham's Stephen Skelton has been very solid setting up defenders and cleanly getting out of his breaks in the pass game, while Florida Atlantic's Rob Housler and Northern Iowa's Schuylar Oordt are both intriguing vertical threats who run well for their size. All three look like later-round draftable prospects and should be able to find a way to stick to an NFL roster.
5. Who makes their mark on special teams? One of the key aspects to this game, filled out mostly by second-tier prospects, is determining which prospects can come in and play special teams for you. Return guys like West Virginia's Jock Sanders obviously need to have big days. However, it's the willingness I want to see from some of the better size/speed DB's down here like NW Missouri State's Ryan Jones and North Dakota State's Josh Gatlin, who will be looked upon as potential gunners at the next level that need to shine in kick coverage today if they hope to see a slight boost in their draft stock.
Follow me on twitter: @WesBunting