February 01, 2011 -
National Football Post
NFLPA Game weigh-in results and notes
Live on location from the NFLPA Game, the NFP breaks down this morning's weigh-in with full results and notes from both teams.
One of the common traits we have talked about consistently over the past three weeks when looking at pass rushers is length, and Oklahoma State DE Ugo Chinasa has plenty of it. He measured in with 35-inch arms, has a strong, athletic-looking frame and certainly looked as impressive as any defensive lineman down here.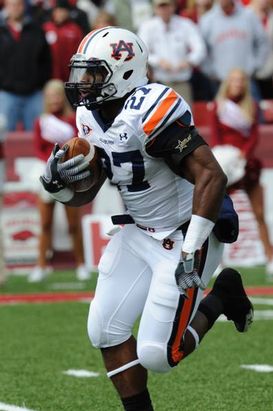 ICONFannin possesses an NFL frame.
Auburn RB Mario Fannin was the one guy who really fell by the wayside this past year for the national champion Tigers. However, at 5-10 and 225 pounds, he's a strong, thickly put together back with a muscular lower half and in my view is an intriguing later-round developmental guy who could make a roster as a third-down type back.
I was a little surprised to see Abilene Christian OT Trevis Turner come in at 342 pounds despite his 6-7 frame. He looked fleshy throughout his upper half and didn't have the type of bubble or thicker lower half you really look for in an offensive tackle prospect. Now, he hasn't played football in a couple months, which could be the reason for some additional weight. Nevertheless, he doesn't appear to be in that good of shape and in my view it wasn't the kind of initial impression he wanted to leave as a D-II kid trying to warrant a draft pick.
A lot has been made of the weight gain this past season for Texas Tech DL Colby Whitlock, who played as a five-technique in 2010 at 6-2 and 299 pounds. However, after seeing him up close it's not a natural 299 pounds as he has a lot of extra flesh, looks soft through the mid-section and in my view was a lot more of an intriguing prospect as a one-gapping 285-pound kid than the player he is now. However, you have to give him credit for being a team player, doing what was asked of him and I don't think it will take him long to lose this additional girth because it's simply not a natural weight for him to play at.
One prospect who really stood out in my mind was Utah center Zane Taylor. He measured in at 6-2 — which was taller than I thought he would be — and really looked well put together at 313 pounds. He had a thick lower half, was well strapped together in his upper body without much extra flesh and with 32-inch arms he has more than enough length to hold his own inside at the next level. Size was one of the major questions with Taylor as a prospect, but after getting the numbers, I think with a strong week the guy could play himself up some draft boards as he is one of the most underrated centers in the country.
Finally, I wrote about East Carolina OT Willie Smith on Monday being one guy who I am most excited about seeing down here and he certainly has me even more intrigued after the weigh-in. He measured in at just under 6-5 with 33