February 23, 2013 -
Erik Oehler
NFP breaks down players who shined in Saturday's workout
1. Terron Armstead, OT, Arkansas Pine-Bluff: Armstead is the talk of town (outside of a certain press conference) after running a 4.71 40, a combine-best for offensive linemen. He also put up 31 reps on the bench press and jumped a 34.5 inch vertical, but he did not just impress in the timing/testing. Smooth and coordinated throughout his workout, Armstead looked at ease during the pulling drills. His display of movement skills, balance and explosiveness during the positional drills was impressive and likely will lead to closer film evaluation.
2. Brian Schwenke, OC, California: Schwenke's performance made us want to re-watch his film, as he looked significantly quicker, more fluid and athletic than he did when we graded him in the fall. He surprised us with the quickness and burst that he displayed out of his stance in the pulling drill and displayed good balance and flexibility during a good all-around workout. One over-riding concern we have about his game (that isn't really tested on the field at the Combine) is his core strength, because on film and during Senior Bowl practices he appeared physically outmatched.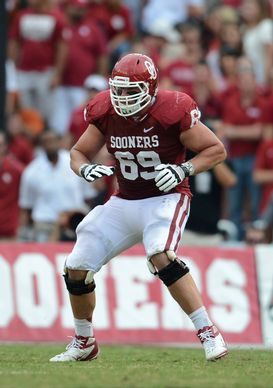 US PRESSWIREOklahoma OT Lane Johnson slides out to pass block.
3. Lane Johnson, OT, Oklahoma: Johnson's background as a TE was apparent during today's workout, as he set himself apart from the majority of the offensive linemen in terms of movement skills. He ran a 4.72 40 and looked like a smooth, long strider moving in a straight line. When asked to move laterally in agility drills he displayed excellent quickness and balance and looked the part of a starting NFL left tackle.
4. Jake Stoneburner, TE, Ohio State: Stoneburner looked the part of an NFL receiving TE today, as his athleticism stood out during drills. He looked smooth and athletic while running routes and was able to naturally adjust to balls in the air. Our biggest concern with him is his blocking ability, as he lacks the natural size of an in-line TE. He is likely to play more of an Aaron Hernandez-type role, flexed out in space to create matchup problems for defenses with his size and speed.
5. Gavin Escobar, TE, San Diego State: Escobar is highly impressive on film and did not fail to impress today. He displayed a natural ability to pluck balls away from his frame during the gauntlet drill and looked smooth and agile in all drills. He looked quicker and more natural than Eifert today while running routes, as he was very efficient getting in and out of his breaks. All of this despite not running particularly well in the 40.
6. Jamaal Johnson-Webb, OT, Alabama A&M: Not a well-known prospect, Johnson-Webb helped himself today. He displayed the foot quickness, agility and athleticism that is hard to find in 6'5+ offensive linemen. Able to bend knees and stay over his feet, he was easily able to adjust during the pulling drill and looked comfortable moving in space in all the drills.
7. Chris Gragg, TE, Arkansas: After coming into the 2012 season with big expectations and struggling through a disappointing senior season, Gragg helped himself today with an excellent workout. Quick and explosive running routes, Gragg showed that he has the speed to stretch the field and can really move well for a tight end.
8. Mychal Rivera, TE, Tennessee: While he is somewhat of a "tweener" who lacks the ideal size of a tight end, Rivera showed today that he has the athleticism and hands to be productive catching passes from a variety of alignments. Quick and athletic running routes, he consistently reached out and caught the ball cleanly with his hands.
9. Roger Gaines, OT, Tennessee State: Gaines proved today that appearances can be deceiving. For a player who did not impress during the weigh-in and as one scout told us "has a bad looking body," Gaines shocked scouts with his athleticism today. Not just quick, but also flexible enough to maintain good knee bend and leverage throughout the drills.
10. Three offensive linemen that scouts told me had good workouts, but did not really get into specifics of why their workouts were good were Edmund Kugbila (Valdosta State), David Bakhtiari (Colorado) and Menelik Watson (Florida State).
Email Russ at Russelllande and Follow Russ on Twitter @RUSSLANDE