February 26, 2013 -
Erik Oehler
NFP breaks down the DB's who shined Tuesday at Combine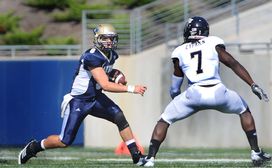 US PRESSWIREFlorida International safety Johnathan Cyprien prepares to breakdown and tackle.
1. Johnathan Cyprien, SAF, Florida International: Cyprien really stood out today with an excellent all-around workout. NFL people in attendance told me that he moved around so well in the workout that you would have thought he was a cornerback. Cyprien displayed the fluid movement skills, quickness and speed of a much smaller player. When you combine his work-out with his thick and muscular build, Cyprien definitely has a chance to be a first round pick.
2. Dee Milliner, CB, Alabama: Milliner came to the Combine needing to prove to everyone that he has the top end speed to cover the fast receivers in the NFL and after today that should no longer be a question/concern. He was extremely smooth and fluid in drills displaying loose hips and excellent balance/agility. While he displayed solid hands, he was not great and dropped three balls according to scouts in attendance.
3. Tyrann Mathieu, CB, LSU: While he did not run as well as many expected (Low 4.5's depending on which scout I spoke with), Mathieu's workout was strong. His balance, agility and quickness showed in his ability to stay in position in drill even when his footwork/technique was not sharp. He also proved that he has rare ball skills as he looks natural going up and catching the ball. Lastly, sources told us that within a day most of the defensive backs were following Mathieu as he has natural charisma and leadership.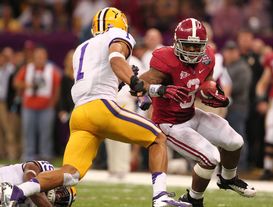 US PRESSWIRELSU safety Eric Reid breaks down to tackle Trent Richardson.
4. Eric Reid, SAF, LSU: Even though Reid did not run super-fast in the 40 that does not mean he had a bad work-out (His publically reported 40 times were much faster than those scouts gave me, they had him right around 4.6). NFL people inside the stadium told us that Reid was surprisingly quick, nimble and athletic throughout his workout. He displayed the athleticism necessary to patrol the deep end of coverage and to adjust and change directions with ease.
5. Tharold Simon, CB, LSU: A tall cornerback, Simon was not expected to blaze a great 40, so his not running in the 4.4's is not a big deal. What impressed NFL personnel was how smooth and easy he moved in the drills for a very tall (6'2) cornerback.
6. Darius Slay, CB, Mississippi State: After being "the other cornerback" all season at Mississippi State, today he was clearly the better performer. Not only did he run significantly faster in his 40's, but he was much quicker and explosive throughout his work-out. He made it look easy changing directions and flipping hips to adjust in drills.
7. Rod Sweeting, CB, Georgia Tech: Sweeting had a strong all around work-out on Tuesday displaying the loose hips and agility to flip hips and change directions fast. In addition, he showed good hands plucking the ball throughout his work-out.
8. Jamar Taylor, CB, Boise State: After an excellent week of practice at the Senior Bowl, NFL teams came to Indianapolis excited to see Taylor work-out and he did not disappoint. After running well in his 40's, Taylor had a very good all-around workout. He displayed the feet, quickness and agility to change directions fast and was able to explode in other direction. His displays in Mobile and Indy definitely have Taylor rising up draft boards.
9. Kayvon Webster, CB, South Florida: While Webster had not received a ton of hype prior to the Combine, after today's performance he is sure to begin to get more. After running a good 40 he displayed good quickness, agility and burst throughout his workout.
10. Blidi Wren-Wilson, CB, Connecticut: Although he did not blow anyone away with his 40 time, he had a good all-around workout. He displayed better foot quickness, agility and movement skills than most cornerbacks his size.
Email Russ at Russelllande@yahoo.com and Follow Russ on Twitter @RUSSLANDE