February 26, 2013 -
Erik Oehler
NFP breaks down the DB's who struggled Tuesday at Combine
Players Who Struggled At Combine Sunday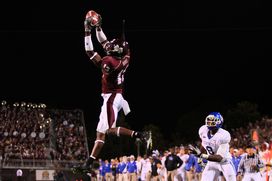 US PRESSWIREMississippi State cornerback Johnathan Banks skies to make a tough interception.
1. Johnathan Banks, CB, Mississippi State: Banks did not run well today, but more concerning was his overall workout. He was not smooth or fluid in cornerback drills. He looked choppy and awkward moving around and did not display the movement skills that NFL teams usually want in a cornerback.
2. Adrian Bushell, CB, Louisville: Bushell looked stiff throughout his workout struggling to change directions and adjust fast. Additionally, he dropped too many passes, which raises concerns about his hands.
3. Jordan Poyer, CB, Oregon State: Poyer's day was deceptive as he ran well enough in the 40, but beyond that he did not have a good all-around workout. He did not display the good movement skills and explosiveness after changing directions that NFL cornerbacks need.
4. Xavier Rhodes, CB, Florida State: Although Rhodes impressed by running very fast (In the 4.4's according to scouts I spoke with) for such a tall cornerback, he did not work-out well today. He was choppy in his movements and struggled turning/changing directions. His workout made it look like he will struggle playing in "off" coverage at the next level. In addition, he showed terrible hands during the workout, which could well be the reason he is playing cornerback and not receiver. Additionally, his interviews were not overly impressive.
5. Daimion Stafford, SAF, Nebraska: A tall safety who looks the part "on the hoof," Stafford hurt his draft stock with a really bad workout today. He looked stiff and awkward throughout work-out struggling to change directions easily. Based on his workout today an NFL source told us that from what he saw today Stafford should not be drafted as he lacks the athleticism to be effective in pass coverage in the NFL.
6. Desmond Trufant, CB, Washington: A great week of practice in Mobile had people excited about Trufant's potential and the started things off well by running very fast in his 40's. However, the good news ended when he went through the positional workout. Trufant was herky/jerky moving around and looked stiff trying to change directions and adjust throughout. He will need to work-out better at his pro day to ease concerns that arose during workout about his athleticism.
Email Russ at Russelllande@yahoo.com and Follow Russ at Twitter @RUSSLANDE