May 01, 2012 -
National Football Post
NFP Draft Grades: AFC
AFC East
New England Patriots: B
The Patriots did a nice job working their way through round one and potentially adding two impact caliber starters in DE Chandler Jones and LB Dont'a Hightower. Like most I thought second round pick DB Tavon Wilson was a bit of a reach. However, adding a guy like CB Alfonzo Dennard in round seven more than made up for it.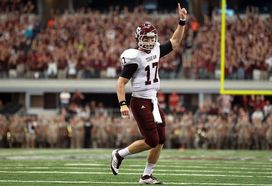 ICONTannehill will make or break the Dolphins draft class.
Miami Dolphins: B
I'm a fan of the Dolphins adding a potential franchise quarterback in Ryan Tannehill and overall they added a strong group of talent on both sides of the football. Nevertheless, DE Olivier Veron and TE Michael Egnew might have been overdrafted. But, the Fins got good values in RB Lamar Miller and WR B.J. Cunningham.

New York Jets: B-
New York was able to add two potential impact caliber starters with their first two picks in DE Quinton Coples and WR Stephen Hill. Third round linebacker Demario Davis also has the skill set to mature into a "plus" three down player. However, after that there isn't much intrigue from the rest of the draft class.
Buffalo Bills: C
Second round pick Cordy Glenn has the ability to mature into a Pro Bowl caliber player, but in my opinion that's at either right tackle or guard. I like CB Stephon Gilmore and his upside, but didn't think he warranted a top-ten pick. Also, outside of CB Ron Brooks there isn't a ton to get excited about with their mid/later round prospects.
AFC North
Cincinnati Bengals: A+
It's tough to make a complaint with the Bengals draft. I thought they got great value at just about every pick and really improved the interior of their defensive line with second round pick Devon Still and third round pick Brandon Thompson. TE Orson Charles could be a mismatch piece for the offense and I don't have much of anything negative to say about the class at all. I wouldn't be shocked to see all ten prospects end up making their roster.
Pittsburgh Steelers: A+
By adding OG David DeCastro and OT Mike Adams with their first two picks the offensive line has now likely gone from a weakness to a long-term strength. Fourth round pick NT Alameda Ta'amu has the ability to anchor their 34 front in the future and seventh round pick OG Kelvin Beachum could also force his way into the Steelers starting lineup with some development. Overall, this was one of my favorite drafts.
Baltimore Ravens: A-
Adding LB Courtney Upshaw in round two was an ideal fit and he should be able to earn a starting job early in his NFL career. OL Kelechi Osemele has the talent to start at either tackle or guard and mid round picks OG Gino Gradkowski and FS Christian Thompson are two guys long term who could severely outplay their draft positions.
Cleveland Browns: B-
I thought their draft started well with RB Trent Richardson and ended well with a pair of potential starters in DL Billy Winn and LB Emmanuel Acho. However, I have reservations about QB Brandon Weeden in round one and thought they reached for a number of prospects in the mid-round range.
AFC South
Indianapolis Colts: A-
The Colts landed their franchise quarterback in Andrew Luck and did a great job through the first five rounds adding talented pieces around him. And if they can get NT Josh Chapman healthy, long term he's the kind of guy who can anchor their new 34 defense and make this draft class special.
Tennessee Titans: B+
There might not be a ton of Pro Bowl caliber potential in the Titans draft class. However, they added a good football player at each pick and I could see all seven players end up making their roster. FS Markelle Martin could be a steal if healthy, TE Taylor Thompson has a lot of upside and third round pick Mike Martin is the type of perfect overachiever for them inside.
Houston Texans: B-
I'm not a huge fan of the DE/OLB Whitney Mercilus pick in round one, as I don't see a guy who has the type of quick-twitch ability/fluidity to be overly successful off the edge from a two-point stance. However, mid-round picks OG Brandon Brooks, OC Ben Jones and DE Jared Crick all have the talent to start in the league and add some talent to the Texans on both lines.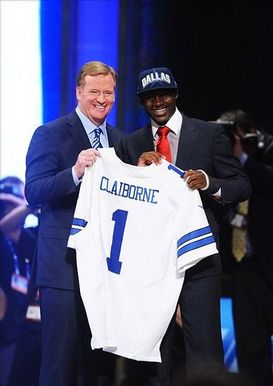 ICONWill the Jaguars regret not taking Claiborne?
Jacksonville Jaguars: C+
I have a hard time giving them a "plus" grade when they moved up in the draft and left the best player on the board in CB Morris Claiborne at pick five. I think WR Justin Blackmon is going to end up being a good NFL wideout. However, looking back I think the Jaguars might be kicking themselves passing on a potential shutdown guy in Claiborne.
AFC West
San Diego Chargers: B
First round pick Melvin Ingram is as safe as any pass rusher in the class and should be able to make an immediate impact on the Chargers pass rush. I thought DT Kendall Reyes was more of a 34 DE when watching him on tape and is a good fit for the San Diego defense and late round center David Molk could end up winning a starting job down the line.
Oakland Raiders: B
They didn't have a ton to work with, but added solid talent in the mid-round range. OL Tony Bergstrom, LB Miles Burris, WR Juron Criner and DE Jack Crawford all have the ability to contribute in year one and possibly develop into starters down the line. OLB Nathan Stupar also has the skill set to make the roster and mature into a heck of a special teams guy.
Kansas City Chiefs: B
Time will tell on what type of nose tackle Dontari Poe will develop into. However, OL Jeff Allen should win a starting job early in his NFL career and slot receiver Devon Wylie has the potential to become an impact caliber receiver inside at the next level.
Denver Broncos: C-
I don't think second round DT Derek Wolfe has the type of anchor to hold up consistently at the next level and mature into an impact caliber player. I also have a lot of doubts about QB Brock Osweiler and his long term potential as a starting quarterback. However, mid/late round picks CB Omar Bolden, DE Malik Jackson and LB Danny Trevanthn make this class passable.