April 30, 2012 -
National Football Post
NFP Draft Grades: NFC
NFC East

Philadelphia Eagles: A

Despite not being a huge Fletcher Cox fan, I still think he can have an early impact for the Eagles inside getting off the football. However, it is the mid/late round picks like CB Brandon Boykin, WR Marvin McNutt, OL Brandon Washington and RB Bryce Brown (all of which have the talent to become starters in the league) that make this draft class so impressive.

New York Giants: B+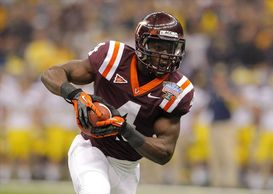 ICONWilson can be a big play threat from day one.
The Giants got good value at the skill positions in rounds one and two (RB David Wilson, WR Rueben Randle) and followed those picks up with a talented corner in Jayron Hosley in round three. Plus, I love the mid/late round tackles they picked up in Matt McCants and Brandon Mosley, as each have the talent to fight for playing time down the line.

Dallas Cowboys: B

I love the aggression of the Cowboys moving up and getting in my mind the second best prospect in the draft in CB Morris Claibore at pick six. DE Tyrone Crawford should contribute early and OLB Kyle Wilber has the talent to develop into a nickel pass rusher. However, the only late round guy that really intrigues me is Virginia Tech WR Danny Coale, who is limited to more of a slot role only.

Washington Redskins: B-

They ended up adding their quarterback of the future in Robert Griffin III and some talented potential starters in the mid rounds in LB Keenan Robinson and OT Tom Compton. Also, I liked the idea of QB Kirk Cousins being the guy to push RGIII early on and not allow him to become complacent as the starter.

NFC North

Green Bay Packers: A

Not only did the Packers add three prospects capable of starting for them early in their NFL careers with their first three picks (OLB Nick Perry, DE Jerel Worthy and CB Casey Hayward), but late round picks OT Andrew Datko and QB B.J. Coleman are also very intriguing long-term projects.

Minnesota Vikings: A-

I like the overall talent level and playing maturity of the group Minnesota brought in. Now, they still overspent on safety Harrison Smith. However, selecting the draft's top LT in Matt Kalil is always a plus. And when you add in the fact they added a ton of talented mid/late round football players that can help them win from day one (WR Jarius Wright, CB Josh Robinson, LB Audie Cole), it makes it one of my favorite draft classes.

Detroit Lions: B

I have some question marks about first round OT Riley Reiff and his potential of playing at a high level on the left side in the NFL. However, if WR Ryan Broyles can get back to his pre-injury form, not only did the Lions get a steal in him, but also in 7th round LB Travis Lewis, who also had trouble staying healthy as well.

Chicago Bears: B-

First round pick Shea McClellin should instantly be able to come in and improve the pass rush, as I think he will certainly mature into a capable rush end. WR Alshon Jeffery is the real wildcard of the group though, if he can keep his weight in check he could cause this draft class to look great down the line. Also, keep an eye on FB/TE/H-back Evan Rodriguez as he has the potential to mature into a unique mismatch piece for the Bears on offense.

NFC South

Carolina Panthers: B+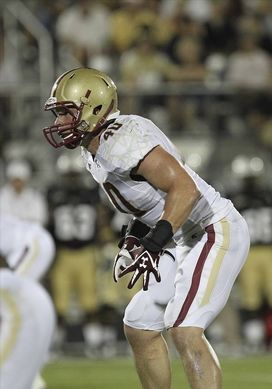 ICONWas Kuechly worth a top-ten pick?
I like LB Luke Kuechly as a player. However, I have a hard time justifying taking any linebacker in the Top 10 that doesn't rush the passer. Nevertheless, he's as safe as any prospect in the draft. I loved the second round pick of OG Amini Silatolu and the value of 5th round pick CB Josh Norman. WR Joe Adams also gives them a "plus" deep threat who can take the top off a defense and should help out on special teams early on.

Tampa Bay Buccaneers: B-

I know a lot of evaluators liked the Buccaneers draft, but I have a hard time giving them a "plus" grade simply because I'm not a fan of taking safety Mark Barron in the top ten. I liked the LB Lavonte David pick and think he has the ability to mature into a starter quickly. Also running backs Michael Smith and Doug Martin add some punch to the run game. However, I'm just not in love with the class as much as others.

New Orleans Saints: C+

The Saints didn't have a ton of ammunition in this year's draft to make much of a mark. Their first two picks, DT Akiem Hicks and WR Nick Toon both are intriguing players capable of starting at the next level. However, there isn't too much to get excited about after that.

Atlanta Falcons: C+

The Falcons didn't have a ton of ammunition either. Nevertheless, they added a couple of really solid football players in OC Peter Konz and SS Charles Mitchell. Third round pick Lamar Holmes has the physical make-up to start in the league, but he needs some time to put it all together.

NFC West

Arizona Cardinals: B+

Just a really solid draft start to finish for Arizona. The Cardinals got good value at each spot and made the most of their seven picks. WR Michael Floyd should develop into a starter in year one and mid-round picks OG Senio Kelemete and CB/S Justin Bethel both have the upside to start in the league as well, making them excellent later round bargains.

Seattle Seahawks: B+

Long term, first round pick Bruce Irvin could mature into the draft's top pass rusher off the edge. LB Bobby Wagner and RB Robert Turbin both have the talent to win starting jobs at some point in their career and I love 6th round CB Jeremy Lane. I do question the Russell Wilson pick in round three. However, overall I like the class.

St. Louis Rams: B+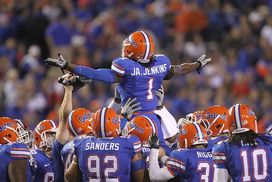 ICONWill Jenkins end up being a steal?
The Rams added a ton of overall talent to the football team and worked the draft well to acquire more picks. Cornerbacks Janoris Jenkins and Trumaine Johnson could develop into a tough one-two combo on the outside. DT Michael Brockers has the potentia l to mature into the draft's top defensive lineman and 7th round running back Daryl Richardson is an explosive scat guy who can create in space and help out on special teams.

San Francisco 49ers: C+

My favorite pick of the class was 7th round OLB Cam Johnson, who fell on draft day due to health concerns. However, if he can stay healthy he's a guy with top-60 talent. RB LaMichael James can be an X-factor on the offense and OG Joe Looney can start in the league. However, reaching a bit on WR A.J. Jenkins is the biggest reason for the average grade.