September 13, 2011 -
National Football Post
NFP fight night: Georgia OL Cordy Glenn vs. Boise State LT Nate Potter
Cordy Glenn: No. 71 (6-5, 348)
Nate Potter: No. 73 (6-6, 298)
Physical make-up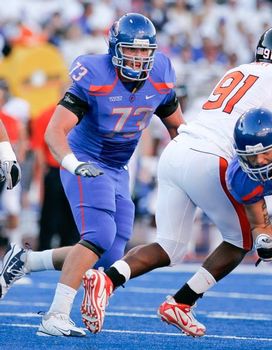 ICONPotter is gifted on the move.
Glenn is a massive kid with natural girth through his lower half and a long set of arms. However, he looks like he's carrying some unnecessary mass through his mid-section, which causes him to lumber in space and takes away from his overall athleticism in the pass game.
Potter on the other hand is a more athletic looking lineman with only and average length. He isn't a naturally wide kid through the hips, but has enough natural width to add some more girth through the base.
Advantage: Glenn
Flexibility
Potter is by far the better bender. He sits lower in his stance, can keep his base down in his kick-slide and is much more comfortable bending at the knees in the pass game.
Glenn on the other hand has a tough time sitting into his stance, keeping his base under him and simply isn't a natural bender. Too often he gets upright off the ball in the run game as well, will double over at the waist in order to engage and loses balance easily.
Advantage: Potter
Athleticism
For a man of his dimensions, Glenn is a "plus" athlete who is coordinated on the move, exhibits solid range off the edge and can slide his feet laterally, both in space and through contact. However, he just gets himself in trouble too often because of his tendency to lunge from the waist into contact. But the overall athletic skill set is there for him to mature into a very good right tackle or guard at the next level.
Nevertheless, Potter is still the better athlete overall. He exhibits superior range off the edge, looks much more natural getting into the second level and laterally holds up much better when asked to shuffle and slide in pass pro.
Advantage: Potter
Technique
Glenn relies more on his size/athleticism than overall technique at this stage. Again, he struggles to keep his pad level down, doubles over at the waist into contact and gets a bit sloppy on his punch at times as well. To his credit he does keep his hands up and elbows in on his kick-slide and does a nice job maintaining proper balance/width once he gets out of his stance. However, will expose his chest and flail his elbows at times into contact, giving up inside leverage at the point.
Potter remains much more patient in pass protection, is quicker working his hands through contact in order to gain leverage and sits into his base better when trying to anchor. Overall is more compact and balanced in both the run and pass game.
Advantage: Potter
Run Blocking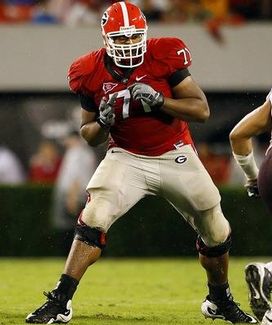 ICONPad level is key for Glenn.
Glenn pops upright off the football initially and doesn't have a real snap through the hips into contact. However, he exhibits a good first step, can get around defenders and uses his size/length to engage and seal. Works his legs through the play and once he gets his momentum going he can get a consistent push on the edge. But again, gets ahead of himself too often and will struggle with balance eventually.
As for Potter, he exhibits the ability to get around and seal on reach blocks and looks comfortable through contact on the move as well. Lacks the type of power to really drive NFL caliber defenders off the ball, but is sticky through contact, understands angles and does a nice job staying engaged through the play.
Advantage: Glenn
Pass Protection
As for Glenn there is some natural athleticism on his kick slide once he gets out of his stance and collects himself. He has good range for his size, can slide his feet laterally and when engaged is tough to shed. However, he struggles to keep his back flat and sit into his base off the edge, too often gets caught with his weight on his toes and can be slipped when trying to engage. Looks better suited playing in tighter quarters. Nevertheless, if he doesn't improve his technique in this area, he'll not only struggle with not only speed, but with power rushers as well.
Potter on the other hand looks like a guy capable of handling NFL caliber athletes off the edge in pass protection. He exhibits good range, is balanced when asked to slide his feet laterally and works his hands through contact. However, he needs to get stronger through the lower half because as of now he struggles with college power. And if you can't handle power in the NFL, you'll make everyone you go against look like a good pass rusher. Therefore, getting stronger through his lower half is the key to his success in the NFL.
Advantage: Potter
Better overall prospect: Nate Potter
Despite the fact I worry about Potter's lack of ideal anchor strength at the point of attack. I still would rather have an offensive line prospect with "plus" athleticism that can bend than a "plus" sized prospect who struggles with his flexibility and pad level, which is the case of Cordy Glenn.
Glenn does display some impressive athletic qualities for a lineman his size, but his inability to maintain balance through contact because of his poor bending habits has me worried about his ability to stay engaged consistently at the next level. I see him as a potential starter only in the NFL as more of a right tackle only.
Potter, in my book will end up earning a grade similar to former Boston College LT Anthony Castonzo, as he has the talent to earn a starting job as a left tackle, but is going to need a year or two before he's ready physically to mature into the player he's capable of being.