September 07, 2012 -
National Football Post
NFP Friday Buzz
*Just because the Seahawks cut Terrell Owens does not necessarily mean he is finished. In fact, people inside the Seahawks believe Owens still can help an NFL team. The problem? He came to camp late and was not in football shape even though he was in excellent physical shape. He needed more time to get in football shape, and time was not a commodity the Seahawks had.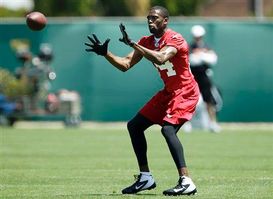 The Packers are not going to go to sleep on Randy Moss Sunday.
*The Packers are not taking Randy Moss lightly even though Moss didn't do much in the preseason. In fact, the belief inside Lambeau Field is the 49ers were sandbagging with Moss. Packers coaches and players are expecting the 49ers to take plenty of Alex Smith to Moss shots downfield when the teams square off Sunday.
*Former first round pick Marcus Spears helped the Cowboys beat the Giants Wednesday, but he nearly was an ex-Cowboy. The team let it be known the defensive end, who was in a battle for a roster spot, could be had in a trade around cut-down time.
*One of the reasons the Ravens gave Bryant McKinnie a pay cut is they don't always know what they will get from him. McKinnie's weight fluctuates wildly, sometimes within the same week. We hear it has driven Ravens coaches nuts.
*Many in the scouting and agent community are relieved that former Browns G.M. Phil Savage is taking over as director of the Senior Bowl. "It's nice to have a real football guy in there." one G.M. said. Savage is extremely well liked and respected. Many agents didn't like the way players had been strung along in the past in the selection process. Some were not told until the week before practice whether or not they would get an invite.
*Before the Eagles gave Darryl Tapp a $1.75 million paycut, they shopped him around the league. There were no takers, so taking the cut probably was a smart move for Tapp. He was not going to be making $2.5 million anywhere in the NFL this year.
*Marvin Jones was chosen in the fifth round, two rounds after Mohamed Sanu was picked. And so far, Jones has performed better than his teammate. But Bengals coaches are not down on Sanu. In fact, they believe he came on late and expect for both players to have impacts as rookies.
*Many are wondering why the Chargers haven't locked up cornerback Antoine Cason, whose contract is expiring after this season, or fellow corner Quentin Jammer. The Chargers have a history of letting some of their better players get to free agency. They paid a premium for safety Eric Weddle and guard Kris Dielman in the past after letting them test the market. Some suspect Cason might be headed for a similar fate.