August 31, 2012 -
National Football Post
NFP Friday Buzz
Here is some of the scuttlebutt we are hearing this week.
*People close to the situation believe the Cowboys could have problems moving the ball because of their offensive line. Last year, they patched things together, but it took a coaching job that Hudson Houck thought was the best of his life to make things work. This year, Houck is gone, replaced by Bill Callahan. The Cowboys have been looking hard for a veteran who can play center, and still could make a move.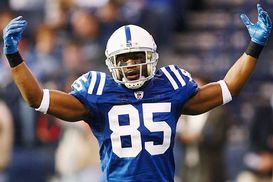 Former Colt Pierre Garcon is now in D.C.
*Some people think the Redskins and receiver Pierre Garcon came to an agreement awfully quickly at the start of free agency. The signing raised some eyebrows around the league. Of course the Redskins also were accused of tampering when they signed Albert Haynesworth in 2009.
*Chad Johnson was cut by the Dolphins because the team thought he was a distraction. But he wasn't the only potential distraction. We have been told the team also was concerned about his wife Evelyn Lozada being a distraction. She was around the team a lot and made her presence known.
*The Packers front office people and coaches are getting a kick out of watching Joe Philbin on Hard Knocks. Their assessment: "He is old school and hates it." They believe Philbin is the last guy who would want cameras and microphones in the room.
*Replacement officials have had some rough moments in preseason games, and they also had some tough moments in training camps that went unnoticed by the public. For instance, one front office man tells us one of the officials threw a flag during a camp drill for too many men on the field. One problem: it was during nine-on-seven.
*Losing a guard, even a guard of the caliber of Davin Joseph, shouldn't destroy a team. But we hear losing Joseph, who is well liked and looked up to at One Buc Place, has been a mental blow for Tampa Bay. The move also has Bucs ownership and management a little on edge because general manager Mark Dominik signed Joseph to a big money deal last year.
*Matt Light may have walked away after last season, but we hear the Patriots staff believes Light had one of the best seasons of his career at the age of 33. Replacing him and playing at the same level of play won't be easy for Nate Solder.
*On cutdown day in St. Louis, it will be Les Snead who will be the ultimate authority. Many people think Jeff Fisher has final say because he was hired before Snead, but it is in the general manager's contract that the 53-man roster is his call. Of course, Snead and Fisher are expected to work together to reach agreements.