November 09, 2012 -
National Football Post
NFP Friday Buzz
*Don't be so fast to buy into the talk that Jon Gruden could be headed to the Eagles as Andy Reid's replacement if things continue to go south for the Eagles. Gruden may be interested in returning to coaching, and he might think the Eagles job is a desirable one. But word out of Philadelphia from people who know owner Jeff Lurie is that Lurie is less than enamored with the former Eagles offensive coordinator. As one former employee put it, "I can never see Jeffrey hiring him."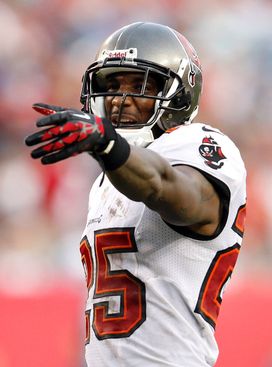 US PRESSWIREThe Bucs traded Talib to the Patriots last week.
*The Bucs did not unload Aqib Talib because Greg Schiano wanted to wash his hands of the troubled cornerback. Schiano was OK with him, according to those who knew. The problem is Bucs higher ups had reservations about signing Talib to a long term deal, and the thought was the organization would be better served to get something for him now than to let him walk in the offseason as a free agent.
*Don't be surprised if Steelers and Todd Haley don't take their foot off the gas pedal if they have a big lead against Haley's old team, the Chiefs Monday. Haley felt he got a raw deal from the Chiefs and word is he would like a little payback.
*One national scout remains a staunch supporter of Geno Smith even though West Virginia has slumped in recent weeks. "He might have cooled off some but he's still my No. 1 quarterback," the scout said. "That defense is horrendous and the offensive line there is just average. Geno Smith is better than (Brandon) Weeden. He's got a bigger arm. The kid throws BB's. He's not as fast as RG-3 but he's every bit as athletic and he's truly a better thrower. At the combine he will get 'ooohs and aaaahs' because with his arm strength and when people sit down with him they're going to find out he's pretty smart too."
*Alabama linebacker C.J. Mosley suffered a dislocated hip in the BCS National Championship game last season but he's back. Some believe he's destined to leave school early after this season and if he does, he could be a first-round draft pick unless medical grades knock him down. One scout said he's better than Dont'a Hightower, his teammate from last season.
*Chip Kelly is being talked about as a hot candidate for an NFL head coaching job this offseason. So, we checked in with a scout to get his take on whether or not the Oregon coach could make a successful transition to the next level. "You would have to restructure your whole though process on how you build your foundation," the scout said. "You can't have a $60 million quarterback. You'd have to have three guys because someone is gonna get hurt and he is going to want to have a real run threat at that position. I think he wants to take his offense, as it is, to the NFL. There are more guys who could fit that role at quarterback than ever. Heck, I don't like Tim Tebow at all, but he could do that. Tyrod Taylor, Troy Smith, Terrelle Pryor, Geno Smith, RG-3. There are a lot of guys that could do that.
"But what I am saying is you can't pay a franchise quarterback in that offense. You'd have to pay a couple quarterbacks. Would it work? Possibly. You'd have to change the line a little bit, have to get smaller, more athletic guys like Denver, the zone-blocking guys. You need athletes who can play to that tempo. Three-hundred pound guys, max. The problem is if he brought in his offense it would take time to transition the roster and what about the bodies? You've got 46 bodies on game day. Could he have enough? It would be interesting."