September 14, 2012 -
National Football Post
NFP Friday Buzz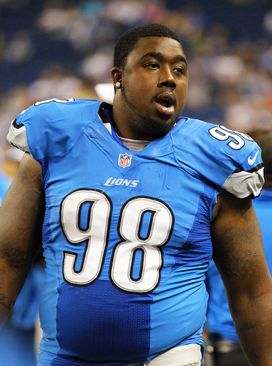 US PRESSWIRELions DT Nick Fairley.
*The Lions wish 2011 first round pick Nick Fairley would take his conditioning a little more seriously. He got heavy in the offseason, and still was overweight when he reported to camp. The team tried to work him into shape during camp. Even with his weight around 315, Fairley was moving well in the open field. He just couldn't sustain his effort very well.
*Some people in the league are not surprised Louis Delmas has missed time with a knee injury. One front office man said his team had Delmas off their draft board in 2009 because of his knee issues.
*We hear former Ravens second round pick Sergio Kindle was inactive in the team's opener for a couple of reasons. First, he can't help the team on special teams as much as a lot of his teammates. That's important for reserves. And then, Kindle is a reserve because he can't play defense as well as some of his teammates. He still is likely to get involved as a pass rusher in games because he is skilled in that area. But Kindle is almost completely deaf after his unfortunate accident, and playing defense has special challenges for him.
*The Eagles think they have a future Pro Bowler in Alex Henery. The kicker hasn't done anything to make the team second guess their decision to use a fourth round pick on 2011.
*The Bengals are saying Vontaze Burflict looks more like the high round draft pick many thought he would be last year at this time than the undrafted free agent he wound up being. Burflict has picked up the Cincinnati defense well, and has been able to show his considerable ability. And he has done what he is supposed to do. Most impressively—he is about 20 pounds lighter than he was last spring. At 238 pounds, Burflict is a much quicker player than he was at 245. Though eventually, the Bengals believe Burflict can put on weight the right way and maintain his quickness.
*Opponents have marveled at how quickly Jaguars rookie Justin Blackmon has gotten up to speed quickly. They say he does not look like he has missed most of camp. Said one front office man, "He's running really good routes and knows how to get open. It's been really impressive."