February 25, 2013 -
Erik Oehler
NFP gives thoughts on players who shined Monday at Combine
On a day where a lot of players did not workout, some by choice and others due to injury, there were more than enough good performance to make up for it. While many comments below point to a player not being able to fit in certain NFL situations, it is solely based on workouts and is not related to their on-field play. Additionally, an odd event took place when two linebackers collided while one was warming up for the 40 (One was Arthur Brown) and although neither seemed to get hurt it was a big enough collision that nearly everyone watching the linebackers noticed.
Players Who Shined At Combine Monday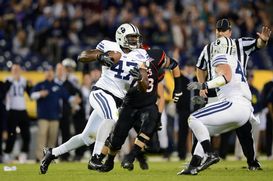 US PRESSWIREBYU defender Ezekiel Ansah returns interception against San Diego State.
1. Ezekiel Ansah, DE, BYU: For a player who has received so much hype, Ansah backed it up today. His displayed of explosiveness and change of direction ability was outstanding. Not only did he shine in defensive end drills, but he shows the quickness, agility and overall coordination/balance to be viewed as a legit conversion to outside linebacker. He was shockingly smooth and fluid moving in linebacker drills.
2. Armonty Bryant, DE, East Central Oklahoma: While Bryant did not have a "wow" workout; he showed the quickness, burst and athleticism to get teams excited about his ability to rush the passer. In addition, although he was not great technically, he showed the body control, agility and balance to play off the ball as a linebacker in a 34 defense. He really looks the part of an NFL player with his height, good physique and long arms.
3. Sharrif Floyd, DT, Florida: Floyd showed today that the hype surrounding him as a potential top ten pick is fair and justified. According to one scout we spoke to Floyd was "awesome" in drills today displaying the athleticism and explosiveness that are so rare in 300+ pound defensive tackles. His ability to move with such remarkable grace and bend his knees to maintain base during workout was incredible. Overall, after today's workout, Floyd has pretty much assured himself of being one of the first ten players drafted in April.
4. Gerald Hodges, OLB, Penn State: Not well known nationally, Hodges had an impressive workout today. He showed the quickness, agility, body control and coordination to move and adjust well in space, which is why NFL teams believe he can be a productive starting linebacker who excels in coverage.
5. Dion Jordan, DE/OLB, Oregon: Despite needing surgery to repair a torn labrum, Jordan had the best workout of any linebacker today. With great length, Jordan's flexibility and agility was remarkable. Few players so tall can change directions with such ease and are able to move and adjust so easily out in space. As many teams try to project which players can make the transition from defensive end to outside linebacker, there is no doubt after today that Jordan will excel playing off the ball in the NFL. He showed the movement skills out in space to be very productive in pass coverage. As long as his surgery goes well, I am confident that Jordan will end being a top ten pick.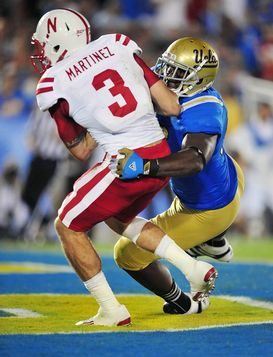 US PRESSWIREUCLA's Datone Jones tackles Nebraska QB Taylor Martinez.
6. Datone Jones, DE, UCLA: While Jones does not have the explosiveness of Jordan; he stood out athletically from nearly all the other defensive ends. His performance today proved that he has the tools, size, strength and athleticism, to be effective as both a 43 defensive end, a 34 defensive end and also as an "under-tackle" in a 43 scheme. Few players his size move with the ease he showed today, which should lock up a spot in the first round for Jones.
7. Barkevious Mingo, DE/OLB, LSU: Described by one NFL person as "spectacular" in his workout, Mingo's workout has more people convinced he not only can play defensive end and outside linebacker in the NFL, but that he will definitely be a top ten pick. Although he does not look big and will have trouble holding ground versus offensive line blocks, his ability to COD in a flash and explode in the other direction will make it easy for him to avoid blocks. In addition to impressing on the field, Mingo did well in interviews and has teams convinced he can handle lining up in a variety of spots on defense.
8. Sio Moore, LB, Connecticut: Moore stepped up and shined on Monday. His fluidity, speed and athleticism enabled him to prove to NFL teams that he has the range to excel in coverage.
9. Alec Ogletree, ILB, Georgia: Although Ogletree did not run a blazing 40 time, he was not slow and the rest of his workout more than made up for any concerns from the 40. He looked like a "stud" in drills displaying the foot quickness and explosiveness that were readily apparent on Georgia film. His loose hips, quickness and agility showed up in his ability to easily flip hips and change directions with remarkable ease.
10. Sheldon Richardson, DT, Missouri: In a fierce battle with Sharif Floyd to be the top defensive tackle in the Draft, Richardson put his best foot forward today. NFL sources told us that Richardson displayed outstanding athleticism for a DT today and was so nimble/agile that he looked like a running back during parts of the drills. In addition to being smooth and fluid, he was explosive displaying the hip snap and burst that elite NFL defensive lineman have. While today's workout was extremely impressive, sources tell us that his interviews have been even better. He has come across as smart, passionate and intense during when meeting with teams.
11. Akeem Spence, DT, Illinois: Although Spence is not viewed as a likely first round pick; Spence showed he has what it takes to become a productive starter during today's workout. Extremely smooth, Spence's ability to maintain knee bend and positioning during drills showed of his natural flexibility. His display proved he can produce playing defensive tackle in a 43 defense and defensive end in a 34 scheme.
12. Manti Te'o, ILB, Notre Dame: While running in the low 4.8's (The exact number varied depending on the scout we spoke to) did not impress anyone, it did not ruin his day. Although he stumbled in one drill, during the positional drills he impressed. He looked smooth and fluid in drills, able to flip hips and adjust easily. Catching the ball cleanly throughout his workout showed off his good hands. In addition to his impressive positional workout, sources told us that he shined in interviews displaying the leadership skills that the people at Notre Dame spoke so highly of.
Email Russ at Russelllande@yahoo.com and Follow Russ on Twitter @RUSSLANDE