February 25, 2013 -
Erik Oehler
NFP lets you know which players did not shine at Combine Monday
On a day where a lot of players did not workout, some by choice and others due to injury, there were more than enough good performance to make up for it. While many comments below point to a player not being able to fit in certain NFL situations, it is solely based on workouts and is not related to their on-field play. Additionally, an odd event took place when two linebackers collided while one was warming up for the 40 (One was Arthur Brown) and although neither seemed to get hurt it was a big enough collision that nearly everyone watching the linebackers noticed.
Players Who Both Showed Some Good and Bad during Monday's Workout at Combine
1. Kiko Alonso, LB, Oregon: Alonso looked like two different players today, which is why he falls into this grouping today. In the pass rush drills, he displayed excellent initial burst off the ball with the speed to threaten the corner and the technique and athleticism to turn the corner. However, in linebacker/coverage drills he looked like a straight line athlete who struggled changing directions and adjusting in space. He will need to show better playing off the ball at his Pro Day to assure himself of being drafted on the second day of the Draft.
2. A.J. Klein, LB, Iowa State: Klein falls into this category because he looked surprisingly quick, nimble and athletic going through positional drills, but his day was cut short when he injured his right knee. Although the injury looked bad on the field, the true extent of the injury is not known and may turn out to be only a sprain.
3. Corey Lemonier, DE/OLB, Auburn: Today's performance definitely helped Lemonier convince teams that play 43 defenses that he has the explosiveness and speed to be a productive edge pass rusher. Going forward he displayed the quickness, agility and balance to change directions without losing speed. However, he was not as effective in the coverage/linebacker drills and is one of the potential conversion candidates who did not look like he could make the switch to playing outside linebacker in the NFL.

Players Who Struggled At Combine Sunday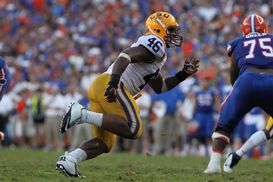 US PRESSWIRELSU LB Kevin Minter takes off in pursuit chasing after ball carrier against Florida.
1. Kevin Minter, ILB, LSU: Although it seems everyone is jumping on Manti Te'o today, the reality is that Minter struggled more than Te'o. Minter ran slowed in the 40 today and looked like a one speed athlete throughout his workout. Not smooth moving in linebacker/coverage drills; Minter looked a little upright and tight. Minter was never viewed as a premier athlete, so while his performance in Indy was not stellar it is unlikely to affect his draft stock at all.
2. Bjoern Werner, DE, Florida State: Having to battle high expectations, Werner did not live up to them today. While he showed good overall athleticism, he did not display the explosiveness or top end athleticism that are usually associated with premier pass rushers. One source we spoke to felt disappointed in what he saw from Werner today and questioned if he could play outside linebacker in a 34 scheme and feels he is definitely best suited to playing defensive end in a 43 defense.
Email Russ at Russelllande@yahoo.com and Follow Russ on Twitter @RUSSLANDE