February 28, 2013 -
Erik Oehler
NFP looks at 9 players who struggled at Combine
The Final Look At Players Who Hurt Their Draft Stock The Most At The Combine
With the 2013 NFL Combine now completed I take a final look at those players whose performance was disappointing in one area or more. I have not included Star Lotulelei, who was red-flagged for a heart issue and not allowed to workout, or Jarvis Jones, whose medical check awaits MRI results to be completed, because I have not found out anything definitive in regards to either prospect at this time.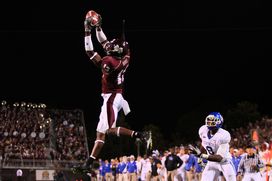 US PRESSWIREMississippi State CB Johnathan Banks skies to make a great interception.
1. Johnathan Banks, CB, Mississippi State: Banks did not struggle throughout the entire Combine as he handled himself extremely well in team interviews. During meetings with teams he showed excellent football intelligence, the ability to think quickly and good overall character. Unfortunately, when it came to the physical workout, Banks struggled and definitely raised concerns about his athleticism. Although running a 4.60 40 was disappointing, more of an issue was how choppy and upright he was during the positional drills. He struggled to flip hips and change directions smoothly and lacked explosiveness in his movements.
2. Travis Frederick, C, Wisconsin: NFL teams were excited to see Frederick up close after he came out early for the 2013 Draft because he was a good, productive center for Wisconsin this past season. Unfortunately, I do not think he could have struggled more during the workout portion of the Combine. Things started off badly when he ran in the high 5.5's/low 5.6's (Depending on the NFL source I spoke to) and only got worse during his workout. He looked slow footed during position drills and did not show the athleticism NFL teams want. His performance will definitely have teams going back to watch film to more thoroughly evaluate his athleticism and figure out if he has what it takes to carry over his production from Wisconsin to the NFL.
3. Kevin Minter, MLB, LSU: Nearly the entire media world ripped Manti Te'o for having a bad Combine workout despite actually doing well, while Minter who ran slower than Te'o in the 40 and struggled during positional drills slid under the radar. Minter was also a very productive inside linebacker in college, but his lack of quickness, burst and speed during positional drills raises concerns. Sources inside the stadium told us that they feel Minter's lack of athleticism will hinder his ability to make plays outside the hash-marks and to be effective in pass coverage, both in zone and man.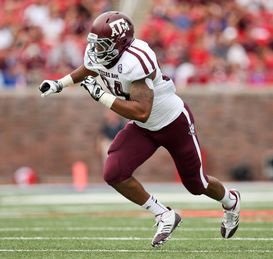 US PRESSWIRETexas A&M DE Damontre Moore begins charge up the field rushing passer.
4. DaMontre Moore, DE/OLB, Texas A&M: For a player who came to the Combine being hyped as a potential top ten pick (Not by us mind you), Moore had a very disappointing performance. It started badly when he was only able to do 12 reps on the bench press, which is a big concern because his ability to play strong at the POA was supposed to be one of his fortes. Then he did not run fast in his 40's and lacked explosiveness, burst and looked stiff during positional drills. As we expected when we evaluated him on film, Moore is not a premier athlete and after his performance in Indy I think many will agree with us now, which is why we expect him to be a second round pick.
5. Cordarrelle Patterson, WR/RET, Tennessee: There is no doubt that Patterson looks the part of an NFL receiver "on the hoof" and shined in the measured parts of the Combine. However, the rest of his time in Indy was not as impressive. During the positional drills he displayed the quickness, burst and speed that we expected, but his routes were not sharp and he fought the ball at times as he tended to body catch most passes. However, most troubling were reports from different NFL personnel that Patterson was not impressive in team interviews. While he is still likely to be a first round pick, Patterson is not assured of that now.
6. Xavier Rhodes, CB, Florida State: As happens every year because the media is not allowed in to see the bulk of workouts, players get tagged with having a "great day" when they run a very fast 40 time, which is why everyone was hyping Rhodes. However, after speaking to people who were inside and watched the positional drills I learned the true story. Rhodes struggled throughout the drills looking upright, stiff and mechanical trying to flip hips and change directions. Additionally, he battled the ball nearly every time and did not show the hands to be counted on to make plays when he gets the chance at the next level. Lastly, Rhodes interviews were not impressive. All of this being said, it is still likely that a team that plays a lot of press coverage will take Rhodes in the first round because of his height, long arms, strong build and elite straight line speed.
7. Daimion Stafford, SAF, Nebraska: A borderline draftable prospect when he came to Indy after a disappointing senior season, Stafford is unlikely to be drafted now. Although he has the height and physique NFL teams are always looking for, his lack of agility, balance and flexibility really showed up when he had to change directions and adjust during the positional drills. Stafford has an uphill battle ahead of him to prove he warrants being drafted.
8. Levine Toilolo, TE, Stanford: The second Stanford tight end to come out early for the 2013 NFL Draft, Toilolo's performance made it crystal clear he would have been better staying in school another season to try and improve his on field play to overcome his lack of good athleticism. A huge tight end at 6'8 with long arms and soft hands, Toilolo's lack of athleticism really showed up in Indy. He is stiff, struggles to get moving quickly and lacks the playing speed necessary to get separation from defenders. Some team may gamble on him late in the Draft with an eye towards trying to convert him to OT, but I think he is most likely going to go undrafted.
9. Desmond Trufant, CB, Washington: After an excellent week of practice at the Senior Bowl, Trufant's stock had been on the rise. Unfortunately, his performance in Indy will likely lead teams to go back and more closely evaluate his play at Washington. In Mobile he showed the foot quickness, agility and fluid athleticism to change directions with ease to stay with receivers all over the field. However, during the positional drills in Indy, he did not stay low consistently to maintain good position and this killed his ability to flip hips and change directions easily in drills. Teams really have to do their homework on Trufant to try and figure out where he should be drafted because his play at Washington was that of a third round pick, his performance at the Senior Bowl was first round caliber and at the Combine he moved around athletically like a third day draft pick.
Email Russ at Russelllande@yahoo.com and Follow Russ on Twitter @RUSSLANDE