February 24, 2013 -
Erik Oehler
NFP looks at players who shined Sunday at Combine
Eddie Lacy (Alabama) and Chris Thompson (Florida State) did not workout today due to pre-existing injuries and Andre Ellington (Clemson) pulled up with an injury after running his 40 and did not go through the positional workout.
1. Tavon Austin, WR, West Virginia: After slowing elite timed speed running a mid 4.3's 40, Austin followed it up with an outstanding all around workout. He ran polished routes displaying efficiency and looked professional. Sudden and explosive in his movements, Austin consistently displayed a burst out of his cuts. Plucking the ball cleanly with his hands, Austin showed strong and natural hands. Two NFL scouts we spoke to said that after today's workout combined with his on-field play at West Virginia that Austin warrants a top 10 selection.
2. Steadman Bailey, WR, West Virginia: While Bailey lacks the explosiveness and speed of teammate Austin, he had a strong all-around workout today. He ran sharp routes and showed quickness in and out of his cuts. He caught the ball cleanly from quarterbacks and in the "gauntlet" drill.
3. Kenjon Barner, RB, Oregon: Obviously, Barner's lack of ideal size is going to keep him from being a first round pick, but his workout today helped his draft stock. He displayed excellent quickness and a sudden burst changing directions. Making it looks easy and natural catching passes today, Barner proved he can contribute as a third down back immediately.
4. Le'Veon Bell, RB, Michigan State: To say Bell surprised many with his faster than expected time in the 40 (He ran in the mid 4.5's depending on the scout I spoke to) would be an understatement. Showing up at Indy at 230 pounds definitely showed in Bell's quickness, agility and burst in the drills. Lastly, Bell caught the ball extremely well.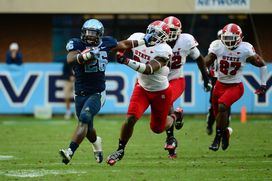 US PRESSWIRENorth Carolina RB Giovani Bernard stiff arms Rutgers defender to gain yards after contact.
5. Giovani Bernard, RB, North Carolina: The best of the running backs today, one scout told us that Bernard "looked like Ray Rice athletically" in the workout. Displaying quick feet and a rare explosive burst changing directions he showed he should be a very elusive back in the NFL. Another scout told me that Bernard looked like "the real deal" and definitely warrants being picked in the first round when you combine his workout with his outstanding production at North Carolina.
6. Denard Robinson, WR, Michigan: While Robinson is clearly still far from being and NFL-ready WR, he helped himself today by locating the ball quicker and catching the ball more consistently than he did during last month's Senior Bowl week. He flashed the ability to make tight cuts on his routes, but still displayed a lack of polish. The most telling example of this occurred on his 12 yard dig route, as Quinton Patton, who immediately preceded Robinson, came back to the ball aggressively, while Robinson made his break and waited for the ball to get to him.
7. Ace Sanders, WR, South Carolina: Sanders had two drops on his first gauntlet run but recovered well afterward and put together an outstanding all-around workout. His explosive speed was apparent on all drills and he showed the ability to run crisp routes with very smooth breaks. Outside of his first gauntlet run he caught the ball extremely well, as he showed the ability to pluck balls away from his body and adjust to off-target throws to make acrobatic catches.
8. Matt Scott, QB, Arizona: Scott was the most consistent QB out of the 2nd group today. While he didn't stand out physically in terms of stature or arm strength, he threw every route with tight zip and very good accuracy. With several "big name" QBs in his group struggling with mechanics and accuracy, Scott acquitted himself well in a very tough environment.
9. Robert Woods, WR, USC: Woods worked out today exactly how he played on the field at USC. He ran excellent routes with surprising precision. While he lacks premier explosiveness, he was faster in his 40 and in his routes than expected. Looking professional, Woods reached out and plucked the ball away from his body with ease.
Email Russ at Russelllande@yahoo.com and Follow Russ on Twitter @RUSSLANDE