December 28, 2012 -
Erik Oehler
NFP looks at prospects playing in the Cotton Bowl.
Now that the regular season is behind us, it is time to look ahead to the bowl games. Over a five week period I will analyze the top prospects to watch in five bowl games that have a number of NFL prospects (The New Era Pinstripe Bowl, Rose Bowl, Fiesta Bowl, Cotton Bowl and the BCS Championship Game). Last week I looked at the Fiesta Bowl and below is this week's breakdown of the Cotton Bowl:
The Cotton Bowl
Texas A&M -vs- Oklahoma
Texas A&M Prospects– OT's Luke Joeckel (Junior) & Jake Matthews (Junior) & DE Damontre Moore (Junior).
Oklahoma – QB Landry Jones (Senior) and OT Lane Johnson (Senior).
Rare is the college football game that you should focus your attention away from the current Heisman Trophy winner, but the best prospects for the 2013 NFL Draft in this game are not named Johnny Manziel. In a season where nearly all the top quarterback prospects have one or more question marks, Landry Jones gets a chance to prove his mettle on a national stage.
A strong armed quarterback who can make every NFL throw with excellent zip and accuracy, Jones has struggled with consistency. With quick feet and deceptively good athleticism, Jones is quick to step up to avoid the deep rush and can re-set his feet to make quick, accurate throws. While he generally seems willing to throw the ball away to avoid sacks, too often he feels he can make a play and forces passes into bad spots which leads to interceptions. Most concerning is that for a quarterback with a quick release, he tends to stare down his primary receiver too often, which allows defenders to break and close quickly to make a play on the ball. Jones need to prove to scouts he can play at a high level consistently without making bad throws during a key spot in a big game. Jones will be protected by one of the most interesting offensive tackle prospects in the Draft in Lane Johnson, who is trying to prove worthy of being a high draft pick.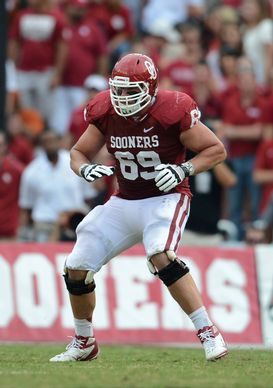 US PRESSWIREOklahoma OT Lane Johnson slides out in pass protection.
After playing quarterback in high school and during a season at junior college, Johnson has progressed from quarterback to tight end and to defensive end before finally settling in at offensive tackle during 2011 spring football. A long and linear player who is still improving his playing strength, Johnson's foot quickness, agility and all-around athleticism have enabled him to develop into a very good college left tackle. Able to slide out to pick up explosive off the ball speed rushers, he impresses with his ability to re-direct and slide back inside to stop quick pass rush moves back underneath. Johnson has the potential and upside to be a high end starting left tackle in the NFL, but he does not warrant being drafted as highly as Texas A&M's bookend tackles Jake Matthews and Luke Joeckel.
Both Joeckel and Matthews have first round talent and will likely be top twenty picks if they come out early for the 2013 Draft. While I rate Matthews slightly higher because of his ability to block with leverage, maintain good base and use his hands excellently to slow pass rusher, I am sure that NFL teams will be split as to whom is the better prospect. Obviously blessed with great genes, Matthews is a good athlete with outstanding technique, instincts and the aggressive blocking style that enables him to consistently tie up and eliminate his man from the play. This aggressive blocking style combined with his ability to stay over feet and under control leads to Matthews being an excellent in-line run blocker, which is why A&M tended to run behind him in key situations. Matthews is the better prospect in my eyes, but Joeckel is a better athlete who makes it looks easy changing directions and adjusting to block out in space. For Joeckel to become an elite NFL tackle he will need to bend knees and sink hips more consistently to block with base/leverage and must use his hands more aggressively to jolt and slow pass rushers. Right now Joeckel can be jolted backwards by power rushers and struggles to get movement on straight ahead run blocks. Even though Joeckel and Matthews are viewed as sure first rounders if they come out early for the Draft, teammate defensive end Damontre Moore is not viewed as such a sure fire first rounder.
Scouts have told us that while Moore no doubt has the physical talent to be a good starting defensive end in a 43 scheme or outside linebacker in 34, he needs to improve his play against the run to be a complete player. Naturally instinctive and consistently quick off the ball, Moore is almost always the first defensive linemen moving at the snap. Moore needs to improve his ability to dip shoulder and turn corner more consistently to be an effective outside rusher. He is however excellent at using his hands, leverage and strength to defeat pass blocks at the point of attack. In the end, Moore has the talent to be a Top 10 pick if he were more consistent as a speed rusher and made more plays against the run, but these issues could lead to other pass rushers being selected ahead of him.
Email Russ at Russelllande@yahoo.com and Follow Russ on Twitter @RUSSLANDE