December 21, 2012 -
Erik Oehler
NFP looks at prospects playing in the Fiesta Bowl.
Now that the regular season is behind us, it is time to look ahead to the bowl games. Over a five week period I will analyze the top prospects to watch in five bowl games that have a number of NFL prospects (The New Era Pinstripe Bowl, Rose Bowl, Fiesta Bowl, Cotton Bowl and the BCS Championship Game). Last week I looked at the Rose Bowl and below is this week's breakdown of the Fiesta Bowl:
The Fiesta Bowl
Oregon -vs- Kansas State
Oregon Prospects – DE/OLB Dion Jordan (Senior), RB Kenjon Barner (Senior) and OT Kyle Long (Senior).
Kansas State Prospects – LB Arthur Brown (Senior), WR Chris Harper (Senior) and QB Collin Klein (Senior).
While few prospects in this game will hear their names called in the first round, there will be many NFL personnel people in attendance. The one player who is likely to be drafted in the first round is Dion Jordan who has NFL teams excited with his ability to consistently pressure the quarterback.
With great height, a long, linear frame and rare athletic skills Jordan's ability to defeat pass blockers out on the edge makes him a valuable commodity. While he looks thin for a pass rusher, his frame should enable him to add weight in time. As a player who relies upon his quick feet, agility, burst and technique to defeat blocks, his lack of bulk makes it tough for him to shed blocks if they can get ahold of him. A dynamic play-maker, Jordan's burst off the ball and speed enable him to consistently threaten the corner as a pass rusher and to chase down ball carriers along the line of scrimmage in backside pursuit. I expect Jordan to shine at the Senior Bowl and work out like a champion at the Combine, which will put him in position to be one of the first pass rushers drafted in April.
While Kenjon Barner lacks starter's size at 5-9 and 186, his ability to make game changing plays when he has the ball in the open field makes him a valuable prospect. Naturally instinctive with good vision, Barner easily fins the open hole/crease, has burst to get through it and the elusiveness to make tacklers miss out in space. Patient following blockers, he is effective waiting on blocker's hip and then can make quick cut off block when hole opens up. Obviously, Barner's lack of bulk/size limits his tackle breaking ability and makes him less effective as a short yardage runner, so he will have to carve out a career as a third down back and returner similar to Darren Sproles. NFL people want to see him up close to determine if he can be as productive as Sproles has been.
Despite 2012 being Kyle Long's only season playing at Oregon and second playing offensive line, he is viewed as a very intriguing prospect because of his natural athleticism, size and competitiveness. After missing two games early in the 2012 season due to an ankle injury, Long rebounded to start 10 games and showed dramatic improvement as the season progressed. With his size and potential, Long should begin his move up draft boards with a strong Fiesta Bowl. If he follows it up with strong all-star game and combine performances he could work his way up to the third or fourth round of the 2013 Draft.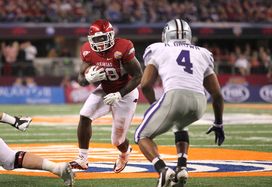 US PRESSWIREKansas State LB Arthur Brown (#4) prepares to make tackle against Arkansas.
While Eagles' rookie running back Bryce Brown had some big games late in the 2012 season, his brother Arthur was been putting the finishing touches on an excellent college career. Not a tall linebacker, Brown is blessed with excellent instincts to read and react to the play fast and the speed to give him sideline range. Smooth and fluid playing off the ball in coverage, he can plant, drive and close on passes quickly and can stay with tight ends and running backs in man coverage. Years ago under-sized linebackers had a tough time establishing themselves in the NFL, but today linebackers with Brown's athleticism and coverage skills are at a premium, get drafted in the second or third round and start for many years.
Receiver Chris Harper may not be a big name nationally, people in the NFL are excited by his potential to develop into a number one receiver. At 6-1 and 231 pounds, Harper accelerates to full speed fast, has the speed to run by cornerbacks and the strength and balance running after the catch to make big plays. Still raw in his route running and overall receiving skills, I am confident that Harper is going to continue to climb up draft boards throughout the "spring scouting circuit." Do not be surprised when Harper is drafted higher than a number of more well-known receivers who had much better receiving numbers in college.
Last on the list of prospects to take a look at is quarterback Collin Klein. Do not believe anything you read that states that Klein is going to be switched to tight end now and not given a chance to develop as a quarterback. According to numerous people I have spoken with, Klein will definitely be given a chance to develop as a quarterback for one simple reason, he has the physical tools that teams look for even though he needs a ton of technique work. With excellent size, a strong arm, nice deep touch, great athleticism and outstanding character and intangibles Klein has certain tools that cannot be taught. So even though his delivery/release looks terrible and the ball comes out like a shot-put, he will be given a chance as a third quarterback (Either on the active roster or practice squad) to refine his mechanics because of his upside and potential if he can improve his throwing motion and accuracy. I expect Klein to be a late round pick, but you can be sure NFL teams will be watching his performance against one of the fastest defenses in the country at the Fiesta Bowl to get a feel for how he will do against the defenses in the NFL, which are much faster than college defenses.
Email Russ at Russelllande@yahoo.com and Follow Russ on Twitter @RUSSLANDE