December 14, 2012 -
Erik Oehler
NFP looks at prospects playing in the Rose Bowl.
Now that the regular season is pretty much behind us, it is time to look ahead to the bowl games. Over a five week period I will analyze the top prospects to watch in five bowl games that have a number of NFL prospects (The New Era Pinstripe Bowl, Rose Bowl, Fiesta Bowl, Cotton Bowl and the BCS Championship Game). Last week I looked at the New Era Pinstripe Bowl and below is this week's breakdown of the Rose Bowl:
The Rose Bowl
Wisconsin -vs- Stanford
Wisconsin Prospects – RB Montee Ball (Senior), OT Ricky Wagner (Senior) and LB's Mike Taylor (Senior) and Chris Borland (Junior).
Stanford Prospects – RB Stepfan Taylor (Senior) and LB's Chase Thomas (Senior) and Shayne Skov (Senior).
Numerous NFL personnel people will be in attendance at this year's Rose Bowl as both teams have a number of quality prospects. Both teams feature running backs that have been highly productive over their final two seasons and bring different skill sets to the table.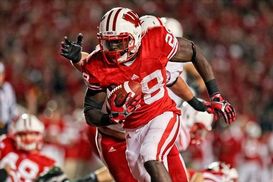 Wisconsin RB Montee Ball runs away from the defense.
Despite having to battle through the residual effects of a head injury suffered when he was beaten up during the off-season, which caused him to start slow this season, Ball was outstanding the final 2/3 of the season. Quick and agile, Ball does an excellent job of making the sharp cut and bursting through the hole. Many backs can make tacklers miss out in space, but Ball has shown the hard to find ability to change directions quickly to avoid tacklers within the hole. While Ball tends to run a little bit upright and is never going to be a big tackle breaker, he does have the playing strength, balance and competitiveness as a runner to run through low arm/grab tackles to consistently gain yards after contact. The two biggest concerns surrounding ball are the number of carries that he had in his college career as running backs only have so many carries in their body and that he lacks the premier explosiveness and speed to be able to get thru the faster closing holes in the NFL before they close and to out-run angles to make big plays.
Ball is expected to be a second round pick, while Taylor is surrounded by more questions and that is why he is viewed as a fourth or fifth rounder right now. Lacking the foot quickness and burst of Ball, Taylor cannot make the sharp, jump cut to get to and through the hole fast. He is much more of a gather to cut runner who relies on his excellent strength to drive through contact in holes as he cannot explode through them. Possessing excellent playing strength, balance and competitiveness running with the ball, Taylor keeps his legs churning and makes it look easy running through low grab tackles. Additionally, he does a good job of getting shoulders down to deliver a blow to defender, which helps him to drive through man to break tackles consistently. Taylor is much more of a smooth, fluid athlete who lacks the quickness, burst and speed to make long runs at the NFL level as he will be chased down from behind and cannot out run angles. Both Ball and Taylor catch the ball well out of the backfield and have developed into good pass blockers, which should allow them both to contribute on third downs in the NFL.
Wisconsin has a recent history of producing very good offensive linemen for the NFL and senior offensive tackle Ricky Wagner is trying to prove he belongs to be mentioned along with them. Not a premier athlete, Wagner does a good job of blocking with base/leverage, stays over his feet and competes until the whistle on every snap. He rarely physically dominates his man, but usually does a good job of getting hands on man, maintains contact and keeps man from making the play. He is not viewed as a first day draft pick, but a strong showing in the Rose Bowl and throughout the spring could assure him of being a second day pick.
Both teams have two quality linebackers that will be drafted and have the talent to play in the NFL.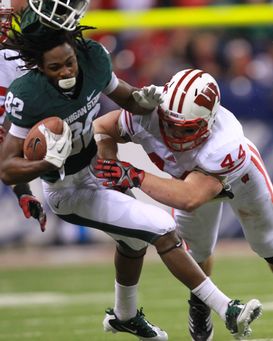 US PRESSWIREWisconsin LB Chris Borland knocks the helmet off former Michigan State receiver Keshawn Martin.
Wisconsin's Mike Taylor is not going to be a high draft pick, but has been a highly productive starter who should be able to carve out a career in the NFL as a quality backup and special teams player. Smart and instinctive, Taylor is able to read and react to the play quickly and plays faster than his timed speed. He is constantly around the ball, wraps up his tackles well and is surprisingly smooth and fluid moving around in pass coverage. The Badgers' other linebacker, Chris Borland, does not look the part due to being approx. 5-10, but he has been an outstanding player during his career in Madison. A very athletic linebacker, Borland has the speed to chase down plays from sideline to sideline, is effective in pass coverage and makes violent, hits/tackles regularly. If Borland chooses to come out early for the Draft, I have a feeling he will be a third or fourth round pick and will develop into a quality starter. While the Badgers' linebackers are solid prospects, both Stanford linebacker have a chance to be selected as high as the second round.
Stanford's Chase Thomas is a surprisingly productive pass rusher off the edge. With a variety of pass rush moves he consistently defeats pass blocker and pressures quarterback. Additionally, he chases down running plays in pursuit all over the field and does an excellent job setting the edge vs. run blocks on runs to his side of the field, sheds blocker and makes tackle. Inside linebacker Shayne Skov returned to the field in 2012 after having his 2011 season ended early due to injury and did not seem to miss a beat. Fast reading the play, Skov consistently gets started towards the play quickly and has the burst to make a lot of tackles within the box. Although he is not a blazer, he is effective covering tight ends in man coverage, moves well in zone coverage and has the ball skills to break-up/intercept passes consistently. In our opinion, Thomas and Borland are both under-rated players with the talent to become quality starters in the NFL.
Email Russ at Russelllande@yahoo.com and Follow Russ on Twitter @RUSSLANDE