December 04, 2012 -
National Football Post
NFP Mock Draft 1.0
First 2013 Mock Draft - December 4, 2012
1. Kansas City Luke Joeckel* OT Texas A&M While the Chiefs would prefer to draft a "franchise" quarterback, there is not one worth the top pick, so they grab Joeckel to upgrade their offensive line.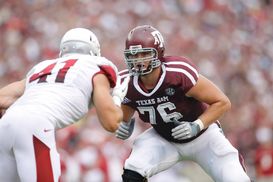 US PRESSWIRETexas A&M OT Luke Joeckel
2. Jacksonville Bjoern Werner* DE Florida State Jacksonville has few high level players and for it to become a quality team they will need to upgrade at many positions. Werner is very similar to Chris Long who has developed into an excellent defensive end and Werner could really upgrade the Jaguars' pass rush.
3. Oakland Manti Te'o* MLB Notre Dame After Rolando McClain's failure the Raiders need to find an impact defender and Te'o would be able to handle that role as a rookie and is a much better prospect coming out of school than McClain was.
4. Philadelphia Chance Warmack OG Alabama In 2013 the Eagles will have Jason Peters back at left tackle, so they add Warmack who can bring stability and a physical presence to their interior offensive line.
5. Carolina Star Lotulelei DT Utah With Charles Johnson and Greg Hardy the Panthers have quality outside pass rushers, but their interior defensive line is a mess and Lotulelei can be an immediate impact starter.
6. San Diego Jake Matthews* OT Texas A&M After all the Chargers' offensive line struggles in 2012 they must find a way to protect Philip Rivers much better if they are ever going to get back to the playoffs.
7. Cleveland DeMontre Moore* DE Texas A&M The Browns defensive line has three good starters and adding Moore would give them a chance to have an elite defensive line for the forseeable future.
8. Tennessee Jonathan Cooper OG North Carolina Despite two quality offensive tackles, the Titans have struggled protecting the quarterback due to inconsistent interior offensive line play, so adding Cooper should improve them in this area immediately.
9. Arizona Geno Smith QB West Virginia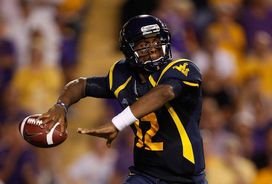 West Virginia QB Geno Smith
Smith is not an elite quarterback in my eyes, but the Cardinals are desperate to find a quarterback so they reach for the ultra talented Smith who needs a ton of technique work.
Detroit Dee Milliner* CB Alabama Milliner is viewed by some scouts as a better prospect than former teammate Dre Kirkpatrick and the Lions are desperate to find a quality cornerback.
11. Buffalo Matt Barkley QB USC Even though Barkley is not considered a premier prospect, the Bills have made it clear that they want to upgrade at quarterback and Barkley will not be available when they pick in the second round.
12. New Orleans Barkevious Mingo* DE LSU Will Smith is 31 and the Saints struggled greatly to consistently pressure the quarterback in recent seasons, so they are willing to take gamble on Mingo who has rare explosiveness and physical talent, but had a disappointing 2012 season.
13. Miami Sam Montgomery* OLB LSU The Dolphins' pass rush has been inconsistent as offenses are able to focus all their attention on Cameron Wake, so getting Montgomery would give them a dangerous pass rusher opposite Wake.
14. NY Jets Dion Jordan* OLB Oregon Bryan Thomas and Calvin Pace are both on the wrong side of 30, so the Jets jump at the chance to grab Jordan who has the rare dynamic and explosive athleticism to make an impact as an edge rusher.
15. St. Louis Taylor Lewan* OT Michigan The Rams' offensive line has struggled to consistently give Bradford a clean pocket and time to go through progressions, so adding Lewan makes too much sense as he becomes their best offensive tackle on draft day.
16. Tampa Bay Johnathan Banks CB Mississippi St. After trading away Aqib Talib the Buccaneers need to add talent at the cornerback position and Banks' height, long arms, athleticism and ball skills remind many of Jimmy Smith.
17. St. Louis (from Washington) Keenan Allen* WR California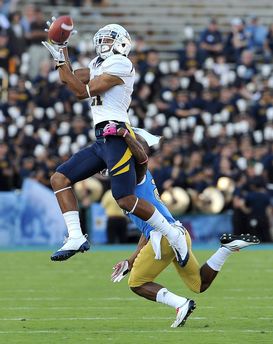 US PRESSWIRECal WR Keenan Allen
Even with the impressive rookie season of Chris Givens, the Rams need to find more weapons to help Bradford and Allen has the size and athletic talent to be a big play receiver for the Rams.
18. Dallas Eric Fisher OT Central Michigan The Cowboys have struggled all season to protect Tony Romo and Fisher would give them an upgrade at right tackle.
19. Minnesota Sheldon Richardson* DT Missouri Long time star defensive tackle Kevin Williams is 32 and the Vikings could use an infusion of young talent and Richardson has the talent to be an explosive, interior force.
20. Cincinnati Kenny Vaccaro SAF Texas The Bengals have a number of solid safeties, but to get a safety with Vaccaro's athleticism and play making ability to too much for the Bengals to pass on.
21(P) Pittsburgh Uday Aboushi OT Virginia The Steelers offensive line has been a major problem in 2012 leading to Big Ben taking a beating, so they grab Aboushi who has really been flying up draft boards recently.
22(P) Seattle Tavon Austin WR West Virginia Sidney Rice and Golden Tate are good receivers, but Austin has the rare explosiveness and game changing speed to really open up the Seahawks' offense.
23(P) NY Giants Tyler Eifert* TE Notre Dame With Martellus Bennett the Giants have a solid tight end, but Eifert has the size, speed and receiving skills to be a big play maker for their offense.
24(P) Indianapolis Jonathan Hankins* DT Ohio State Hankins is a big, strong and athletic player who played defensive tackle in college, but is ideally suited to playing defensive end in the Colts 34 scheme.
25(P) Chicago D.J. Fluker* OT Alabama While Fluker is not a great athlete, he is a massive man with great strength which gives him the ability to physically dominate his man. He should be able to step in and start at right tackle or guard as a rookie.
26(P) Green Bay Barrett Jones C / OG Alabama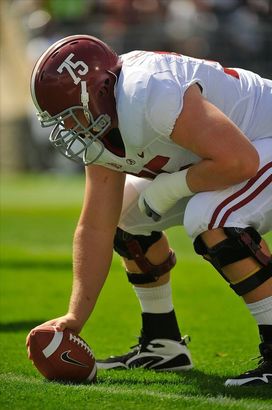 ICONAlabama C Barrett Jones
The Packers' interior offensive line has struggled to protect Aaron Rodgers the last few seasons and Jones would give them a tough, hard nosed starting center or guard.
27(P) San Francisco Jesse Williams DT Alabama Even though the 49'ers defense is the strength of their team, Williams gives them a young, massive body to play NT and DE in their scheme.
28(P) Denver John Jenkins DT Georgia The Broncos have two older defensive linemen, Justin Bannan and Kevin Vickerson, starting so grabbing Jenkins gives them a very gifted young defensive tackle who can backup both in 2013 and eventually become a starter.
29(P) Baltimore Jarvis Jones* OLB Georgia The Ravens have won the bulk of their games in 2012 despite an inconsistent pass rush. Jones is an explosive athlete with electric pass rush skills who could challenge to start as a rookie and the Ravens have shown a willingness to gamble on players with medical questions.
30(P) New England Ezekial Ansah OLB BYU Extremely raw, but immensely talented, Ansah is the type of player that Belichick loves to gamble on because of the potential upside.
31(P) Atlanta Zach Ertz* TE Stanford With all signs pointing towards Tony Gonzalez retiring after this season, the Falcons want to make sure they continue to have a tight end who is a receiving weapon.
32(P) Houston Robert Woods* WR USC For years the Texans have been looking to find a receiver opposite Andre Johnson and Woods would be a good compliment because he is a fundamentally sound, sure handed receiver with deceptive big play ability.
P - TO BE DETERMINED BY PLAYOFFS
* - UNDERCLASSMEN
Email Russ at Russelllande@yahoo.com and Follow Russ on Twitter @RUSSLANDE