February 10, 2011 -
National Football Post
NFP Mock Draft 1.0
1. Carolina Panthers: Nick Fairley, DT, Auburn
The Panthers need a guy who they can build their defense around inside. Fairley is as talented as any prospect in this year's draft and has the ability to mature into a dominant interior lineman at the next level.

Both age and an overall lack of talent are major problems in the Denver secondary. Therefore, adding a standout like Peterson who has the makings of a potential shutdown press corner could be too intriguing to pass up.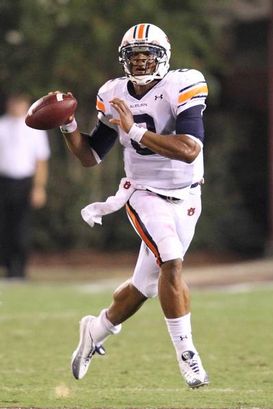 ICONNewton and the Bills make a lot of sense.
3. Buffalo Bills: Cam Newton, QB, Auburn
If there is anything we know about Buffalo head coach Chan Gailey, it's that he understands how to be creative with unique/dynamic offensive weapons. Newton is a talent who needs work, but has the skill set to thrive in Buffalo, and Gailey is the kind of coach who can get the most out of him the quickest.
4. Cincinnati Bengals: Da'Quan Bowers, DE, Clemson
The Bengals need to improve their pass rush and Bowers has the ability to mature into a very good three-down lineman at the next level.
5. Arizona Cardinals: Blaine Gabbert, QB, Missouri
Arizona has one of the worst quarterback situations in the league right now and needs to bring in a franchise signal-caller they can build around. I'm not nearly as high on Gabbert as most, but he's still an upgrade over what they have in Arizona.
6. Cleveland Browns: A.J. Green, WR, Georgia
Adding a dynamic threat at the receiver position is a must for the Browns this offseason. And Green has the talent to come in and become an impact guy early in his NFL career.
7. San Francisco 49ers: Von Miller, OLB, Texas A&M
With no quarterback on the board worthy of the pick, look for the 49ers to try to address their pass rush needs with a guy who knows how to make a living flying off the edge and getting after opposing signal-callers.
8. Tennessee Titans: Cameron Jordan, DL, California
The Titans are never without too many talented defensive linemen and adding another big body who can play inside as well as at end gives them the kind of scheme versatility they could be looking for.
9. Dallas Cowboys: Robert Quinn, DE, North Carolina Quinn was the best pure pass rusher I saw on tape during the 2009 season and getting a potential blue-chip pass rusher at this stage is a nice little grab for the Cowboys at nine.
10. Washington Redskins: Tyron Smith, OT, Southern California
Smith may be a bit of a surprise here. However, he's as talented as any OT in the draft, is still dripping with upside and the Redskins need to continue to improve their O-line. Plus, Smith has only played on the right side during his time at USC and pairing him with Trent Williams could give the 'Skins one of the best tandems of starting tackles in the league with this pick.
11. Houston Texans: Marcell Dareus, DL, Alabama
As bad as the Texans secondary is, it's vital for them to get the right pieces in place for their switch to a 3-4. Dareus is a perfect fit as a five-technique, as he anchors vs. the run and forces opposing offenses into unmanageable down and distance situations.
12. Minnesota Vikings: Ryan Mallett, QB, Arkansas
The Vikings have a lot of pieces in place, but they can't expect to compete until they have some kind of resolution at the QB position. Mallett is a talented kid and would be a good fit throwing the football vertically down the field to the Minnesota receiving corps.
13. Detroit Lions: Brandon Harris, CB, Miami
Adding talent to the secondary has to be objective number one for the Lions front office. Harris is a fluid, balanced kid with good speed and impressive ball skills. He has the ability to develop into a very good starting NFL corner.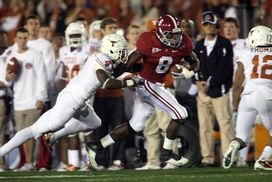 ICONJones is the kind of physical wide out the Rams need.
14. St. Louis Rams: Julio Jones, WR, Alabama
The Rams get their wish and add a much-needed playmaker to their wide receiving corps. Jones is at his best in the three-step game, which is perfect for QB Sam Bradford, who loves to operate underneath.
15. Miami Dolphins: Mark Ingram, RB, Alabama
With major question marks at the running back position going into next year, a physical, NFL-ready back like Ingram could end up being a must for the Dolphins in round one.
16. Jacksonville Jaguars: Akeem Ayers, OLB, UCLA
Physically, the guy has all the tools to be as good as he wants to be. He's got a little lazy to his game and at times displays questionable instincts. However, he's an impressive size/speed athlete who adds a lot of talent and versatility to the Jaguars linebacking corps.
17. New England Patriots: Prince Amukamara, CB, Nebraska
The Pats have more pressing needs, but with plenty of picks in the first couple rounds they can go with a versatile defensive back like Amukamara, who I can see playing all over their defensive secondary.
18. San Diego Chargers: Jonathan Baldwin, WR, Pittsburgh
With wideouts Malcolm Floyd and Vincent Jackson scheduled for free agency, adding a big, strong vertical threat like Baldwin might end up being the only play the Chargers have in making sure they give quarterback Philip Rivers enough weapons to throw to.
19. New York Giants: Anthony Castonzo, OT, Boston College
The Giants have a need at offensive tackle and I have a tough time seeing them pass on a Boston College product if tackle is the pick.
20. Tampa Bay Buccaneers: Aldon Smith, DE, Missouri
Tampa Bay has some talent in place on the D-line, but adding a sack artist on the outside who can force opposing quarterbacks to step up into the teeth of their defensive tackle duo looks like a must.
21. Kansas City Chiefs: Justin Houston, OLB, Georgia
Kansas City needs to be able to get after the passer and with Tamba Hali scheduled for free agency, Houston could be asked to come in and make an impact from day one.
22. Indianapolis Colts: Derek Sherrod, OT, Mississippi State
Keeping QB Peyton Manning safe and upright is going to be one of the biggest objectives for the Colts this offseason. Therefore, adding a big, athletic and intelligent blind side protector is a nice start.
23. Philadelphia Eagles: Mike Pouncey, OL, Florida
The Eagles are in need of improving the talent on the interior of their offensive line as Pouncey offers them some versatility as well as some intriguing bloodlines.
ICONClayborn is a nice value at the end of round one.
24. New Orleans Saints: Adrian Clayborn, DE, Iowa
Clayborn gives the Saints a versatile three-down player who I can see getting reps both inside and out.
25. Seattle Seahawks: Nate Solder, OT, Colorado
With a major need on the right side of the line of scrimmage, Solder has the size and flexibility to mature into a very good NFL run blocker and hold his own in the pass game as well. He would give Seattle a pair of young, talented bookend tackles.
26. Baltimore Ravens: Jimmy Smith, CB, Colorado
The Ravens not only have to add more talent to their corner spot, but they need to get bigger and more physical outside as well. They were said to like Virginia CB Chris Cook last year. Therefore, I can see Smith getting some looks at the end of round one.
27. Atlanta Falcons: Ryan Kerrigan, DE, Purdue
A high character, hard-working pass rusher who is the perfect kind of complement for John Abraham off the edge.
28. New England Patriots: Benjamin Ijalana, OL, Villanova
A downright dominant small-school blocker with impressive movement skills, good bend and a long set of arms. Missed the Senior Bowl because of a sports hernia, but has the talent to come in and play early in his NFL career.
29. Chicago Bears: Gabe Carimi, OT, Wisconsin
Carimi is a good enough athlete to play on the left side and hold his own in pass protection. However, his bread and butter is as an in-line blocker and will give the Bears some real thump on whatever side they wish to play him.
30. New York Jets: Danny Watkins, OG, Baylor
The Jets are close, but improving the talent at guard is a must. Watkins is a strong, mature kid with natural movement skills and despite being older than most — 26 years old — I could still see him sneaking into the later portions of round one.
31. Pittsburgh Steelers: Phil Taylor, DL, Baylor
As poor as the O-line has been, the Steelers need to continue to add more youth to their defensive front and Taylor has the ability to line up at both the nose and at the 5-technique early on.
32. Green Bay Packers: J.J. Watt, DE, Wisconsin
With some holes potentially opening up on the defensive line via free agency, adding a tough, big body like J.J. Watt makes a lot of sense for the Super Bowl champs at the end of round one.
Follow me on twitter: @WesBunting