December 18, 2012 -
Erik Oehler
NFP Mock Draft 2.0
With only two weeks remaining in the regular season, I take another stab at predicting the first round of the 2013 NFL Draft. The order is based on what the draft order would be if the draft were held today with those marked with a "P" to be determined by the results of the playoffs.
1. Kansas City Chiefs: Star Lotulelei, DT, Utah, Senior: The Chiefs have many needs, but with no quarterback clearly worth the first overall pick they grab Lotulelei. He will start at defensive end if they continue to play a 34 defense in 2013 or defensive tackle next to Dontari Poe if they switch back to a 43 scheme.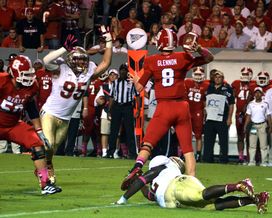 US PRESSWIREFlorida State DE Bjoern Werner (#95) pressures N.C. State QB Mike Glennon.
2. Jacksonville Jaguars: Bjoern Werner, DE, Florida State, Junior: Jacksonville needs offensive and defensive line help, but the need to upgrade its pass rush leads to the selection of Werner who has elite pass rushing skill.
3. Oakland Raiders: Jake Matthews, OT, Texas A&M, Junior: The Raiders offensive line has struggled greatly with consistency in 2012, so they choose Matthews over linebacker Manti Te'o.
4. Philadelphia Eagles: Luke Joeckel, OT, Texas A&M, Junior: The Eagles offensive line was a disaster after Jason Peters was injured before the season, so adding Joeckel could give them two quality offensive tackles in 2013 when Peters is back healthy.
5. Detroit Lions: Dee Milliner, CB, Alabama, Junior: The Lions have been trying to upgrade their secondary for two seasons and Milliner brings the strength, athleticism and ball skills to their secondary that they have been lacking.
6. San Diego Chargers: Taylor Lewan, OT, Michigan, Junior: After offensive tackle Jared Gaiter's disastrous 2012 season, the Chargers cannot afford to go into the 2013 season counting on him again if Philip Rivers is ever going to return to his old form.
7. Buffalo Bills: Mike Glennon, QB, North Carolina State, Senior: Current quarterback Ryan Fitzpatrick is not the long term answer, so they gamble and take the tall, strong armed Glennon who has elite arm strength, but struggles with consistency.
8. Cleveland Browns: Keenan Allen, WR, California, Junior: Rookie receiver Josh Gordon looks like the real deal, but Greg Little still struggles to consistently make an impact. Allen is a dynamic play-maker who would give quarterback Brandon Weeden another weapon to throw to.
9. Carolina Panthers: Sheldon Richardson, DT, Missouri, Junior: The Panthers' interior defensive line has struggled greatly during Coach Rivera's first two seasons and adding Richardson would give them an explosive, interior playmaker.
10. Tennessee Titans: Chance Warmack, OG, Alabama, Senior: Tennessee's interior offensive line has not played at the level necessary to win, so adding the best guard in the draft makes perfect sense for them.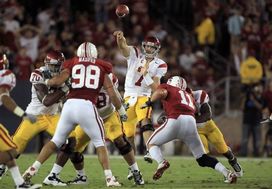 ICONUSC's Matt Barkley throws pass against Stanford.
11. Arizona Cardinals: Matt Barkley, QB, USC, Senior: After Kevin Kolb was injured the Cardinals fell apart, so the Cardinals will not pass up the chance to draft the most fundamentally sound quarterback in the 2013 NFL Draft.
12. Tampa Bay Buccaneers: Eric Fisher, OT, Central Michigan, Senior: The Buccaneers' offensive line struggles led to quarterback Josh Freemen being constantly pressured in 2012, which leads to their selection of the ultra-athletic Fisher who has Pro Bowl athletic talent.
13. Miami Dolphins: Jarvis Jones, OLB, Georgia, Junior: The Dolphins have one established pass rusher in Cameron Wake, but lack another weapon to pressure the quarterback. So they are willing to gamble that Jarvis Jones can be as productive in the NFL as he was at Georg ia.
14. New York Jets: Geno Smith, QB, West Virginia, Senior: Monday night's loss to Tennessee may be the straw that leads the Jets to realize Sanchez is not the answer at quarterback. While Smith needs work on passing mechanics, he has shown the poise, patience, arm strength and accurate throwing ability to be a quality starting quarterback in the NFL.
15. New Orleans Saints: Oday Aboushi, OT, Virginia, Senior: While the Saints are strong at guard, their offensive tackles are not top tier players and Aboushi is a good athlete who uses good technique and competes at a high level. He should challenge to start at left or right tackle as a rookie.
16. St. Louis Rams: Jonathan Cooper, OG, North Carolina, Senior: Sam Bradford was constantly pressured throughout the 2012 season, which hindered his development. Cooper's combination of size, playing strength, feet and athleticism will allow him to start as a rookie.
17. Pittsburgh Steelers: Dion Jordan, OLB, Oregon, Junior: James Harrison has not been a consistent pass rusher recently and LaMarr Woodley was bothered by injuries in 2012. Jordan is a special athlete whose explosiveness off the ball lets him beat offensive tackles around the corner and his agility and burst help him beat pass blocker with quick change of direction pass rush moves.
18. Dallas Cowboys: Kenny Vaccaro, Safety, Texas, Senior: Dallas has a lot of talent on defense, but without a sure tackling, play maker on the back end of its defense, they end up being beaten too often.
19. Chicago Bears: D.J. Fluker, OT, Alabama, Junior: Everyone who follows the NFL knows that Jay Cutler has been beaten up behind a porous offensive line the past two seasons, so they reach a little and grab Fluker to help upgrade their offensive line.
20. New York Giants: <a href="http://www.und.com/sports/m-footbl/mtt/teo_manti00.html">Manti Te'o, MLB, Notre Dame, Senior: Chase Blackburn has done a solid job over the last two seasons, but is not a top level player and Te'o would upgrade their defensive speed and coverage ability drastically.
21 P. Cincinnati Bengals: Tavon Austin, WR, West Virginia, Senior: A.J. Green has developed into one of the premier receivers in the NFL, but to keep defenses from focusing all their attention on him the Bengals grab Austin who is the most explosive and dynamic play-maker in the 2013 Draft.
22 P. St. Louis Rams (From Washington): Justin Hunter, WR, Tennessee, Junior: Before his ACL injury in 2011 Hunter looked like a future top five pick, so the Rams gamble that in 2013 he will get back to that form as he will be two years removed from the injury.
23 P. Minnesota Vikings: Barrett Jones, C, Alabama, Senior: After shoring up their left tackle spot in the first round last year, the Vikings solidify their interior offensive line with the selection of Jones who should start at either center or guard in 2013.
24 P. Indianapolis Colts: Ezekiel Ansah, OLB, BYU, Senior: For the Colts 34 defense to take the next step in 2013 they to upgrade their outside pass rush. Ansah is a rare athlete who is very raw, but with good coaching and patience should become a star outside linebacker in their defense.
25 P. Baltimore Ravens: Alec Ogletree, LB, Georgia, Junior: With Ray Lewis coming off a major injury and entering his 18th season in 2013, the Ravens jump at chance to grab Ogletree who is the most explosive inside linebacker in the Draft.
26 P. Seattle Seahawks: Johnathan Hankins, DT, Ohio State, Junior: The Seahawks have built their defense around big, powerful defensive linemen and Hankins give them a very athletic and powerful player to challenge Alan Branch for a starting job as a rookie.
27 P. Green Bay Packers: Lane Johnson, OT, Oklahoma, Senior: While many do not view Johnson as a first rounder, he is a gifted athlete who is still developing at the position and would give the Packers a young, athletic tackle to upgrade their pass protection.
28 P. New England Patriots: Johnthan Banks, CB, Mississippi State, Senior: New England's defense has struggled on the backend in recent seasons. Banks gives the Patriots a tall, athletic cornerback with good ball skills who is willing to com e up and hit.
29 P. San Francisco 49ers: Jesse Williams, DT, Alabama, Senior: When Justin Smith was injured against Patriots, the 49ers defense struggled. Williams is very raw, but has the combination of size, playing strength and explosiveness to develop into a very good player in the 49ers defense.
30 P. Denver Broncos: Tyler Eifert, TE, Notre Dame, Senior: With Demaryius Thomas and Eric Decker outside, the addition of Eifert would give Peyton Manning and the Broncos offense another big play threat that can create miss-matches against the defense.
31 P. Atlanta Falcons: Damontre Moore, DE, Texas A&M, Junior: John Abraham is nearing the end of a great career and Kroy Biermann is a good player, but not an elite one. Moore would give them a young, explosive pass rusher to backup both players in 2013 and eventually replace Abraham.
32 P. Houston Texans: Kevin Minter, ILB, LSU, Junior: The Texans' defense has not played at the same level since Brian Cushing was lost for the season. Minter would be a good fit to play next to Cushing and provide insurance in the event Cushing was to get hurt again.