January 01, 2013 -
Erik Oehler
NFP Mock Draft 3.0
Trying to predict what players will be chosen by specific teams is nearly impossible before the All Star games, Combine and Pro Days, but below is the first mock draft of the new year. As always I try to match hat I am hearing about team's desires with what I believe are the best players available, so take a look and send me your thoughts.
1. Kansas City Chiefs: Manti Te'o, MLB, Notre Dame, Senior: No quarterback warrants being the first overall pick and after Jovan Belcher's suicide the Chiefs have a strong need for another impact linebacker and Te'o can be that player.
2. Jacksonville Jaguars: Bjoern Werner, DE, Florida State, Junior: While many may expect the Jaguars to reach for a quarterback to replace Blaine Gabbert, we believe that Tim Tebow will be that player. So the new general manager can focus on improving the Jaguars pass rush, which has struggled with consistency in recent seasons.
3. Oakland Raiders: Luke Joeckel, OT, Texas A&M, Junior: With many needs the Raiders make the decision to draft Joeckel who is viewed as potentially one of the safer choices in the Draft. Joeckel could either upgrade the Raiders at left tackle and push Veldheer to the right side or could take over at right tackle while Veldheer stays on the left; either way the Raiders offensive line improves greatly.
4. Philadelphia Eagles: Jake Matthews, OT, Texas A&M, Junior: Without Jason Peters playing left tackle in 2012 the Eagles' offensive line struggled all season. So drafting Matthews gives them insurance in case Peters struggles to return from injury and could be a big upgrade at right tackle if Peters is healthy and back at left tackle for the 2013 season.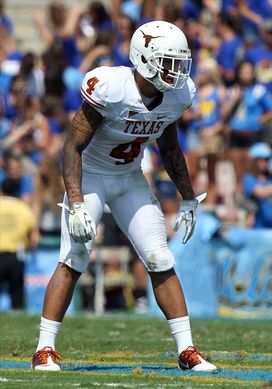 ICONTexas Safety Kenny Vaccaro tries to read the offense before the snap.
5. Detroit Lions: Kenny Vaccaro, SAF, Texas, Senior: Louis Delmas is starting to get the "injury prone" label and the Lions do not have a top level safety to play next to him. While some may view Vaccaro as a reach, we believe he would be an immediate starter for the Lions and would upgrade their pass defense.
6. Cleveland Browns: Chance Warmack, OG, Alabama, Senior: The Browns have a ton of young offensive talent at the skill positions, but for them to blossom their offensive line needs to improve. Warmack would upgrade their interior offensive line play and improve their rushing attack immediately.
7. Arizona Cardinals: Mike Glennon, QB, N.C. State, Senior: Whomever the new head coach in Arizona ends up being, he likely will not want to count on Kolb, Skelton or Lindley for the future . So they draft the strong armed Glennon who reminds us a tremendous amount of Falcons quarterback Matt Ryan.
8. Buffalo Bills: Taylor Lewan, OT, Michigan, Junior: With OG Andy Levitre an unrestricted free agent and no established right tackle on the roster; the Bills grab Lewan who could start at right tackle from day one.
9. New York Jets: Jarvis Jones, OLB, Georgia, Junior: While the Jets are likely to draft a quarterback to challenge Sanchez, they do not want to reach for one here. So they jump at the chance to add the explosive Jones who should upgrade their outside pass rush immediately.
10. Tennessee Titans: Dee Milliner, CB, Alabama, Junior: The Titans have a number of holes, but the chance to add a strong and physical cornerback with pro bowl potential makes too much sense for them to pass up.
11. San Diego Chargers: Eric Fisher, OT, Central Michigan, Senior: A better prospect coming out of school than Joe Staley, Fisher could take over at left tackle and help keep Philip Rivers upright for the rest of his career.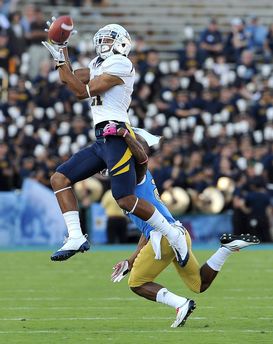 US PRESSWIRECalifornia WR Keenan Allen makes a tough catch against UCLA.
12. Miami Dolphins: Keenan Allen, WR, California, Junior: Quarterback Ryan Tannehill showed flashes that he can be the long term answer for the Dolphins, but he needs weapons. Allen is a big play receiver who can "take the top off the defense" to open everything up for their offense.
13. Tampa Bay Buccaneers: Oday Aboushi, OT, Virginia, Senior: The Buccaneers right side of their offensive line struggled with consistency in 2012, which leads to their choice of Aboushi who is strong, physical and consistent. He should challenge to start at either right tackle or right guard as a rookie.
14. Carolina Panthers: Star Lotulelei, DT, Utah, Senior: Carolina has two quality defensive ends in Charles Johnson and Greg Hardy, but its interior defensive line continued to struggle in 2012. Lotulelei would be an impact player in the middle of its defensive line from day one, which would upgrade the Panthers' defense.
15. New Orleans Saints: Sheldon Richardson, DT, Missouri, Junior: Sedric Ellis is an unrestricted free agent and the Saints need to upgrade their defense. Richardson would give them an explosive, penetrating defensive tackle that would regularly make impact plays behind the LOS.
16. St. Louis Rams: Jonathan Cooper, OG, North Carolina, Senior: Quarterback Sam Bradford was constantly under pressure in 2012 and Cooper is an athletic and powerful lineman with the talent to start at guard or center for the Rams.
17. Pittsburgh Steelers: Dion Jordan, OLB, Oregon, Senior: James Harrison was not the impact pass rusher in 2012 that he was earlier in his career and Lamarr Woodley struggled with injuries throughout 2012, so they add Jordan. Jordan could backup both in 2013 while adding explosiveness and speed to the Steelers pass rush.
18. Dallas Cowboys: Johnathan Hankins, DT, Ohio State, Junior: Neither Jason Hatcher or Marcus Spears has become an elite defensive lineman and Hankins would add size and strength to the defensive end position in the Cowboys 34 scheme.
19. New York Giants: Ezekial Ansah, DE, BYU, Senior: Osi Umenyiora 's contract is up so he will likely not be back and Justin Tuck has recorded two straight up and down seasons. Ansah is raw, but similar to Jason Pierre Paul in terms of athleticism, competitiveness and potential.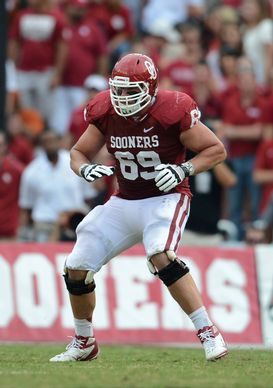 US PRESSWIREOklahoma OT Lane Johnson slides out to pass block.
20. Chicago Bears: Lane Johnson, OT, Oklahoma, Senior: To say the Bears offensive line has been a major weakness in recent seasons would be an under-statement. Johnson has only played offensive tackle for two seasons and with his height, long arms and athleticism his upside is outstanding.
21 P. Cincinnati Bengals: Cordarrelle Patterson, WR, Tennessee, Junior: The Bengals hit big time on their selection of AJ Green and like the potential of Marvin jones, but the chance to grab Patterson, who reminds us a lot of Falcons' receiver Roddy White, makes too much sense as he would be a great weapon opposite Green.
22 P. St. Louis Rams (From Washington): Tavon Austin, WR, West Virginia, Senior: After upgrading their offensive line with their first first round pick, the Rams get the most explosive offensive weapon in the Draft for Bradford to throw to.
23 P. Baltimore Ravens: Alex Ogletree, LB, Georgia, Junior: With Ray Lewis coming off a major injury and entering his 18th season in 2013, the Ravens jump at chance to grab Ogletree who is the most explosive inside linebacker in the Draft.
24 P. Minnesota Vikings: Jesse Williams, DT, Alabama, Senior: Longtime stud defensive tackle Kevin Williams is 32, so the Vikings grab Williams who can be their third defensive tackle in 2013 and take over as starter when Williams is done.
25 P. Indianapolis Colts: Johnthan Banks, CB, Mississippi State, Senior: Ryan Grigson pulled off a great trade getting cornerback Vontae Davis and now he drafts Banks to shore up the other cornerback position.
26 P. Seattle Seahawks: Barrett Jones, C / OG, Alabama, Senior: Jones is not a top athlete, but he is a smart, aggressive and versatile lineman who could start at center, guard or even tackle for Seahawks in the future.
27 P. Green Bay Packers: Tyler Eifert, TE, Notre Dame, Senior: Current tight end Jermichael Finley is not expected to return to team in 2013, so the Packers upgrade the position by drafting Eifert whose combination of size, athleticism and hands are tough to find.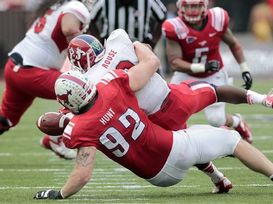 SMU DE Margus Hunt makes a tackle.
28 P. San Francisco 49ers: Margus Hunt, DE, SMU, Senior: Since defensive end Justin Smith was injured, the 49ers defense has struggled greatly, so they need to find a young defensive lineman to groom as his replacement. Hunt is an incredible athlete with great length, explosiveness and strength who could turn into a star in a season or two.
29 P. Houston Texans: Eric Reid, SAF, LSU, Junior: The Texans have been expected to draft a receiver in the first round to play opposite Andre Johnson every year and never have, so I believe they will continue that trend and focus on a different position. Reid is an active safety with the toughness to be a force against the run and the range and coverage skills to help the Texans deep coverage.
30 P. New England Patriots: Damontre Moore, DE, Texas A&M, Junior: The Patriots pass rush still struggles to get consistent pressure, so they take a gamble on Moore who has the talent to become a dominating outside linebacker in their system and bring positional versatility to their defense, which Belichick gives enormous weight to.
31 P. Atlanta Falcons: Sam Montgomery, DE, LSU, Junior: John Abraham is not getting any younger, so the Falcons draft Montgomery to backup Abraham and Biermann in 2013 and take over for Abraham when he retires.
32 P. Denver Broncos: David Amerson, CB, N.C. State, Junior: Champ Bailey is nearing the end of a Hall of Fame Career, so Coach Fox adds Amerson who has the combination of size, strength, willingness to play physical and coverage skills to be a solid all-around cornerback.
P - Stands for team in playoffs, so the order they will select will change as the playoffs unfold.
Email Russ at Russelllande@yahoo.com and Follow Russ on Twitter @RUSSLANDE