April 03, 2013 -
Erik Oehler
NFP Mock Draft – Version 10.0
To say that compiling a mock draft is easy would be an understatement because despite it being an impossible task, I always spend way too much time trying to get inside each team's respective head. I try to incorporate what I feel are each team's needs with what I am hearing from numerous NFL personnel and my player rankings. So enjoy the mock for what it is, have some fun and see if you agree with my reasoning for the picks.
1. Kansas City Chiefs: Eric Fisher, OT, Central Michigan, Senior: Sources I trust insist that Chiefs are aggressively trying to trade current left tackle Branden Albert and hope to acquire two second round picks for him. Once they trade him, they will have no quality offensive tackles on the roster, so they will select Eric Fisher who I think is the best offensive tackle in the Draft.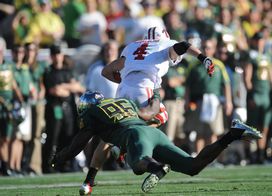 US PRESSWIREOregon's dynamic Dion Jordan makes a diving tackle.
2. Jacksonville Jaguars: Dion Jordan, DE, Oregon, Junior: After signing DT's Roy Miller and Sen'Derrick Marks to battle for the spot starting next to Tyson Alualu, the Jaguars turn their attention to upgrading their outside pass rush. While Dion Jordan may be thinner than ideal for a 43 defensive end, his explosive initial quickness and great pass rush ability would help him overcome that and be an impact player for Jacksonville in 2013.
3. Oakland Raiders: Star Lotulelei, DT, Utah, Senior: With Matt Flynn now handling the quarterback position, I would be surprised if Oakland used its first round pick on a young quarterback. Additionally, with Richard Seymour and Tommy Kelly not expected to return on the defensive line, the Raiders need a powerful interior player who has the athleticism to make plays behind the line of scrimmage and that is exactly what Star Lotulelei is.
4. Philadelphia Eagles: Barkevious Mingo, OLB, LSU, Junior: While Chip Kelly will be disappointed that Dion Jordan is already gone, they are excited about the potential that Barkevious Mingo has. A special athlete who constantly makes big plays rushing the passer; he would be a great fit at outside linebacker in the Eagles new 34 defense.
5. Detroit Lions: Bjoern Werner, DE, Florida State, Junior: In desperate need of outside pass rush help, the Lions debate between Ezekiel Ansah and Bjoern Werner. While Ansah may be a more explosive athlete with more potential, Werner is a more polished and ready player and the Lions need to win in 2013 to keep the head coach and general manager from being fired.
6. Cleveland Browns: Tavon Austin, WR, West Virginia, Senior: If the Browns want Branden Weeden to become a quality starting quarterback they need more offensive weapons. As they already have a big receiver in Josh Gordon, the Browns make a bold move to grab Tavon Austin who is similar to Steve Smith who was coached by Rob Chudzinski when he was the offensive coordinator of the Panthers.
7. Arizona Cardinals: Luke Joeckel, OT, Texas A&M, Junior: With Carson Palmer now expected to be the Cardinals starting quarterback in 2013; they need to make sure they can protect him. New general manager Steve Keim is shocked to see Luke Joeckel still available and grabs him quickly to give the Cardinals the left tackle they have been searching for in recent seasons.
8. Buffalo Bills: Ryan Nassib, QB, Syracuse, Senior: Although we constantly hear that either Geno Smith or Matt Barkley will be the first quarterback selected, the way the Draft has fallen leads to the Bills selecting Ryan Nassib. While a quarterback's physical skills are important, the fact that the Bills' head coach Doug Marrone coached Nassib at Syracuse means he knows how great Nassib's intangibles are and wants to have him leading the Bills.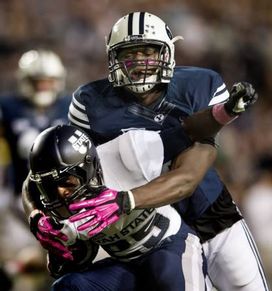 US PRESSWIREBYU's Ezekiel Ansah makes a tackle against Utah State.
9. New York Jets: Ezekiel Ansah, OLB, BYU, Senior: If the Jets' defense is going to have any bite in 2013 they must improve their pass rush; especially from the outside. While Ezekiel Ansah is raw, he is at his best when lined up wide and given the space to use his rare athleticism to defeat pass blocks, which makes him an ideal fit as an outside linebacker in the Jets' 34 scheme.
10. Tennessee Titans: Sylvester Williams, DT, North Carolina, Senior: According to sources, the Titans want to desperately upgrade their pass rush. Although they would prefer drafting a defensive end, with none worth using this high a pick on, they select Williams whose combination of great size, dominant strength, explosive initial quickness and all-around athleticism is better than any remaining defensive tackle.
11. San Diego Chargers: Lane Johnson, OT, Oklahoma, Senior: After finally cutting the cord on failed free agent gamble Jared Gaiter, the Chargers begin moving in a new direction at left tackle with the selection of Lane Johnson. With only two years' experience playing offensive line, Johnson is not a finished product, but his height, long arms and athleticism give him the potential to be a good left tackle for many years.
12. Miami Dolphins: Dee Milliner, CB, Alabama, Junior: They traded Vontae Davis last year and lost Sean Smith in free agency this year, so the Dolphins definitely need to add talent at cornerback. Milliner possesses the rare combination of size (over 6'0), elite speed and top athleticism that makes NFL coaches drool. He should be a quality starter from day one.
13. Tampa Bay Buccaneers: Tyler Eifert, TE, Notre Dame, Senior: While the Buccaneers reportedly have concerns about Josh Freemen being the answer at quarterback, they have to put weapons around him to give him a chance. Eifert is an elite receiving tight end prospect who would upgrade the Buccaneers underneath passing attack and make their offense multi-dimensional.
14. Carolina Panthers: Sharrif Floyd, DT, Florida, Junior: With Charles Johnson and Greg Hardy manning the defensive end spots, the Panthers outside pass rush is strong. However, the play of their defensive tackles has been disappointing in recent seasons and Floyd would give them a penetrating interior force that some view as the best defensive tackle in the Draft.
15. New Orleans Saints: Menelik Wa tson, OT, Florida State, Junior: With Jermon Bushrod now starting at left tackle for the Bears, the Saints offensive line needs help. Although Watson is not a premier player now, he has the physical talent to be a dominating blocker if he improves his technique and consistency.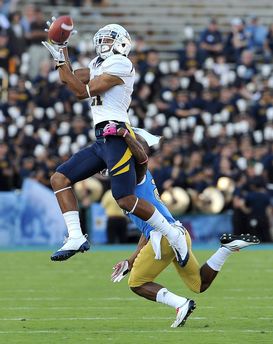 US PRESSWIRECalifornia WR Keenan Allen goes up high to make catch against UCLA.
16. St. Louis Rams: Keenan Allen, WR, California, Junior: With Jake Long now in the fold and no established high end receivers on the roster, the Rams are excited to grab Allen who I view as the best receiver in the Draft. With his size, hands, playing speed and run after the catch ability, he would immediately upgrade the Rams' passing attack.
17. Pittsburgh Steelers: Cornell "Tank" Carradine, DE/OLB, Florida State, Senior: Although Carradine is coming off surgery to repair a torn ACL and only was a productive starter for one season the Steelers are willing to gamble on him. Pittsburgh's defense was not the same impact, big play unit it had been in the past and needs to upgrade its outside pass rush.
18. Dallas Cowboys: Sheldon Richardson, DT, Missouri, Junior: As Dallas makes the switch to a 43 defense it needs to find a penetrating defensive tackle that can get into the backfield to pressure the quarterback and blow plays up behind the line of scrimmage. Richardson is one of the most explosive interior defensive linemen in this year's Draft and would add a dimension that has been missing to the Cowboys' defensive line.
19. New York Giants: Kenny Vaccaro, SAF, Texas, Senior: With Kenny Phillips now gone, the Giants have a huge need at safety and good thing for them that the highest rated player left happens to be Vaccaro as the Giants rarely deviate from their draft board. Vaccaro's excellent coverage skills combined with his strong run defense make him the complete package and a big upgrade for the back end of their defense.
20. Chicago Bears: Chance Warmack, OG, Alabama, Senior: After signing Jermon Bushrod to secure Jay Cutler's blindside, the Bears turn their attention to improving the interior of their offensive line. For Coach Trestman's quick hitting passing attack to work, the Bears' interior line must be stout and keep the defense from pressuring Cutler up the gut.
21. Cincinnati Bengals: D.J. Fluker, OT, Alabama, Junior: Although the Bengals may still decide to re-sign Andre Smith, it doesn't seem likely. They need to make sure they replace him with a quality right tackle in order to continue to protect Andy Dalton and open running lanes for BenJarvus Green-Ellis.
22. St. Louis Rams (From Washington): Johnathan Cooper, OG, North Carolina, Senior: After signing Jake Long, the Rams improved their left and right tackle spots, assuming that Roger Saffold agrees to move to right tackle. However, their interior offensive line is still a work in progress and Cooper has the talent to be a quality starter at guard or center.
23. Minnesota Vikings: Cordarrelle Patterson, WR, Tennessee, Junior: After trading away Percy Harvin the Vikings need a versatile offensive weapon and according to sources we spoke with around the league, a number of teams feel that Patterson will be most effective in the NFL being moved around like a chess piece rather than aligning in the same spot most of the time.
<p> 24. Indianapolis Colts:
Alec Ogletree
, ILB, Georgia, Junior: The Colts switch to a 34 defense went much smoother in 2012 than we expected, but they still need playmakers. While Ogletree has some maturity questions surrounding him, he is so talented that he could bring the same game changing play to the Colts defense that Ray Lewis provided for Coach Pagano in Baltimore.
25. Minnesota Vikings (From Seattle): Xavier Rhodes, CB, Florida State, Junior: Longtime starting cornerback Antoine Winfield is no longer with the team and they need to find a cornerback to replace him. Rhodes has great size, enjoys playing physical man coverage and is good coming up and inserting himself into the run game.
26. Green Bay Packers: Eddie Lacy, RB, Alabama, Junior: The Packers have a number of holes that need to be filled, but they have struggled to control games with their rushing attack once they get a good lead. Lacy is not a premier running back prospect, but he is a strong and physical runner who can wear down defenses with his running style.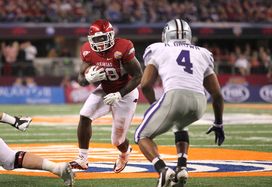 US PRESSWIREKansas State linebacker Arthur Brown prepares to make tackle against Arkansas.
27. Houston Texans: Arthur Brown, ILB, Kansas State, Senior: There is no doubt that the Texans have a lot of talent on defense, but it was shocking how their defense fell off after Brian Cushing was lost for the season with a knee injury. Although Brown lacks Cushing's height, he is the same instinctive linebacker who attacks the play, works through traffic well and explodes to the ball to make big plays. His addition would give the Texans a pair of inside linebackers to rival the 49ers combination of Patrick Willis and Navarro Bowman.
28. Denver Broncos: Corey Lemonier, DE, Auburn, Junior: While Lemonier lacks the bulk right now that the Broncos want at defensive end; he is an explosive athlete with the speed to threaten the corner. Coach Fox would love to put him opposite Von Miller in passing situations to give Denver two of the most explosive edge rushers in the league.
29. New England Patriots: Datone Jones, DE, UCLA, Senior: As the Patriots continue to re-tool their defense to get back to being an elite unit they jump at the chance to select Jones. A powerful athlete with natural pass rush skills, Jones can fit as a starting defensive end in their 34 scheme, line up as an outside linebacker in some situations and even could slide inside to defensive tackle when they want to go with a four man front. Players with this type of versatility usually rank high on the Patriots' draft board.
30. Atlanta Falcons: Jamar Taylor, CB, Boise State, Senior: The Falcons cut Dunta Robinson and did not re-sign Brent Grimes, so they have major holes at cornerback. Although Desmond Trufant is a little more polished and DJ Hayden is on the board, the Falcons grab Taylor who impressed us throu ghout his final season at Boise State.
31. San Francisco 49ers: Johnthan Cyprien, SAF, Florida International, Senior: After losing Dashon Goldson in free agency the 49ers have a major piece to replace on their defense. Cyprien may not be a household name, but his combination of violent hitting ability, strong run support and good coverage skills make him a perfect fit to replace Goldson.
32. Baltimore Ravens: Manti Te'o, ILB, Notre Dame, Senior: The Ravens have no returning starters at inside linebacker after Ray Lewis retired and Dannell Ellerbe left as a free agent. So while Te'o is not a rare athlete or elite prospect, he is a good, solid football player with the athleticism to be a three down linebacker.
Email Russ at Russelllande@yahoo.com and Follow Russ on Twitter @RUSSLANDE