April 10, 2013 -
Erik Oehler
NFP Mock Draft – Version 11.0
1. Kansas City Chiefs: Eric Fisher, OT, Central Michigan, Senior: While I am confident that the Chiefs are trying to trade down, that is impossible to predict and likely harder than in recent seasons as there is not one player that every team wants to select. Fisher is not the safe pick that Joeckel is, but with his athleticism and nasty/aggressive blocking style I think he will be better in the long term.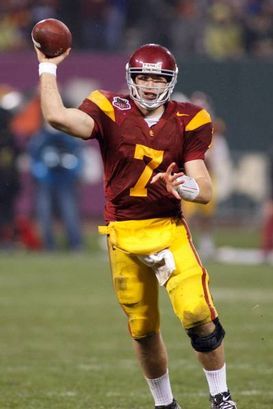 ICONUSC quarterback Matt Barkley makes a throw on the move.
2. Jacksonville Jaguars: Matt Barkley, QB, USC, Senior: The new Jaguars regime did not choose Blaine Gabbert, so they are willing to pull the plug and start anew. New GM David Caldwell learned under Bill Polian and Thomas Dimitroff that for a QB to excel in the NFL they must have rare football intelligence, work ethic and intangibles. Barkley may not have rare physical talents, but above the shoulders he is outstanding so he fits that criteria.
3. Oakland Raiders: Dion Jordan, DE/OLB, Oregon, Senior: GM Reggie McKenzie worked in Green Bay for many years and learned the value a dominant pass rusher can have on a defense by watching Clay Matthews up close and personal. So despite many other needs, McKenzie drafts Jordan because he possesses dynamic pass rush skills that can upgrade the Raiders' pass rush and make their defense a big play unit.
4. Philadelphia Eagles: Star Lotulelei, DT, Utah, Senior: For the Eagles new 34 defense to be successful they will need to find a strong and powerful nose tackle to anchor the middle of it and Lotulelei fits the bill perfectly. He can be the man in the middle of their 34 defense and brings the versatility to also line up at DT when they align in four man fronts.
5. Detroit Lions: Ezekiel Ansah, DE, BYU, Senior: With their two best pass rushers from 2012 gone, the Lions have a desperate need for an outside pass rusher. After coaching Ansah during the Senior Bowl, no team knows better how effective he can be when lined up as a wide pass rusher, which is why they choose him here.
6. Cleveland Browns: Tavon Austin, WR, West Virginia, Senior: QB Brandon Weeden needs weapons to throw to if the Browns offense is going to make strides. With questions surrounding the health of Keenan Allen's knee after he ran poorly at his pro day and concerns about Cordarrelle Patterson, the Browns select the most explosive offensive weapon in the draft receiver Tavon Austin.
7. Arizona Cardinals: Luke Joeckel, OT, Texas A&M, Junior: With QB Carson Palmer now in the fold as the Cardinals' starter, they must find a way to protect him. Joeckel is a top athlete with good technique and should be able to step in and start at left tackle from day one to stabilize the Cardinals' left tackle position.
8. Buffalo Bills: Ryan Nassib, QB, Syracuse, Senior: It seems clear that Kevin Kolb was not guaranteed a starting job based on his contract, so the Bills are going to draft someone to challenge him. Some may question Nassib's worthiness of being a first round pick, but with coaches Marrone and Hackett familiarity and confidence in him, they will select him here to lead their franchise.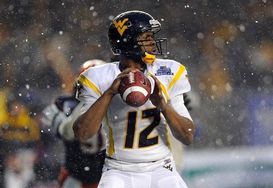 West Virginia quarterback Geno Smith goes through progressions looking for a receiver down the field.
9. New York Jets: Geno Smith, QB, West Virginia, Senior: It has become apparent in recent seasons that Mark Sanchez does not have "it" to be a quality starting QB. Smith is the highest rated QB on the Jets draft board and if he is there when they pick, they will not hesitate to pull the trigger.
10. Tennessee Titans: Bjoern Werner, DE, Florida State, Junior: Even though DE Derrick Morgan began to show signs of developing into an elite player in 2012, the Titans still want to upgrade their edge pass rush ability. Werner is an under-rated athlete who constantly makes big plays rushing the passer and against the run and would be great lining up across from Morgan.
11. San Diego Chargers: Lane Johnson, OT, Oklahoma, Senior: Although predicting the Chargers are going to select an OT seems too easy, I really believe it makes too much sense. Johnson's athleticism and length make him an elite prospect and if he can improve his hand-use and playing strength he could become a pro bowler.
12. Miami Dolphins: Cornell Carradine, DE, Florida State, Senior: As the Dolphins continue making the move to a 43 defense they must find a pass rusher who can play opposite Cameron Wake. Despite tearing his left ACL in November, Carradine is expected to be ready for the start of the 2013 season and should make a big impact opposite Wake.
13. Tampa Bay Buccaneers: Sharrif Floyd, DT, Florida, Junior: Gerald McCoy is in the verge of becoming a superstar, but the Buccaneers need someone next to him after losing Roy Miller in free agency and having Brian Price's injuries end his time in Tampa. Floyd is a strong and explosive interior force who would give the Bucs four excellent young defensive linemen for the future.
14. Carolina Panthers: Sylvester Williams, DT, North Carolina, Senior: The Panthers desperately to improve their interior defensive line and Williams has the best combination of size, strength, explosiveness and athleticism after Star. He would be able to start immediately for them and would add a much needed play-making dimension to the Panthers defense.
15. New Orleans Saints: Barkevious Mingo, DE/OLB, LSU, Junior: As the Saints move to a 34 defense this season, they have to fill a number of spots. While they have young outside linebackers, Junior Galette and Martez Wilson, they are both unproven. Mingo immediately gives them one outside linebacker who can impact games with his pass rush ability off the corner.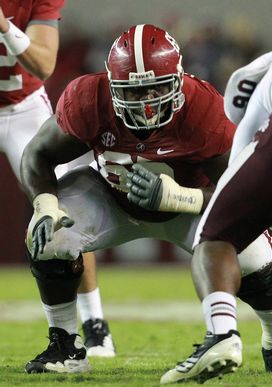 US PRESSWIREAlabama guard Chance Warmack prepares to burst out of stance to make block.
16. St. Louis Rams: Chance Warmack, OG, Alabama, Senior: With Jake Long manning the Rams' left tackle spot, they have upgraded their offensive line, but it is still not a good unit. Warmack would add a physical and athletic dimension to the interior of their offensive line that they desperately need.
17. Pittsburgh Steelers: Dee Milliner, CB, Alabama, Junior: The Steelers want to upgrade their defense and with the elite edge pass rushers gone, they decide to add talent to their secondary. Milliner would give them a young version of Ike Taylor; a strong and physical corner with better speed and athleticism than he gets credit for.
18. Dallas Cowboys: Kenny Vaccaro, SAF, Texas, Senior: Dallas has a lot of talent on its defense, but to patrol the back end of the secondary they could use some help. Similar to when they drafted Roy Williams in the first round years ago, the Cowboys grab an elite safety prospect in the hope that he can be their Ed Reed.
19. New York Giants: Sheldon Richardson, DT, Missouri, Junior: With Osi Umenyiora now a Falcon and Justin Tuck not the same player he once was, the Giants pass rush needs a boost. With no premier defensive ends still on the board, the Giants grab Richardson whose explosiveness off the ball will enable him to be a very disruptive interior force/pass-rusher for the Giants.
20. Chicago Bears: D.J. Fluker, OT, Alabama, Junior: After signing Jermon Bushrod to secure Jay Cutler's blindside, the Bears prove their commitment to upgrading their offensive line by selecting Fluker. He is a massive man with very good feet for such a big man and will be a rock at the RT spot for the Bears.
21. Cincinnati Bengals: Johnthan Cyprien, SAF, Florida International, Senior: If the season began today, the Bengals would have Taylor Mays starting at one of their safety spots and that does not work in today's pass first NFL. Cyprien is a big hitter with top coverage ability and would be an excellent addition to the Bengals defense.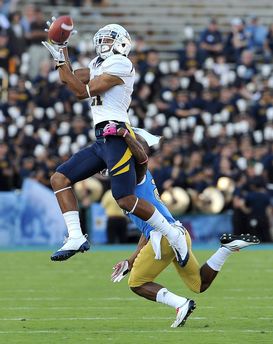 US PRESSWIRECalifornia receiver Keenan Allen goes up to make tough catch against UCLA.
22. St. Louis Rams (From Washington): Keenan Allen, WR, California, Junior: The Rams gambled correctly that after running a poor 40 at his pro day that Allen would slide down draft boards, which allows them to select the best big receiver in the draft. Despite his poor 40 times, I believe Allen has the playing speed to stretch the field and make big plays deep and can be a highly productive NFL receiver.
23. Minnesota Vikings: DeAndre Hopkins, WR, Clemson, Junior: After trading away Percy Harvin the Vikings have a huge need for a big play receiver and Hopkins fits the bill. With good size, playing strength and under-rated explosiveness and speed, Hopkins is a big play weapon that will turn many of Christian Ponder's short passes into big plays.
24. Indianapolis Colts: Jesse Williams, DT, Alabama, Senior: After signing a number of value free agents, the Colts team looks much better. However, for their 34 defense to become a stronger more physical unit they need big, athletic men on their defensive line and Williams has the talent to play NT and DE.
25. Minnesota Vikings (From Seattle): Xavier Rhodes, CB, Florida State, Junior: Although the Vikings say they want Antoine Winfield back, that is not likely and even if he returns he is near the end of a great career. Rhodes has great size to go with excellent speed and a willingness to play physical in coverage, which makes him an ideal fit for the Vikings defense.
26. Green Bay Packers: Tyler Eifert, TE, Notre Dame, Junior: Jermichael Finley has never become the premier offensive weapon that many expected early in his career, so they draft his eventual replacement. Eifert is a smoother athlete with better receiving skills and should give the Packers an impact receiving threat to complement their receivers.
27. Houston Texans: Alec Ogletree, ILB, Georgia, Junior: While Ogletree no doubt has some character concerns; there is no denying he is an elite talent. Having Ogletree playing next to Cushing would give the Texans two of the most athletic inside linebackers in the NFL.
28. Denver Broncos: Datone Jones, DE, UCLA, Senior: Although Jones is much bigger than Elvis Dumervil, he can fill the defensive end spot on Denver's four man front that Dumervil did. When you look at Coach Fox's history of drafting/acquiring DE's; he drafted Charles Johnson and signed Julius Peppers, both of whom are bigger DE's along the lines of Datone Jones.
29. New England Patriots: Jon Hankins, DT, Ohio State, Junior: With only Vince Wilfork remaining from their formerly dominant defensive line, they grab the massive Hankins whose combination of size, strength and athleticism gives him great versatility, which is extremely valuable to the Patriots. Hankins would ideally start at DE in their 34 scheme and could spell Wilfork at NT for some snaps to keep him fresh.
30. Atlanta Falcons: Sanders Commings, CB, Georgia, Senior: The Falcons cut Dunta Robinson and did not re-sign Brent Grimes, so they definitely need help at cornerback. Commings has not received much hype in the media, but NFL sources tell us he is definitely a special talent with the tools to be a shut-down corner with good, hard coaching.
31. San Francisco 49ers: Corey Lemonier, OLB, Auburn, Junior: When Justin Smith was injured late in 2012 defenses were able to block Aldon Smith with surprising consistency. While they have Ahmad Brooks playing opposite Aldon Smith, Brooks is not an elite pass rusher and Lemonier brings the explosiveness and edge pass rush ability to be an upgrade over Brooks.
32. Baltimore Ravens: Cordarrelle Patterson, WR, Tennessee, Junior: Although everyone expects the Ravens to draft an inside linebacker to fill the void left by Ray Lewis retiring and Dannell Ellerbe leaving, they also need help at receiver as they traded wide receiver Anquan Boldin. As Ozzie Newsome has shown numerous times, he is willing to gamble on players with issues in the Draft, so it is not a surprise that he selects Patterson as he has rare, number one receiver, game breaking talent and would give them two dynamic big play weapons for Flacco to throw to.
Email Russ at Russelllande@yahoo.com and Follow Russ on Twitter @RUSSLANDE